A Highly-Curated Guide To The Best Day & Night Creams For Every Skin Type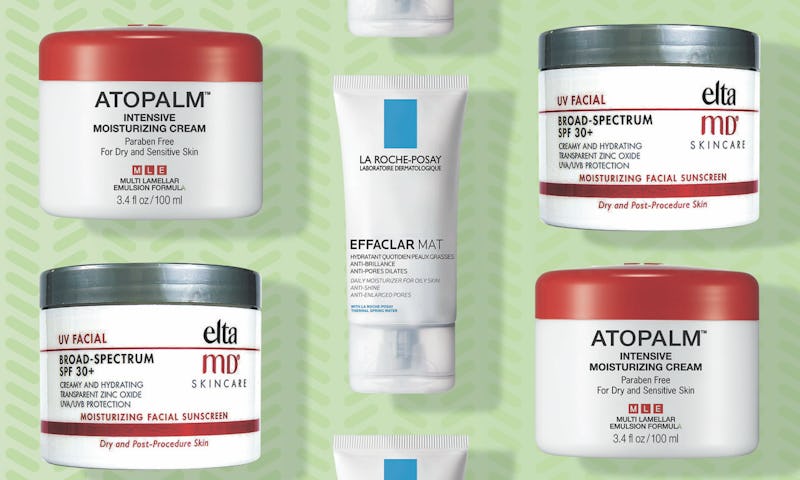 Bustle/Amazon
In the hierarchy of skin care, moisturizing is arguably the most important step of all, which can put a lot of pressure on choosing the right face cream. But it's actually a relatively straightforward task. The first thing to do is decide upon the the type of moisturizer you're after: do you want a daily moisturizer with SPF, a lightweight hydrating lotion, or a luxuriously rich night cream? After that, it all comes down to skin type. Depending on whether your skin runs oily or dry, or is sensitive or acne-prone, the definition of the best face cream for women will vary. Ahead, a broken-down guide that makes shopping for your top skin care staple easy.
Before choosing a new moisturizer, there are a few crucial things to remember. Oily and/or acne-prone skin types will always want to choose an oil-free formula so as not to further clog your pores, while those with dry skin should lean toward something that's heavy in hydrating and barrier-strengthening ingredients, like hyaluronic acid and ceramides. Sensitive skin types should stay away from common irritants and allergens, like alcohol and synthetic fragrance (and if you find most skin care products make your face look angry and red, go see a dermatologist to find out if there's a specific ingredient to which you're allergic). As long as you're armed with these key tips, you should have no trouble picking out a face cream that works for your skin.
Scroll on to discover the best daily moisturizers (with and without SPF) and night creams for every woman.