The 7 Tattoos That Attract The Most Positive Energy, According To Experts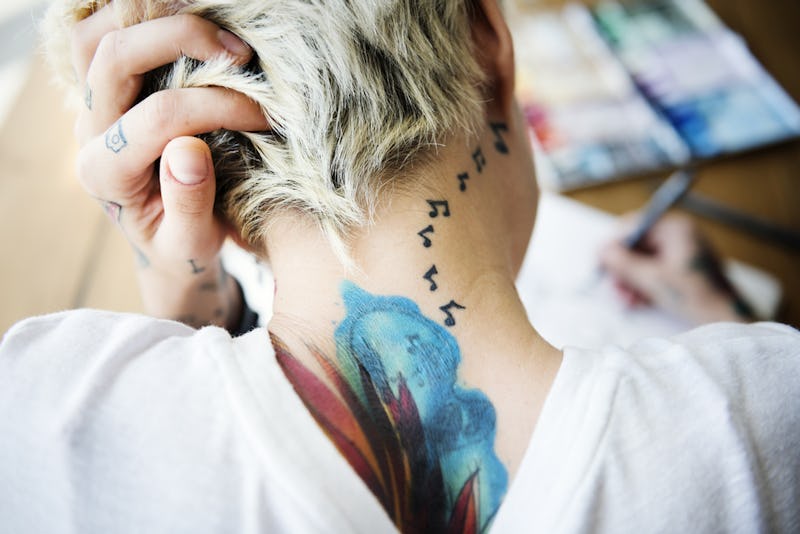 Rawpixel.com/Shutterstock
Getting a tattoo can be about much more than decoration. And whatever your belief system, some designs are thought to attract much more positive energy than others. Good luck tattoos aren't just superstitious symbols thought to bring about good events; there are a variety of ways to find deeper meaning in your ink that may be right for you.
A tattoo that attracts positive energy is usually one that you get with the goal of representing something meaningful. "It is about setting an intention, [and] consciously embodying the images and symbols, to find the deeper healing, transformative powers within yourself," tattoo expert Lisa Barretta, author of Conscious Ink: The Hidden Meaning of Tattoos, tells Bustle. "Tattoos are powerful talismans and even if you are not into the esoteric, your tattoos can act as transmitters, projectors, or attractors." You don't have to assign to any one specific religion or spiritual persuasion to have a tattoo attract positive energy in your life. The symbolism can take you far enough if you feel a deep connection to the image.
Working with a tattoo artist who understands your perspective may increase the likelihood of your tattoo bringing you positivity. "It all goes back to what you truly believe in because what you feel, what you think, and the energy you carry your tattoo with, is always going to affect the perspective of your tattoo," tattoo artist Miryam Lumpini, tells Bustle. So even though there are certain images that tend to appeal to many people, it all boils down to personal choice.
Here are seven tattoos that attract the most positive energy, according to experts.