The 8 Best Dishwasher-Safe Cookware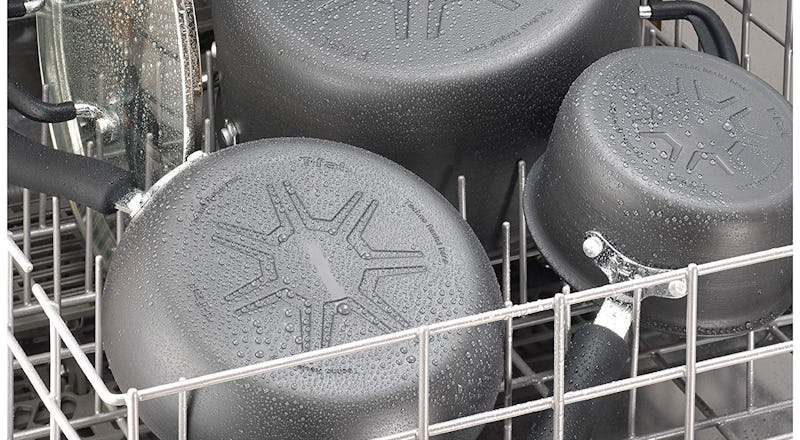 Amazon
After cooking and enjoying a full meal, no one wants to spend time hand-washing the cookware. Luckily, the best dishwasher-safe cookware solves this dilemma, making cleanup an absolute breeze. There are actually a lot of different dishwasher-safe cookware options to choose from (and good news, I can even help you pick out the best dishwasher-safe and nonstick cookware).
Cookware can come in a range of different materials, many of which can be designed to be safe for the dishwasher. Remember to follow the instructions of the specific piece of cookware you buy to prevent damage, but generally, these options are dishwasher safe:
Stainless steel: A very sturdy and durable option, stainless steel is a solid pick for cookware. It quickly and evenly heats and cooks food, but can be a little sticky when you're cooking and pricey.
Aluminum: Aluminum is usually a more budget-friendly pick and tends to be pretty strong. Only downsides? It might stain and even discolor certain light-colored foods (or worse, mess with the taste).
Nonstick: A nonstick pan can be made from different materials (very commonly, aluminum), but all feature a nonstick coating on the cooking surface. Pans that have a nonstick coating generally need less oil while cooking. However, they don't tend to be as durable as stainless steel and may require certain utensils be used to avoid scratching.
If you plan on using your cookware in the oven, make sure that the whole thing (including the lid) is safe for use at high temperatures — some options aren't oven-friendly at all.
Before purchasing, you should also think about the cookware that would be useful in your kitchen. Picks can range from individual pieces and small sets to groups with 10-plus items. There's a lot of cookware to choose from, so I've narrowed down the best pots and pans to buy, as well as full cookware sets if you need that in your life.