These Luxe Candles Will Transport You — & Yes, Buying Several Is An Act Of Self Care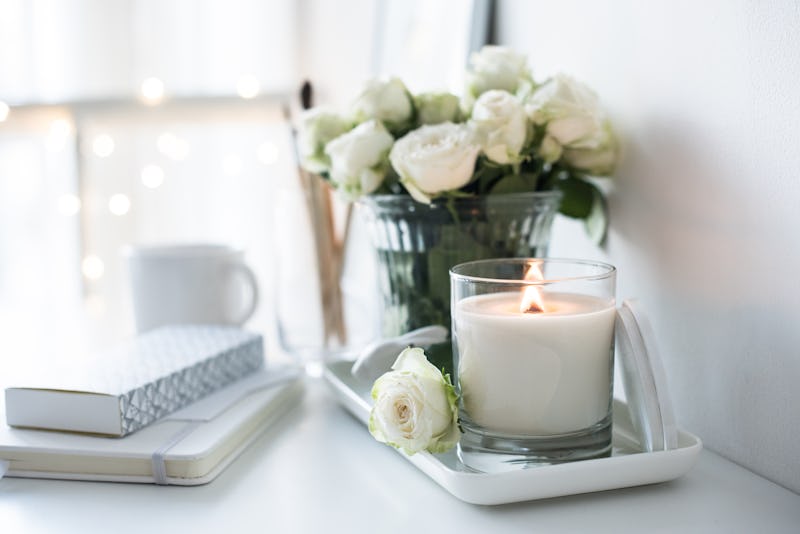 Shutterstock
One much-needed self-care ritual that I developed shortly after moving to New York was to come home and light a scented candle, a peony-pink Voluspa tin I picked up on a whim. The best luxury candles are not always have the highest price tag, but they will have the most sophisticated scents. They're the candles you burn because you love the way they look and because they make you feel a certain way. A Sicilian Tangerine or Morrocan Amber scent can transport you to that specific place without ever leaving your living room.
Luxury candles have more refined fragrances than something you'd pick up at the mall. They're nuanced and layered, just like perfume. You're paying for the skill that blended the scent just as much as you are the high-quality ingredients. One easy hack for finding a luxe candle is to look for scents that have a few different fragrance notes. This usually translates into a more complex and, therefore, an implicitly higher-end fragrance.
Knowing what goes into a high-end candle will also help you know when to snap up that under-the-radar find. Most candles are made from paraffin or soy, and sometimes the two are blended together. Each candle wax has its pros and cons: Soy comes from soybeans, so it's naturally cruelty-free, and produces little to no soot, but it tends to be more expensive and may not be as strongly scented. Paraffin, on the other hand, usually packs a stronger scent and is budget friendly — but it gives off soot and is made from a petroleum byproduct. Blends of both waxes will strive to provide the best of both worlds.
And since you'll be spending a fair amount of money on a premium candle, you'll want to maximize its burn time. To make your candle last, be sure to burn it until the entire top layer of wax is melted the first time you light it and trim the wick before each use to avoid a sooty jar.
Ahead, you'll find the best luxury candles on Amazon. Light one (or several) at the end of a long day — or the beginning of a great one.
We only recommend products we love and that we think you will, too. We may receive a portion of sales from products purchased from this article, which was written by our Commerce team.