Amazon Reviewers Are Obsessed With These Stylish, Vegan Handbags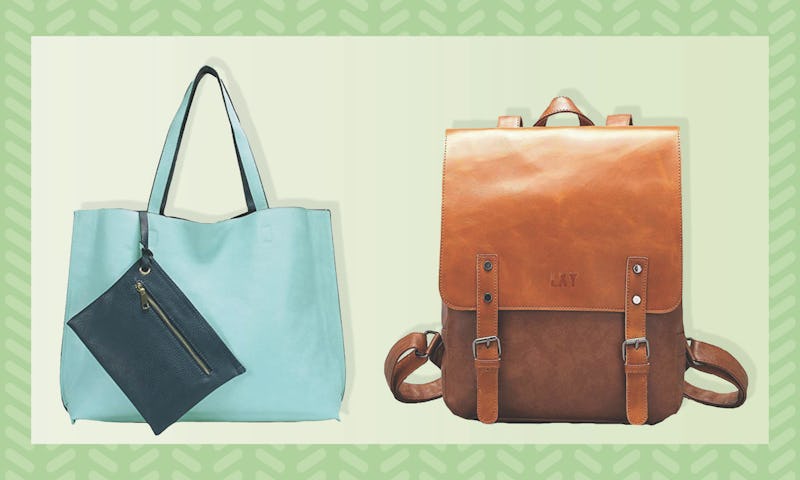 Amazon/ Bustle
Whether you're looking for a cruelty-free laptop bag, a vegan leather backpack that looks like the real thing, or an on-trend tote bag that's both animal-friendly and sustainable, rest assured: the best vegan handbags are just as stylish as they are kind. But when it comes to shopping for vegan handbags, it's important to know your labels if you want it to be truly animal-free.
Generally speaking, you can feel confident that any bags labeled vegan leather, synthetic leather, or faux leather were made without animal hides. Synthetic leather typically consists of natural and/or synthetic fibers that have been coated with a plastic polymer or something similar, and synthetic leather material is usually made from polyurethane (PU), polyvinyl chloride, or textile-polymer composite microfibers.
However, while PU leather may be marketed as animal-free, that's not always the case. Since PU leather, which is also referred to as bicast leather, is often made with split leather — the fibrous part of the animal hide leftover from making genuine leather — and then simply coated with polyurethane, polyethylene, polyvinyl chloride, or vinyl, it's not always vegan. Thus, vegan shoppers will probably want to stay away from any handbags marketed as PU leather. So stick with these labels if animal welfare is your primary concern: synthetic leather, vegan leather, and faux leather. Also, stay away from purses with silk linings, (unless it's vegan silk) as it's estimated that over 6,000 silkworms are boiled alive in their cocoons to produce just one kilogram of silk.
Also good to know: if your motivation for buying vegan handbags stems exclusively from animal cruelty concerns, then any vegan or faux leather handbag should work for you — but if you're just as concerned about sustainable manufacturing as you are about animal welfare, then you might want to look for vegan handbags that are made of cork and produced without the use of harsh chemicals or plastics.
Whatever your personal style looks like, know that there are plenty of gorgeous, animal-friendly handbags to choose from these days. Check out the bags listed below — there's an option for every price point, and all of them are cruelty-free and highly rated on Amazon.