These Vegan Probiotics Can Improve Your Gut Health Without Breaking Your Plant-Based Lifestyle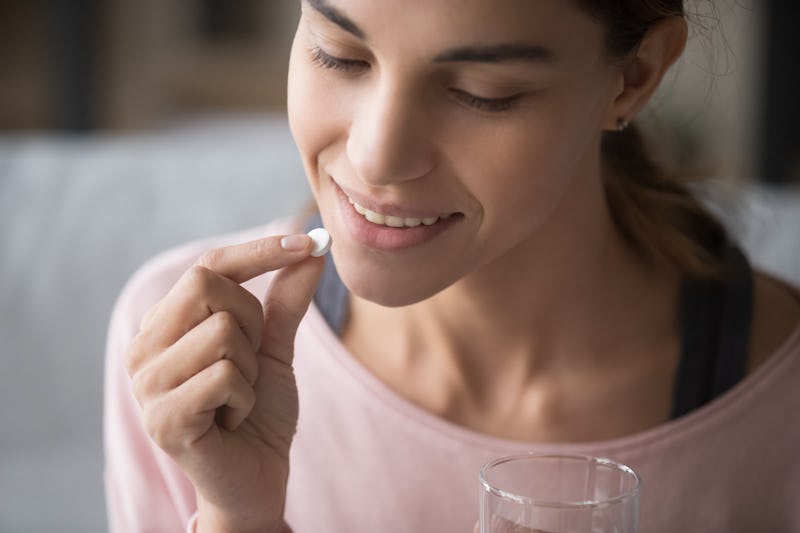 Shutterstock
Since many probiotics include dairy-based ingredients, "vegan probiotic" might seem like a misnomer — but there are plenty of probiotic supplements, powders, and foods that are vegan-friendly, and the best vegan probiotics and prebiotics can help keep your gut healthy. Bustle spoke with Julieana Hever, a plant-based dietician and co-author of The Healthspan Solution, to learn more.
A Note On Vegan Probiotics:
Hever recommends focusing on deriving healthy bacteria from certain foods, like sauerkraut, miso, kimchi, and tempeh. Below you'll find several probiotic-rich food options that Amazon reviewers love, in addition to some probiotic (and prebiotic) supplements.
When it comes to probiotic supplements, it's important to understand that there's no one-size-fits-all formula. "The research on the microbiome is enormous and the recommendations thus far on the ideal formula are inconclusive. Additionally, people respond differently - or not at all - to different formulations," Hever says.
That said, there are some things to look for to help guide your search for a good probiotic. To start, you can pay attention to CFUs. CFU stands for colony forming unit, but it's often used to describe culture count. Essentially, CFUs are the number of healthy bacteria that probiotics contain. Hever suggests aiming high: "Probably more is better, but, again, these supplements are too complex to have a clearcut number," she says.
In addition to CFUs, you can also look for the number of bacteria strains. Since each strain will offer unique qualities, it's a good idea to look for a blend with a diversity of strains, according to Well + Good.
Why Prebiotics Matter Too
Additionally, Hever stresses the importance of prebiotics. "...[Perhaps the most effective step you can take is to ensure you are consuming ample prebiotics. This is the fuel that supports the growth and proliferation of healthy bacteria, which then staves off pathogenic, or disease-promoting, bacteria," she explains. "Prebiotic-rich food comes from plants exclusively and exceptionally rich sources include mushrooms, oats, barley, leeks, asparagus, onions, garlic, chicory, Jerusalem artichokes, and legumes."