The 9 Best Robert Mueller Memes Of All Time Are So Epic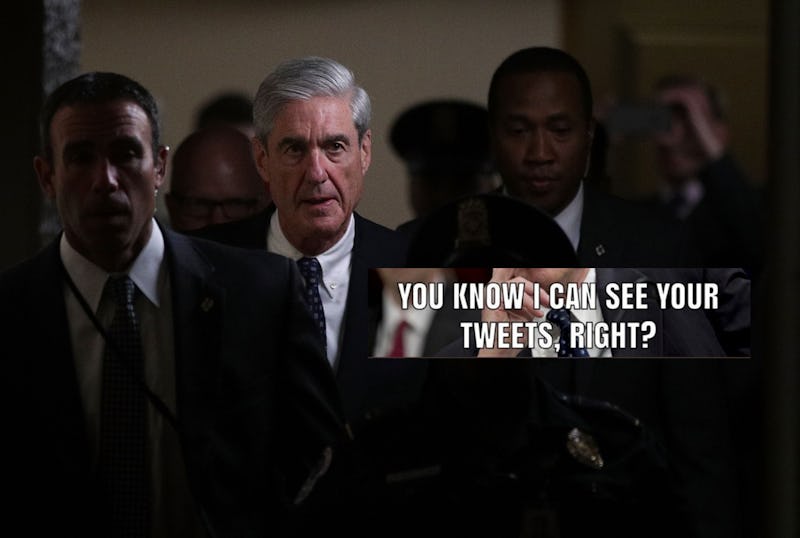 Alex Wong/Getty Images News/Getty Images
One year ago, Robert Mueller was appointed the head of a special counsel investigation to investigate potential collusion between Russians and Donald Trump's campaign for president (as well as any related crimes). What a year it's been. Let's take a look back by remembering some of the best memes about Robert Mueller that have come out of this wild ride.
When he was first welcomed into the job, Mueller enjoyed wide bipartisan support. A June 2017 poll from CBS found that 56 percent of Americans believed that his investigation would be impartial. A host of recent studies indicate that fewer people now believe Mueller is being fair to Trump, The Washington Post reports. While 73 percent of respondents to a May 2017 survey from Monmouth University said they thought the special counsel investigation should continue, only 54 percent said the same last month.
President Trump and his allies have increasingly tried to frame Mueller's investigation as a meritless "witch hunt." The president has consistently denied that any collusion took place, saying in an official statement last May, "There was no collusion between my campaign and any foreign entity."
It's hard to argue that the investigation is completely unfounded when it's already led to multiple indictments and guilty pleas. Mueller has charged 19 individuals (as well as three companies) with crimes so far. Among the most prominent are Michael Flynn, Trump's former national security adviser, who's plead guilty for lying to the FBI about his Russian contacts during the campaign; Paul Manafort, Trump's former campaign chairman, who's been indicted on several charges, including money-laundering, all of which he's disputing; and Rick Gates, a former Trump campaign aide who has plead guilty to conspiracy against the United States and making false statements.
So, without further ado, here are some of the best Mueller memes with which we've been blessed this year.
Star Wars, Of Course
CNN reports that Trump has called the investigation a "witch hunt" 39 times on Twitter so far.
And More Star Wars: "If You Strike Me Down"
"If you strike me down, I shall become more powerful than you can possibly imagine," the caption of this one reads — an Obi-Wan Kenobi reference. The implication is that if Trump fires Mueller, he'll only put himself in further legal jeopardy (and possibly encourage Mueller to reveal publicly what he's now keeping private as the investigation proceeds).
"When You're A Special Prosecutor, They Let You Do It"
George Papadopoulos is yet another former Trump campaign aide who's been indicted by Mueller. He's plead guilty for lying to the FBI about his contacts with Russians in 2016.
Not Everything Is Secret
Mueller may use some of Trump's tweets as evidence in his investigation.
Pop Rock References
An homage to "Every Breath You Take" by The Police.
People Really Like "The Police"
This one's captioned with lyrics from the song: "Every move you make, every bond you break, every step you take."
A Little Forrest Gump
"And just like that," is an often-repeated line by Gump in the film.
Mueller Is Coming
For all the Game of Thrones fans out there.
Nice & Simple
Although the country has gradually learned bits and pieces of Mueller's work as the media investigates it — and some information, like indictments, has been made public — we're always many steps behind him. We always know there will be more disclosures coming ... soon.
Meanwhile, Trump marked the special counsel's one-year anniversary by condemning it once again on Twitter. "Congratulations America, we are now into the second year of the greatest Witch Hunt in American History," he tweeted on Thursday.