9 Vegan Shoes That Are Cute AF — From Ballet Flats To Booties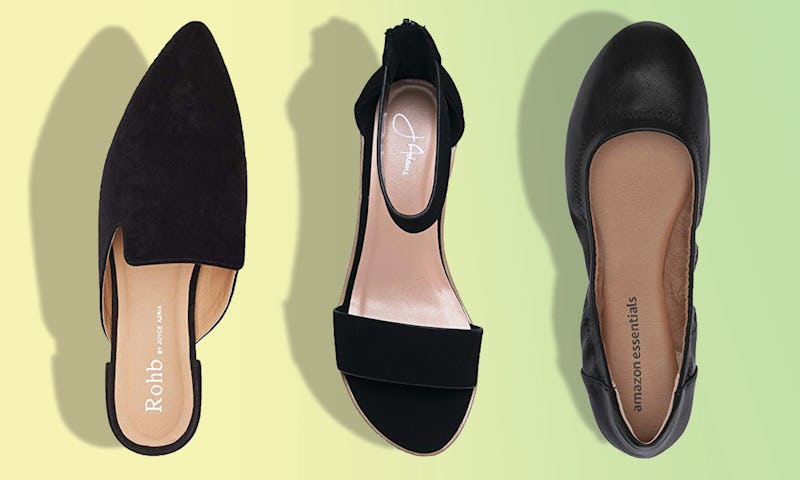 Amazon / Bustle
Whether you're a vegan or not, it's now easier than ever to stock your closet with animal-friendly wares, and dress shoes are no exception. Whether you prefer flats, high heels, or something in between, the best vegan dress shoes deliver style and comfort that you can feel good about. Below, I've rounded up a gorgeous selection of vegan dress shoes to fit a variety of styles and budgets.
Generally speaking, you can rest assured that any shoes labeled vegan leather, synthetic leather, or faux leather were made without animal hides. "Leatherette" is another, less common term used to describe man-made leather. Synthetic leather typically consists of natural and/or synthetic fibers that have been coated with a plastic polymer, and synthetic leather material is commonly made from polyurethane (PU), polyvinyl chloride (PVC), or textile-polymer composite microfibers.
However, while PU leather is often animal-free, that's not always the case. Because PU leather is sometimes made with split leather — the fibrous part of the animal hide leftover from making genuine leather — vegan shoppers will probably want to stay away from any dress shoes marketed as PU leather. So stick with these labels if animal welfare is a concern for you: synthetic leather, vegan leather, faux leather, leatherette, and man-made.
When it comes to suede — which is a leather product as well — look for shoes that boast these labels: vegan suede, faux suede, or man-made.
Whatever your personal style is, there are plenty of animal-friendly dress shoes to choose from these days. Take a look at the best vegan dress shoes below, all of them are $60 or less and highly rated on Amazon.