The ACLU Is Suing Trump's Admin & ICE Over Detained Migrants' Religious Freedom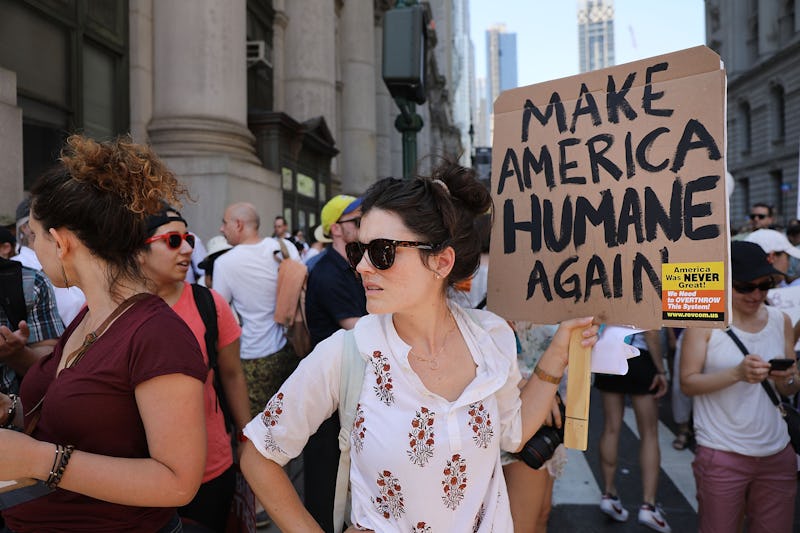 Spencer Platt/Getty Images News/Getty Images
First things first, you don't have to be a citizen to be granted basic constitutional rights. Things like due process, humane detention conditions, and freedom of religion belong to everyone. Which is why on Wednesday, amid claims of unconstitutional practices in migrant detainment facilities, the ACLU sued Trump's administration and ICE over religious freedom for detained migrants, according to The Hill. Bustle has reached out to the White House as well as to ICE for comment on the allegations in the lawsuit.
The court document, which claims among other things that detained migrants are being denied proper medical care and nutrition, says that detainees at Victorville are being denied their statutory rights under the federal Religious Freedom Restoration Act, which mandates that "governments should not substantially burden religious exercise without compelling justification." Specifically, according to the suit, detainees are regularly denied "religious diets, religious clothing and jewelry, religious texts, opportunities for prayer and group worship, and other accommodations necessary to practice their religious beliefs."
The class-action lawsuit names specific members of the Trump administration as defendants, including the president himself, Department of Homeland Security Secretary Kirstjen Nielsen, and Attorney General Jeff Sessions, as well as leading members of Immigration and Customs Enforcement (ICE). The plaintiffs are six detained immigrants, "on behalf of all ICE detainees at Victorville," according to the ACLU.
The ACLU claims that "defendants fail to provide religious services or consultation with clergy, and they prohibit detainees from engaging in group prayer and congregate worship." The lawsuit details cases from numerous migrants who say they were denied their religious freedom. A Christian detainee named in the suit, Granados Aquino, claimed he had his Bible confiscated when he first arrived at Victorville, and was never provided a new one.
Multiple Sikh asylum-seekers were also listed in the suit, saying they had their turbans and karas (religious bracelets) taken away and never returned. According to the court document, some of the Sikh detainees were told they could purchase religious head coverings for $10 at the facility's commissary, but not all detainees have money to do so, and no one has yet received a head covering. The Sikh men named, Atinder Paul Singh and Gurjander Singh, also said they were vegetarian for religious reasons, but were never provided vegetarian meals, and that as a result, Atinder lost 15 pounds since his arrival in June. In fact, the ACLU says, detainees who are vegetarians for religious reasons are apparently "often offered nothing but two pieces of bread for lunch, and green beans and rice for dinner."
Similar treatment of Sikhs was reported by detained asylum-seekers in Sheridan, Oregon, who filed a lawsuit last month alleging that the Sheridan Correctional Institution, which is run by ICE, violated constitutional religious freedom rights by confiscating items and clothing of religious significance and ignoring religious dietary restrictions.
In June, The Intercept reported that an ICE facility in Florida refused to provide adequate halal meals, and gave insufficient types and quantities of food to detainees observing Ramadan. According to the report, ICE responded to the allegations saying, "ICE employees and contractors are held to the highest standard of professional and ethical conduct," and that any accusations of misconduct would be investigated thoroughly.
"Confining immigrants in these conditions is unconscionable and unconstitutional," Victoria Lopez, an ACLU National Prison Project attorney, said in a statement. "We will do everything in our power to make sure these men have adequate food and medical care, and are able to freely exercise their faiths."