The ACLU Telethon Is A Star-Studded Success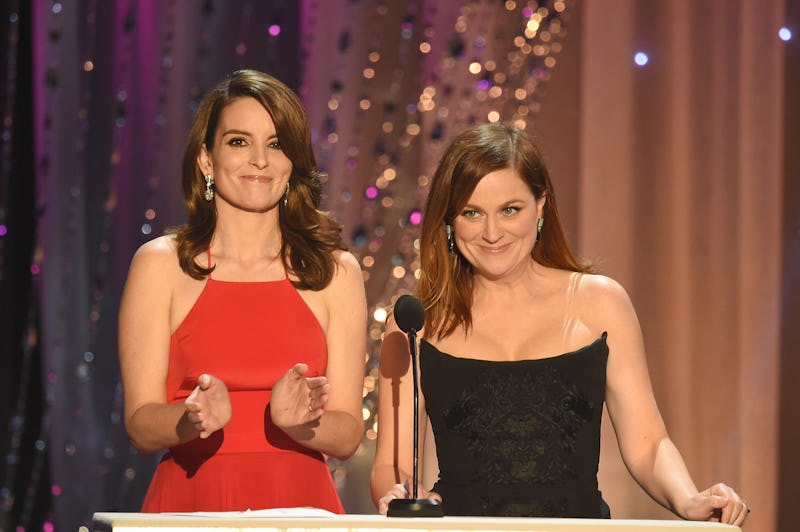 Kevin Winter/Getty Images Entertainment/Getty Images
On Friday night on Facebook Live, the ACLU Telethon brought together celebrities you know and love to raise money for a necessary cause: our civil liberties. This ACLU telethon enlisted the talents of your favorite celebrities, including Tom Hanks, Amy Poehler, Cecily Strong, Nia Vardalos, Zosia Mamet, Tracy Morgan, and Ike Barinholtz. While Hanks played the affable emcee, the latter group of celebrities popped up all over the event. They were managing computer and phone lines, where communication with viewers was taking place. They were also participating in segments that drove home the importance of the work that the organization does. At the time of publication, the ACLU telethon raised more than $117,000 — a number that's bound to grow as the night goes on.
It may have been easy to get charmed by Hanks' antics (and trust me, there were antics), but the ACLU telethon was really hustling for the cause. The event opened with yet another star-studded video that explained why we, the people, actually need the ACLU. Did you catch Sterling K. Brown, Zazie Beetz, and Lin-Manuel Miranda kicking things off? They were definitely there and they, along with a ton of other celebs, reeled off example after example of how the ACLU has protected civil liberties since 1920. It was perhaps the most sobering moment of an otherwise light and engaging telethon, but it really set the stage for why this event was uniquely geared to help literally every American.
Moving from the strong introduction, the telethon was chock-full of goodness. In the first hour alone, you could watch as Hanks ribbed Morgan for apparently wearing red pajamas, Barinholtz and Poehler played a very intense game of Guess Who? (where they tried to avoid racially profiling different characters), and there was a stirring performance on the piano by Norah Jones.
Listen, I'm not saying this was the most delightful telethon ever broadcast for a good cause, but this was the most amazing telethon ever broadcast for a cause that served Americans everywhere.