The Actor Playing Meghan Markle In The Lifetime Movie Just Posted A Tribute To Her Real-Life Counterpart & The Video Is So Sweet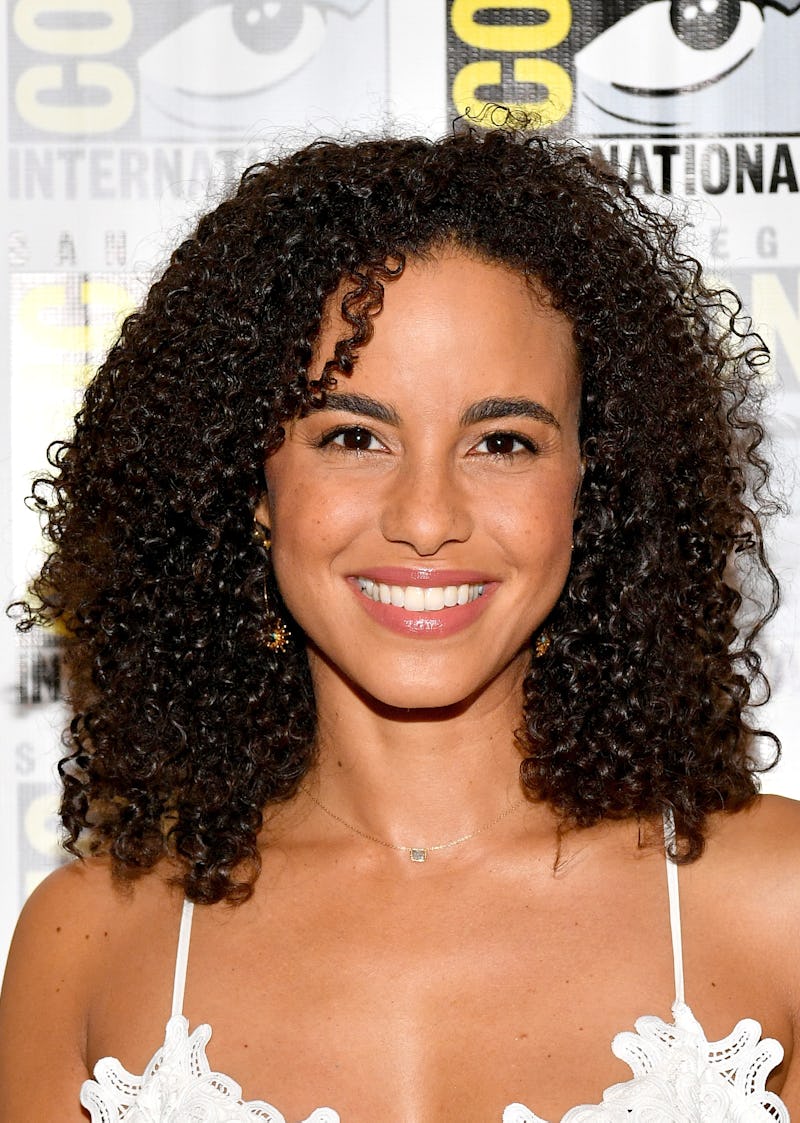 Dia Dipasupil/Getty Images Entertainment/Getty Images
Meghan Markle and Prince Harry aren't getting married until May, but a Lifetime movie about their courtship is coming soon. The film wrapped on Saturday, March 10, and the actor playing Meghan Markle in the Lifetime TV movie posted a sweet tribute to her real-life counterpart. In an Instagram video, Parisa Fitz-Henley can be seen with some of her cast-members and shared some thoughts about the movie.
"Hey everybody, we are on our way to film the last scene of the last day of Harry & Meghan: A Royal Romance," she said in the video. "It's a really special scene, and I'm really looking forward to sharing it with you and sharing the entire movie with you. It's been such a labor of love for everyone involved, and we hope you love it too." The actress didn't share more specific details about the movie, but she did thank the royal couple in the caption for the video as well.
In her Instagram post, Fitz-Henley was sure to share her appreciation for Meghan Markle and the Royal couple's relationship. "I got to take a look inside the life of a woman and a relationship I quickly came to admire and claim as inspirations," Fitz-Henley wrote on Instagram. The actor also called the filming experience an "adventure" and shouted out the team working on the film. This included the screenwriters, producers, directors, and her co-star Murray Fraser, who will portray Prince Harry.
Harry & Meghan: A Royal Romance finished filming, but it doesn't have a release date yet. Lifetime announced the project in January, and it is expected to air before the IRL royals wed on May 19. The story will reportedly follow Prince Harry and Markle from their friends setting them up as a couple, document their early days of dating and the controversy of Markle being a divorcee. The couple kept their relationship a secret for a long time, and the movie will also look at how they pulled this off and then examine the the media attention surrounding their relationship once it was made public. The script is written by Scarlett Lacey and Terrence Coli, and directed by Menhaj Huda. Huda is British and also worked on The Royals on E!, so he should be a good choice to tell this story.
Fitz-Henley is a spot-on choice to play Markle, and while she might not yet be a household name, this isn't her first television role. Fans might recognize the actor as Reva Connors in Jessica Jones and Luke Cage, and she's also appeared as Fiji Cavanaugh in NBC's Midnight, Texas. Of course, Markle is also an actor, who is best known for her role as Rachel Zane on Suits and she even appeared in more than one Hallmark movie during her career, which means the role is some big shoes to fill. Murray Fraser, who plays Harry, is also a relative newcomer, and might be best known for the Scottish show The Loch and his small role in the PBS series Victoria.
Only a few of the other cast members have been announced. Steve Coulter and Deborah Ramsey will star as Prince Charles and Camilla Bowes. Burgess Apernathy and Laura Mitchell will play Prince William and Kate Middleton, who have two Lifetime movies of their own. In her Instagram post, Fitz-Henley promise that more exciting film announcements were on their way. She wrote: "I'll be posting pics from our shoot, celebrating more casting announcements with you (such fun coming!), and getting ready for the premiere of this sweet film (stay tuned for release date!)"
Prince Harry and Meghan Markle kept their relationship a secret for over six months, and first sparked engagement rumors after making their first public appearance together at the at the Toronto Invictus Games in September 2017. The two announced their engagement not long after in November 2017, and fans of the royal family shared their excitement online. The Kensington Palace official Twitter account even acknowledged the outpouring of love on the platform, posting how grateful the couple was for well-wishes and sharing engagement photos as well as wedding details.
"So many thanks for all the wonderful encouragement!" Fitz-Henley wrote on Instagram. "It's been lovely to catch some of the collateral love being deservedly showered upon the real Harry & Meghan. Here's to LOVE!"
The cast of the new film seems excited to portray a couple that has so much support from fans around the world.