Everything We Know So Far About Lifetime's Prince Harry & Meghan Markle Movie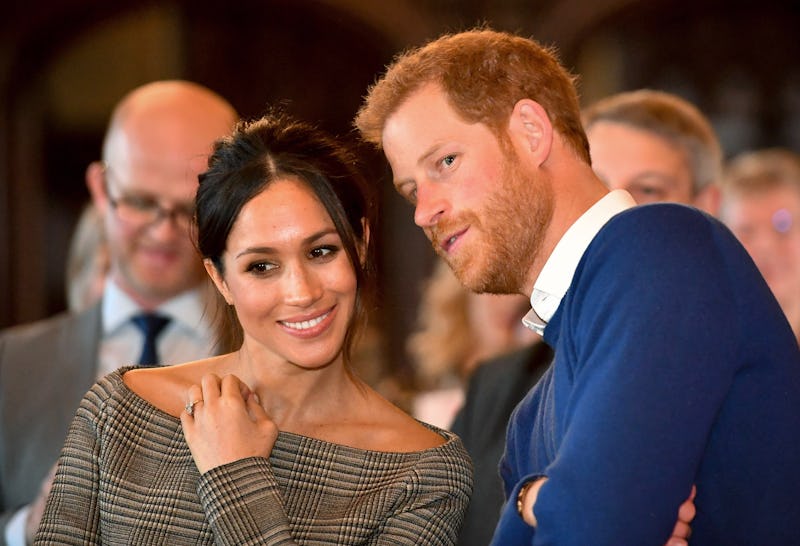 WPA Pool/Getty Images Entertainment/Getty Images
Everyone knows that a royal wedding announcement means one thing: that a Lifetime original movie portraying said wedding will follow. It's no surprise that there's a Meghan Markle and Prince Harry movie on Lifetime coming soon, and fans have been excited for the film ever since Lifetime announced it on Jan. 14. That was just one and a half months after the royal couple revealed their engagement, so clearly, things are moving fast. They kind of have to move fast though, as Markle and Prince Harry announced that they would wed on May 19 — less than six months after they got engaged. So to prepare for the events to come, here's everything we know about Lifetime's Meghan & Harry movie so far.
The film, called Harry & Meghan: A Royal Romance, will air before the wedding, but it will probably be right around the time that everyone starts flocking to London to catch a glimpse of Markle's gown. The Lifetime movie about Prince William and Kate Middleton, called William & Kate: The Movie, aired just 11 days before their royal wedding, so you can expect Harry & Meghan to air sometime in early May 2018. Because the movie's on such a tight timeline, it's not a shock that according to Entertainment Tonight, it's already started filming.
So who plays the royal husband and wife-to-be? Parisa Fitz-Henley will play Markle, while Murray Fraser is the TV-movie version of Prince Harry. Fitz-Henley is a dead ringer for Markle, and you might recognize her from her role as Reva Connors from Jessica Jones. Fraser, on the other hand, might take a little bit more of an imagination to see as his royal inspiration, but in an on-set photo that Fitz-Henley shared of the two together on set, they really do resemble the real-life couple. Based on that selfie, it looks like Harry & Meghan: A Royal Romance will show royal watchers a more intimate glimpse into the lives of Markle and Prince Harry.
Whatever it ends up showing, the movie will most definitely give fans a behind-the-scenes look into Prince Harry and Markle's romance that led up to the engagement. According to Deadline, Harry & Meghan will mainly focus on the couple's lives together, from their mutual friends setting them up to the controversy about Markle's past divorce, which makes her an unorthodox royal. While the movie will defiitely cover that tabloid drama, it doesn't seem like it will actually depict the divorce itself, as the movie is strictly about Prince Harry and Markle's sweet courtship.
As People pointed out, before Prince William and Middleton's wedding, the couple had two made for TV movies created about them. One like Prince Harry and Markle's, aired on Lifetime, and the other on Hallmark. Theoretically this could mean a second movie is on its way for the engaged couple, but given the fact that Markle starred in three Hallmark movies herself, that could get too meta for the channel. Or, perhaps there just isn't enough time — getting a movie together in less than six months is no easy feat.
The Lifetime movie's director, Menhaj Huda, a British filmmaker who also directed E!'s The Royals, has his work cut out for him. That's because from the time the couple started dating in October 2016 up to their November 2017 engagement, the couple had what many would call a "whirlwind romance." It included trips to Botswana, Africa and sneaking around London to avoid the paparazzi. So how that'll be depicted in a Lifetime movie is TBD.
Shippers of Markle and Prince Harry probably think they know everything about the royal couple's story, from Markle's code name for Prince Harry used on the set of her show, Suits, to the vital importance of a roast chicken in their engagement story, but there's a lot more to explore. It will be exciting to watch it all play out in the movie. May can't come soon enough.