Everything To Know About The Breakout Star Of Netflix's 'Sierra Burgess Is A Loser'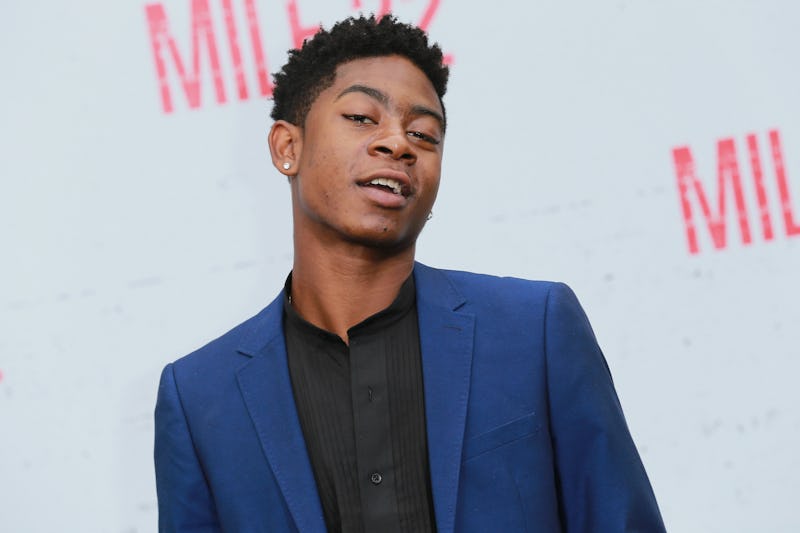 Leon Bennett/Getty Images Entertainment/Getty Images
In Netflix's new movie Sierra Burgess Is a Loser, out Sept. 7, two of the Internet's favorite stars come together to play lovestruck teens in the ultimate high school rom-com. Those actors are Shannon Purser, aka Barb from Stranger Things and Ethel from Riverdale, and Noah Centineo, aka Peter Kavinsky from To All The Boys I've Loved Before. As exciting as the love story in Sierra Burgess is though, the movie would not have nearly as much charm if it weren't for Sierra's band geek friend, Dan. The actor who plays Dan in Sierra Burgess, RJ Cyler, is as on-the-rise as Purser and Centineo, too, as you'll probably remember him from his starring role in the indie hit Me and Earl and the Dying Girl.
With a stacked cast like this, Sierra Burgess is a destined success, and Dan is such a key ingredient to the rom-com medley presented in the Netflix movie. After teen Sierra Burgess gets a mistaken text from high school hottie Jamey (Centineo), Dan serves as the voice of reason who keeps it real with Sierra after she decides to allow Jamey to think that she's actually a more popular girl, Veronica (Kristine Froseth).
"It's called catfishing and I'm pretty sure it's illegal," Dan tells his bandmate after learning about her hilarious phone-mixup. Like Jon Cryer's Duckie in Sixteen Candles or Adam Lamberg's Gordo in Lizzie Maguire before him, Cyler's Dan perfectly fulfills the role of the skeptical male sidekick in Sierra Burgess.
If you can't get enough of Cyler's performance in the new YA flick, you're in luck, because Cyler has recurring roles in not one, not two, but three TV shows: MTV's Scream, Showtime's I'm Dying Up Here, and HBO's Vice Principals. In each of those shows, Cyler showcases his comedy chops, which you also get to see in Sierra Burgess.
As you can tell from his IMDb page, Cyler has a lot going for him, but what you don't get know from his resume is the awe-inspiring backstory about how he came to Hollywood to pursue his acting dreams. According to Toronto's The Star, Cyler and his family spent some time living in a motel in Jacksonville, Florida after selling their house so they could move to California for his Hollywood ambitions. "My mom and dad cashed in everything to make it happen and for a whole year, it was nothing," Cyler recalled.
After auditioning for a year in Hollywood, Cyler got his breakout role Me and Earl, which won both the Grand Jury Prize and the Dramatic Audience Award at Sundance in 2014. As Cyler told The Star, he knew exactly what to do with his paycheck after the film success of the film. "Mama, this is exactly how I'm gonna pay for your house. Daddy, this is how I'm going to pay for your pickup truck," Cyler said in 2015.
As if Cyler didn't win your heart over already just from his role in Sierra Burgess Is a Loser, knowing how he followed his dreams and helped his family might just make you start watching every other film or TV show that the 23 year-old acts in. You have plenty to catch up on now while you wait for new movies featuring the young actor.