'Clique' Is Back For Season 2 With An Intense & Problematic New Guy Gang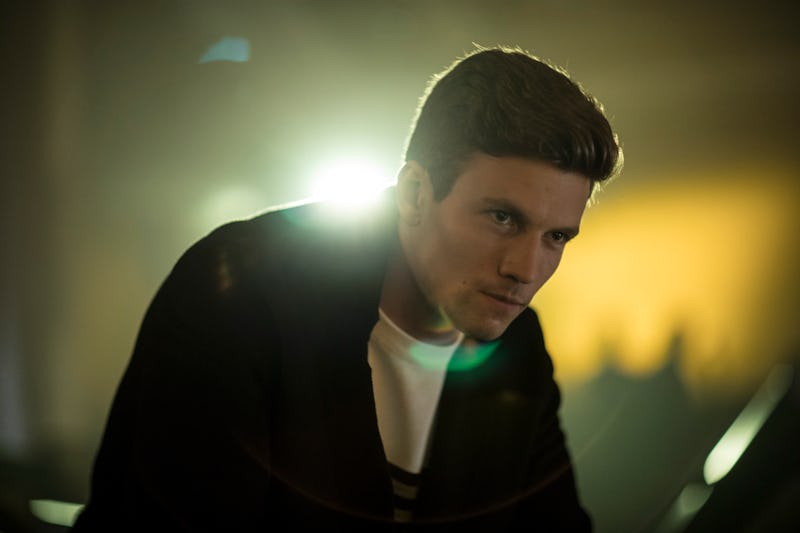 BBC
The BBC series Clique returns for it's second series this weekend, and this time will explore the toxic masculinity of some male students on a university campus. The series was created by Skins writer, Jess Brittain, and the cast is made up of acting talent including Imogen King from the Darkest Hour, and young British actor Leo Suter — who plays the character Jack in the latest season. The 25-year-old will be joining the returning cast, among some other fresh faces. But who is the actor Leo Suter?
Well, you may recognise Suter from his portrayal of Sir Edward Drummond on the ITV period drama, Victoria, and according to his official IMDB page, the actor boasts an impressive resumé, with some very exciting future projects in the pipeline. In addition to starring in Disney's Maleficent opposite Angelina Jolie, and the romantic fantasy film Fallen with Jeremy Irvine, the young Brit will also star in the upcoming release Music, War and Love — which is produced by the Oscar-winning Fred Ross, known for his work on The Godfather, The Beguiled and Apocalypse Now.
Prior to his acting days, Suter attended Oxford University, where he graduated with a first class honours degree. The actor then went on to star in an international production of Romeo and Juliet, in which he portrayed the character of Mercutio, according to IMDB.
The first series of Clique debuted it's six-episode run last year on BBC Three, before being aired on BBC One shortly afterwards. It focused on the story of students, and best friends, Holly McStay (Synnove Karlsen) and Georgia Cunningham (Aisling Franciosi), who's relationship turns sour after being introduced to an elite group of college girls.
The second series, however, will this time focus on the boys. According to i News, lead character Holly becomes both intrigued, and disgruntled with a clique of male students at an Edinburgh University. The group of boys, which includes Suter's character, view themselves as the opposition to the rest of the student body, and pull pranks on students who they deem to be "snowflakes" — a term used to describe the easily offended. As the series unfolds, Holly becomes torn between her relationship with the four male students and her gut-feeling that something more sinister might be going on. In addition to Jack (Suter), the antagonising group of lads include Aubrey (Jyuddah Jaymes), Calum (Nicholas Nunn), and Barney (Barney Harris).
The show's writer, Brittain, commented on the criticism she expects to receive during the second series of Clique. She told iNews "I am absolutely terrified about how it will be received but I don't know how to write the on-message version of this show", she continued:
"What people struggle sometimes to understand is that writers aren't giving you their complete informed opinion of how you should think — I wanted to depict something uncomfortable. I think if you don't hang these things out to be talked about because they're going to make people angry or outraged or feel more strongly, then what's the point?"
Given the current social and political climate, I for one believe the premise of the new series couldn't be more relevant. The second season of Clique can be found on BBC Three iPlayer from November 10, with new episodes available weekly.