Prepare For Pennywise Of 'It' To Haunt Your Dreams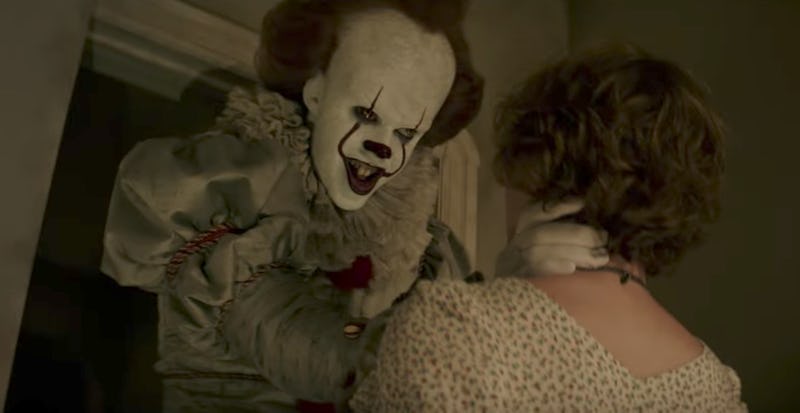 Warner Bros Pictures
Stephen King ensured that clowns would forever be known as terrifying when he published his classic novel It in the '80s. Since then, Pennywise the clown menace has reigned supreme as an iconic horror figure. And the actor who plays Pennywise in It, the new film adaptation of the book, isn't about to let that legacy go. Bill Skarsgard is taking over the role from Tim Curry, who played the titular creature in the 1990 miniseries. Skarsgard, who was just a baby when Curry's Pennywise first terrorized audiences everywhere, is pretty unrecognizable as the clown, but, just like Pennywise, he too has a long Hollywood history.
Skarsgard has been working in front of the camera since 2000, playing in films both in his native Sweden and in Hollywood. He's probably best known for his roles in Hemlock Grove and Allegiant, in which he acted opposite Shailene Woodley and Naomi Watts, and was most recently seen playing a supporting role opposite Charlize Theron in this summer's Atomic Blonde. But, he's also pretty well known as part of the Skarsgard acting dynasty. His father, Stellan Skarsgard, has been in everything from Thor to Good Will Hunting, and two of his many brothers — Alexander Skarsgard and Gustaf Skarsgard — are also successful Hollywood actors. (He has other siblings who act mainly in Sweden.) That said, seeing Skarsgard in It probably won't remind you of the actor behind Pennywise at all. And for good reason.
As Pennywise, Skarsgard is covered in prosthetics and makeup, enough to make him unrecognizable to the casual fan and simultaneously the stuff of nightmares. "Hopefully, there will be a lot of 10-year-olds who will be traumatized forever based on my performance," he joked in an interview with his older brother Alexander for Interview Magazine. It's possible Skarsgard fans might get to see the actor in his non-clown form in the film. Contrary to popular belief, Pennywise isn't actually "It," at least not definitively. "It" is a shapeshifting monster who can take the shape of its prey's greatest fears. In It, the creature simply prefers to be Pennywise the clown.
So there's always the possibility for a no-makeup Skarsgard cameo in any It sequels. Then again, audiences will probably be too busy shrieking and hiding from the screen to notice.