The "Feminist" Scarf You Need For Women's Day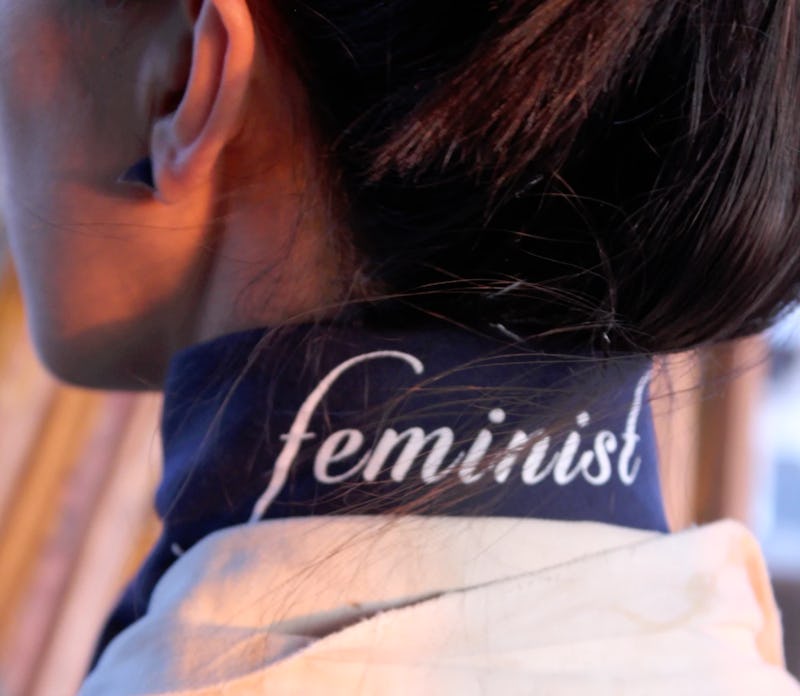 There's no pinpointing the exact character that set it off, but there's something about a bandana tied around the neck that says "adventure," a vibe of Indiana Jones meets Thelma & Louise. Hold the snake pits and cliffs, though, we've got all we need: The accessory is getting a revamp from next-level basics brand ADAY with their "Feminist" scarf for International Women's Day. The brand paired up with entrepreneur and designer Lisa King on a scarf that elevates outfits and a good cause alike.
Available for purchase on ADAY's site from Mar. 4 on, the brand says via press release that 50 percent of all proceeds on March 8 will be donated to Vital Voices, an NGO whose mission is to "identify, invest in and bring visibility to extraordinary women around the world." Emblazoned with "two different words to represent women," the phrases "feminist" and "dreamer" bedeck the white and navy scarves. I love a deeper meaning and wearing my heart on my sleeve (and neck), and it helps that the scarves are pretty damn cute, nailing the neckerchief trend while adding a philanthropic spin.
Speaking from personal experience, it's not easy to channel the nonchalant, effortlessly cool adventurer look with any old scarf. Finding the right thickness is crucial, lest you look a fool (me. I looked foolish). With ADAY's emphasis on sustainable staples via "technologically advanced fabrics," per their website, these guys take out the guesswork.
I mean, if that's not the Thelma & Louise fantasy vibe, I don't know what is. Hair up, hands dirty, but still keeping your cool.
It's more chill than a necklace, but it layers perfectly with them, as you can see.
And while it's just a happy side effect, the scarves are also eminently Instagrammable. If you're not quite up to taking the "nevertheless, she persisted" tattoo plunge, this could be an ideal baby step.
Images: Courtesy of Brand