Carrie Fisher Gave The 'Star Wars' Cast The Best Advice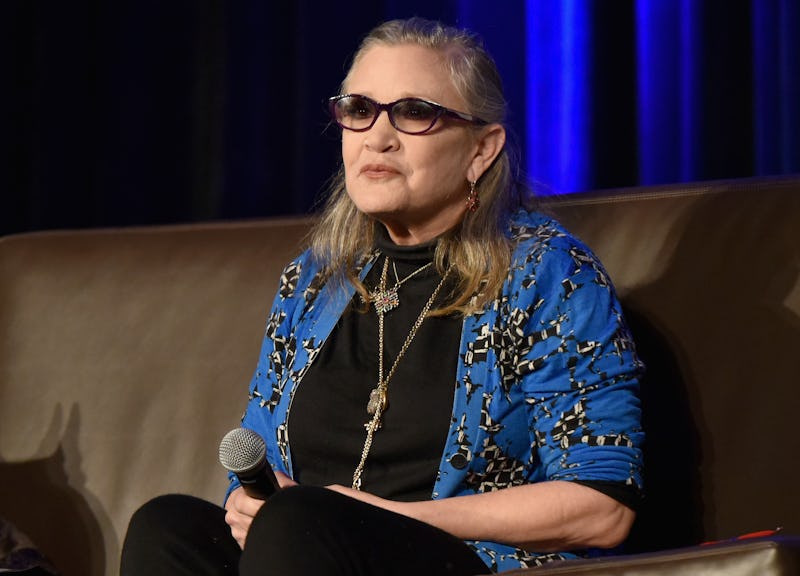 Daniel Boczarski/Getty Images Entertainment/Getty Images
It's no secret that Carrie Fisher's co-stars looked up to her. After all, the late actor was a legend, known not just for her iconic roles, but also for her unconquerable spirit. In interviews, the star was candid and brutal; a feminist, she always stood up for herself and other women. As an actor and a public figure, she inspired fans, friends, and even those who worked alongside her. In a recent cover story for Vanity Fair, members of the Star Wars cast recalled turning to Fisher for advice throughout their time on set. Whether it was on how to tackle a role or deal with the press, the star was always ready to share her thoughts. The guidance that she gave her fellow cast mates was, in typical Fisher fashion, both hilarious and meaningful.
The Vanity Fair cast profile was originally intended to tease Star Wars: The Last Jedi to fans. The next installment of the popular saga took on new meaning, however, when Fisher passed away in December 2016. The film will now be her final posthumous performance, and in lieu of an interview for the piece, cast mates shared memories of her. Fisher was a massive presence on set, offering advice and commentary on a variety of subjects, especially for younger co-stars like Daisy Ridley and John Boyega.
Ridley, finding herself at the heart of the new series and worried about the responsibilities of the role, first turned to Fisher for advice. If anyone knew the weight of being the star of a major commercial franchise and a burgeoning female icon, it was Fisher.
"Carrie lived her life the way she wanted to, never apologizing for anything, which is something I'm still learning," Ridley told Vanity Fair. "'Embarrassed' is the wrong word, but there were times through it all when I felt like I was … shrinking. And she told me never to shrink away from it — that it should be enjoyed."
The 25-year-old wasn't the only star who had to come to terms with fame in the wake of The Force Awakens' success. According to the publication, most of the newer, younger cast learned how to handle their new roles from Fisher. When John Boyega first appeared in the trailer for the film, there was a racist backlash. The diverse casting of the new films, while exciting for most, was met with an intense negative reaction from a small, bigoted corner of the internet. Fisher wasn't having it, and apparently told Boyega to ignore the trolls. "I remember — and forgive me, I'm going to drop the f-bomb, but that's just Carrie — she said, 'Ah, boohoo, who f*ckin' cares? You just do you,' " he told the publication. "Words like that give you strength. I bore witness in a million ways to her sharing her wisdom with Daisy too."
While some of the older and more seasoned actors, like Oscar Isaac and Mark Hamill, didn't necessarily receive advice from the former star, they had plenty of stories to share. Isaac remembered Fisher's dedication to her role as General Leia, noting a scene where her character slaps him as an example, "We did this scene where Carrie has to slap me," Isaac told VF. "I think we did 27 takes in all, and Carrie leaned into it every time, man. She loved hitting me. Rian [Johnson, the director] found such a wonderful way of working with her, and I think she really relished it."
Some of the article's most poignant memories come from Hamill, who acted alongside Fisher since George Lucas' original Star Wars films. The actor shared how smitten he was with Fisher during their younger days, and, though it is well known, emphasized how funny the star was. "We were really attracted to each other. We got to the point where we were having our make-out sessions — and then we pulled back," Hamill told the magazine. "A great way to cool any amorous feelings is laughter, and Carrie had this sort of Auntie Mame desire to find humor in everything. We also realized that, if we did this, everything would fundamentally change."
Early romantic feelings aside, Hamill described plenty of good times the friends spent together for the feature. While filming this latest Star Wars installment, they had a competition to see who could get to a million Twitter followers first. The two promised to heckle each other's funerals. It reignited their dynamic where they constantly poked fun at each other. Even for someone like Hamill who knew her for decades, it seems that he was still totally captivated by Fisher's company, just as with their younger co-stars.
One of the saddest revelations from the Vanity Fair profile is that the next film was intended to center largely around General Leia Organo. The script was already written, and Fisher was ready to star. Now, the entire series faces a huge loss from Fisher's passing, both on and off the screen. As a general, Leia was a commanding, guiding presence for her army of resistance; on set, Fisher was the same for her co-stars.