No One Talks About How Activism Affects Your Health — But These Women Will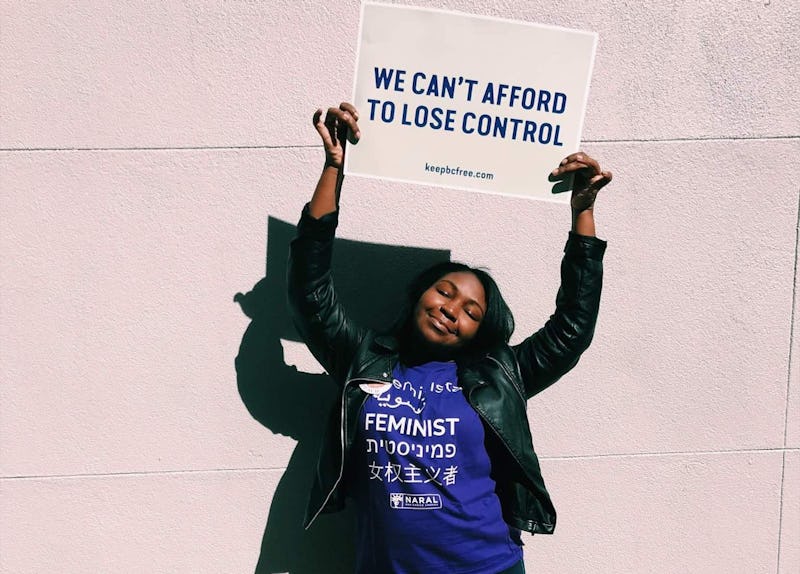 Courtesy of Kyra Reed
Haniza Chicano almost broke down in tears during a speech at her university last year while laying out how many undocumented immigrants could lose their U.S. residency with the elimination of the Deferred Action for Childhood Arrivals (DACA) program. Right there, mid-speech, Chicano was having one of her anxiety attacks, which she'd only started experiencing after President Trump announced the end of DACA. Like Chicano, women across the nation made new or renewed commitments to political activism following the 2016 election and the 2017 Women's March — but they rarely talk about the physical and emotional toll their activism takes on them.
"I realized this is affecting me, and this is affecting my health," Chicano, 29, tells Bustle. "This [issue] is bigger than me, and I need to take a step back at certain times and recollect myself."
The 2017 Women's March was the first time many women, and some men, delved into the realm of activism. The sea of pink pussy hats that flooded the streets of Washington, D.C. made a physical show of women's collective power. But that euphoria didn't last for all activists. For many, getting — and staying — involved can mean living in a continual state of anger and fear that can lead to burnout.
Post-election anxiety has become a reality for people on both sides of the aisle, even if they haven't made a commitment to activism. Two-thirds of Americans are stressed about the future of the nation, according to a February report from the American Psychological Association, and more than half of respondents attributed a major part of that increase in stress to the current political climate. While social media and a 24/7 news cycle keep anyone with a smartphone constantly plugged in, activists can't always shut the world out — after all, they need to know what's happening in order to organize effectively.
Like other women devastated by the results of the 2016 election and inspired by the Women's March, Chicano started searching for ways to advocate for the issues she's passionate about. She first arrived in Las Vegas from the Philippines nine years ago and was undocumented until becoming a U.S. citizen in May 2016, six months before Trump was elected. Last summer, she landed at the progressive public policy advocacy group MoveOn's summer program. Because she wants to advocate for undocumented immigrants and knows what it feels like to spend every day worrying about whether or not her family will be deported, news surrounding DACA and stricter immigration policies make her anxiety spike.
In Texas, voter registration activist Pat Noell first realized her increased political activity was affecting her health in early February 2017 — right around the time she got involved with the American Civil Liberties Union's (ACLU) Let People Vote campaign to fight gerrymandering. When she told her doctor that she couldn't figure out why she wasn't feeling well, she was told that she needed to learn to manage her anxiety.
Everyone has their own techniques for dealing with the constant stream of news. For Noell, the answer is channeling her energy toward the issues she cares about most. She founded Vote! Grapevine, a grassroots organization focused on registering people to vote in her Dallas suburb, and she's since used her activism as an outlet for her post-election stress.
"I've had to focus on one or two issues and completely ignore everything else," Noell, 77, tells Bustle. "The busier Vote! Grapevine is, the more it keeps me from thinking about some of the other things that are going on." Noell now spends about 20 hours a week building up an army of volunteer voter registrars, networking with other organizations, and speaking about redistricting efforts.
Kyra Reed, a 23-year-old reproductive rights activist and former NARAL Pro-Choice America fellow, similarly tries to combat emotional exhaustion by staying focused on reproductive justice issues. "It's overwhelming to try to do everything," she says. "I used to try to shut my emotions off and approach issues from a very neutral place to avoid seeming like I was behaving too emotional, but now I've learned to embrace it and make it work for me."
For Chicano, when it comes to managing the anxiety she feels creep up any time the topic of immigration arises, she swears by breathing exercises. She also made the life-changing decision to move to New York City to go back to school for economics and be closer to the organizing efforts she hopes to join. Studying has become both a medium to further her activist ambitions and a distraction from politics.
"The drive to finish school and to finish my degree is what keeps me going because ultimately I want to be able to use my education to help other people," she says.
Of course, channeling stress into work can only go so far. The term "self-care" may have become a cliché used to sell face masks, but its overuse doesn't cheapen the idea of taking care of yourself. As feminist writer Audre Lorde once said: "Caring for myself is not self-indulgence, it is self-preservation, and that is an act of political warfare."
When Reed starts feeling overwhelmed by the seemingly constant attacks on reproductive rights in America, she turns off her phone and focuses on herself for the day. "It looks different every time," she says. "Sometimes it's a spa day, a hike, or a day spent at home watching Netflix. After the election, self-care was driving to Krispy Kreme with my friends and just talking about how we feel."
A year out from the monumental Women's March that sparked an unprecedented rise in political activism, female activists still have tough fights ahead. But while the stress and anxiety shows no signs of stopping in 2018, activists are harnessing that tension to fuel their efforts to make change.
"I know how it feels to be helpless, to be silenced, and to have no rights, so turning all that emotion into activism is the best way to go," Chicano says, noting that a breathing exercise every now and then helps. "I feel like a lot of women need that right now."