The AHCA Will Gut Access to Abortion For All Women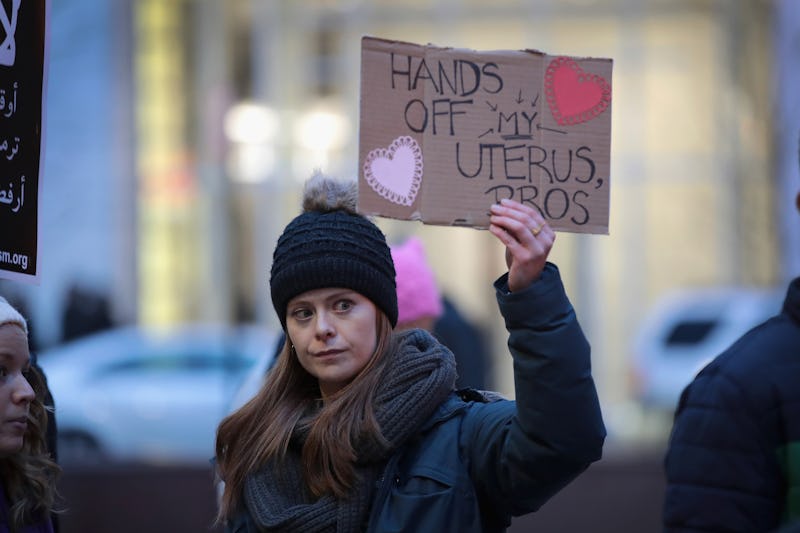 Scott Olson/Getty Images News/Getty Images
On Thursday, the House of Representatives passed the AHCA, a new law to replace Obamacare. But while attention seems to be focused on Republican lawmakers' dubious claims that the AHCA will protect people with pre-existing conditions, let's not forget the fact that the AHCA will restrict abortion access in a number of ways, potentially limiting women's access in both plans purchased on the individual market and private insurance plans provided through employers.
There are already strict limits on federal funding ofabortion, thanks to the Hyde Amendment. Passed in 1976, the Hyde Amendment bans any use of federal money to pay for abortion, except in cases of rape, abortion, or danger to the life of the mother. The AHCA seeks to extend that restriction further. The bill contains several stipulations that refuse funding for abortion providers and insurance plans that cover abortion services. Here's the breakdown:
The AHCA, if passed, will defund Planned Parenthood. Although the law does not call out the healthcare organization by name, it says that no federal funds may go to a "prohibited entity," and defines a "prohibited entity" as an organization "primarily engaged in family planning services, reproductive health, and related medical care" that provides abortions and receives Medicaid payments of more than $350,000,000 a year. So: Planned Parenthood.
When GOP lawmakers talk about defunding Planned Parenthood, what they really mean is that patients who use Medicaid will not be allowed to use their insurance at Planned Parenthood. That's clearly bad news for the low-income patients that rely on Medicaid, and it's bad news for abortion access more generally. To be clear, the federal funds that Parenthood receives are for services like contraceptive care and cancer screenings, not abortion (again, because of the Hyde Amendment). But the organization receives 40 percent of its income from Medicaid payments, and if that income disappears, it's safe to assume that many Planned Parenthood clinics will not be able to stay open — which in turn means that women will have fewer options available to them when seeking abortions (especially in areas where Planned Parenthood is the only abortion provider).
The AHCA also restricts insurance plans' coverage of abortion. Under Obamacare, insurance plans that receive federal subsidies are already banned from using those subsidies to fund abortion coverage. These plans can offer abortion coverage, but funding for this coverage must be carefully kept separate from federal money.
The AHCA, in contrast, would restrict federal funds from going toward insurance plans that cover abortion altogether. The new law replaces Obamacare's subsidies for plans on the individual health insurance market (i.e. plans purchased by individuals who don't receive insurance through their employers or through federal programs like Medicaid) with age-based tax credits. Under the AHCA, if you receive these tax credits, you are not allowed to purchase an insurance plan with abortion coverage, full stop. As Adam Sonfield, of the Guttmacher Institute, has pointed out, this would essentially gut insurance coverage of abortion on the individual market. He writes in an article for the Health Affairs blog,
Because almost everyone purchasing a plan in the individual insurance market would be eligible for several thousand dollars in federal tax credits, the end result would be that insurance companies would be no longer be able to offer plans in the individual market that include abortion coverage.
The AHCA puts similar restrictions on COBRA plans, federal subsidies for small businesses that purchase health plans, and on federal funding "for states that they could use in a wide variety of ways to stabilize their insurance markets," Sonfield explains. Although it's not yet clear how these restrictions on abortion coverage in the individual market will affect people who get their insurance via their employers, there is reason to be concerned. Because the AHCA targets abortion coverage on so many fronts, "[t]his legislation could have a chilling effect on some employers' willingness to include abortion coverage in the plans they sponsor," Sonfield warns.
Kate Zernike of The New York Times points out that subsidies for COBRA plans could be especially problematic for employers. People who leave their jobs and choose to continue on their employee insurance plans through COBRA would not be able to use their federal tax credits for plans that cover abortion. "Employers might decide not to offer abortion coverage, knowing that their employees, if they left, could not use their tax credits to continue that policy," Zernike writes.
The AHCA does allow women to purchase a separate insurance policy (a "rider") that only covers abortion, but such a thing is impractical and unlikely to be used. Abortions, by their very nature, happen because of unexpected circumstances, so the probability that people would buy riders for separate abortion insurance, just in case they need to terminate a pregnancy, seems very low.
Increased restrictions on abortion access aren't the only ways that the AHCA could negatively impact women's access to healthcare. The defunding of Planned Parenthood means that millions of people on Medicaid will no longer be able to access contraception, STI testing, cancer screenings, and other preventative healthcare through the organization. Under the AHCA, states will be able to apply for a waiver to get out of requiring that insurance plans cover essential health benefits, including maternity coverage. States will also be allowed under the AHCA to let insurance companies charge higher premiums for people with pre-existing conditions. Prior to the implementing of the Obamacare, pre-existing conditions included such things as pregnancy, having had a C-section, having been raped, and being a victim of domestic violence. To put it mildly, this bill is terrible for women.