'The Amazing Race' Cast Brings Together Total Strangers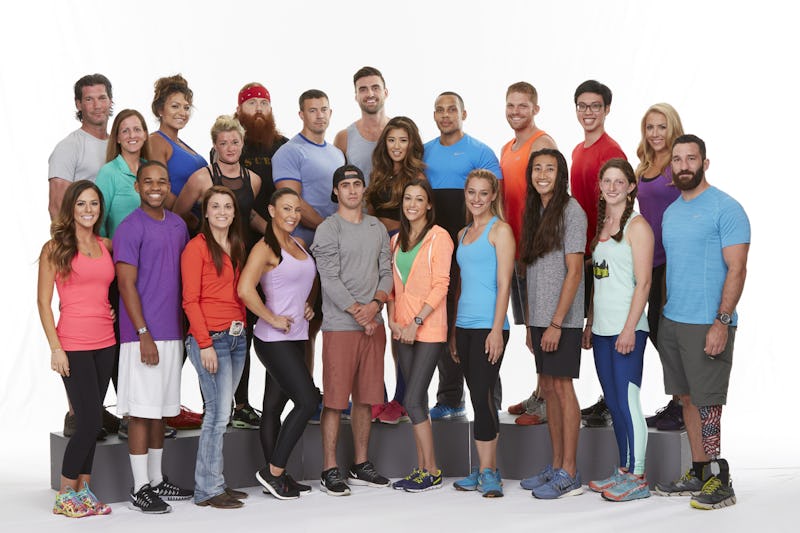 Monty Brinton/CBS
The Amazing Race is the grandpa of reality competition shows. It's old, well-established, and entertaining. The show is now entering its 29th season. Usually, pairs of two people who know each other well race around the world competing for a million dollars. Audiences love watching as family, friends, and lovers compete and find victory or defeat together. The Amazing Race is mixing it up this season by pairing complete strangers together. It's actually the first time in the show's 29-season history that this has happened. Twenty-two strangers will meet on day one, where they will pair up and begin the adventure of a lifetime. So, who are the members of The Amazing Race 2017 cast? I have the full list for you below, and it doesn't disappoint.
Pairing up strangers promises great television. Executive producer and co-creator of The Amazing Race, Elise Doganieri, said in an intro video for the season, "I think there's going to be two types of sparks. Probably love sparks. And probably fiery drama sparks." I would have to agree; there's so much potential. And, the cast has everything from firefighters to math champs to models, so it's a good mix. Meet the exciting group of soon-to-be world travelers below and hear what they had to say in their revealing CBS video bios.
Kevin Ng
This certified athletic trainer lives by the motto, "long hair, don't care." He would buy a bunch of puppies if he won and probably would let their fur grow shaggy and long.
Becca Droz
Becca is a climbing instructor who has three siblings, two big braids, and one goal to win. With a degree in outdoor leadership and a huge smile, she is ready to run around the world.
Redmond Ramos
Right off the bat, Redmond is probably the most likable of the cast and he knows it saying, "And who's not gonna like me?" Redmond was a combat medic for the marines before losing his leg and is now a motivational speaker.
Olivia "Olive" Beauregard
Olive is a firefighter from Boston complete with an accent and an east coast attitude. She hopes for a partner who won't quit and wants to make her department back home proud.
Jessica "Jessie" Shields
This tough police officer has a different partner at home, a german shepherd named Hector the Protector. She doesn't want a partner who will cry on national television. No tears, only trophies!
Francesca Piccoli
Francesca is a drill sergeant, and she's not willing to compromise her morals even for those sweet dollar bills.
Floyd Pierce
This young contestant is the leader of his college marching band. He's a happy-go-lucky guy with a competitive streak underneath.
Vanck Zhu
This guy has the brains, working as an equity analyst on wall street. He's a math champ and a midwestern boy at heart who just wants a compassionate partner.
Tara Carr
This sweet mother of four has proven her toughness by giving birth to four kids in five years via natural birth and through her career as an army officer.
Shamir Arzeno
This contestant is a banker who builds his money and is also a competitive body builder who builds his muscle.
Seth Tyler
Seth is a police officer who grew up on a farm, so he's excited for the physical challenges and hopefully some animals. He claims to be a bad dancer, so he's hoping for a partner who has rhythm.
Scott Flanary
Scott is a recruiting manager from L.A. who is comfortable calling himself the complete package. He wants a partner who will compliment his strengths and is not socially awkward.
Sara Fowler
Sara says that underneath her makeup and hair is a low-maintenance girl who wants a positive partner.
Michael Rado
Michael is more than meets the eye and owns a bookstore with his wife. His proudest accomplishment is raising is daughter, and he is hoping for a partner who is thrilled to be racing around the world.
Matt Ladley
Matt is a professional snowboarder who is ready to explore the world without his board. He's a chill dude who wears his cap backwards and doesn't want to fight with his partner.
London Kaye
London is an artist who works primarily in yarn. She's even made a billboard out of yarn! She wouldn't mind finding the man of her dreams during the show, but of course winning is her priority.
Logan Bauer
Logan is a medical device sales rep from Columbus, Georgia who is ready to see the world and go for the money.
Elizabeth "Liz" Espey
Elizabeth is an auctioneer from Missouri who has been earning money in auctions since she was 6 years old. She hopes to bring her new world travels back to her small town.
Joey Covino
Joey is a "wicked sarcastic" Boston cop with a thick accent and a love for his kids. He's run the Boston Marathon 12 times and wants a partner with "heart." No "r" in that pronunciation.
Jennifer "Jenn" Lee
Jenn is a model from West Hollywood who is thrilled to be paired up with a stranger. Jenn believes she will be underestimated because people think she's "not the smartest crayon on the box" and that will be her strength.
Brooke Camhi
Brooke is a quick thinking attorney from NYC who also works in litigation support. She once wrote down that being on The Amazing Race was her goal and even laminated it. Laminated goals are the best goals!
Ashton Theiss
Ashton is a realtor from Texas who grew up hunting and riding ATVs. She is competitive, a planner and thinks it would be hilarious if her partner became her husband.
Check out this cool cast when The Amazing Race premieres March 30 at 10 p.m. ET on CBS.