Here Are All The Things The Apple Watch's New Heart Monitor Can Do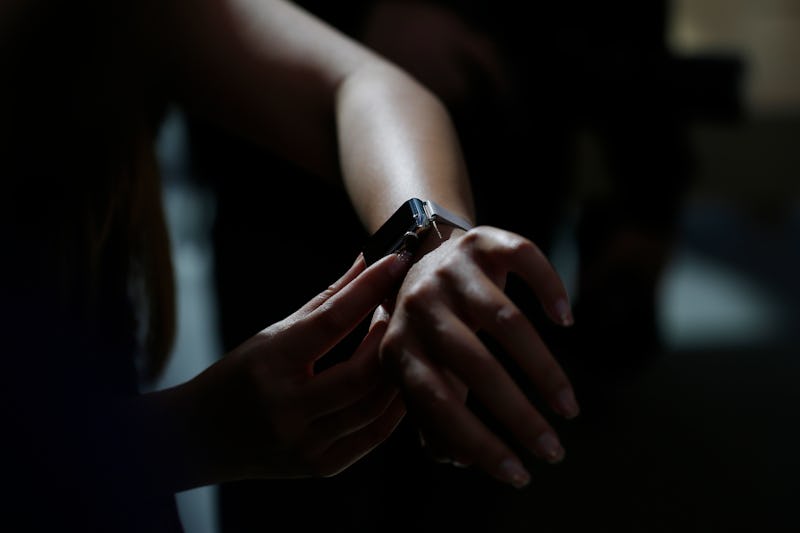 Stephen Lam/Getty Images News/Getty Images
Heart health is something women are starting to pay more attention to — Grey's Anatomy even had a storyline about Dr. Miranda Bailey having a heart attack, emphasizing the importance of recognizing the signs you're experiencing a cardiac episode. Need a little assistance? The Apple Watch heart monitor is here, and it's going to be your new heart health BFF. If you have an Apple Watch Series 4, you can use the ECG app to take an electrocardiogram right from your wrist.
Electro-who-a-what? If you've never heard of an electrocardiogram, it captures your heart rhythm and records symptoms like rapid or skipped heart beats, which helps provide critical data to your doctor in the event of a cardiac event, Apple announced on its website. Apple Watch Series 4 users can download the watchOS 5.1.2 update to enable the ECG app and irregular heart rhythm notification feature, which can identify signs of atrial fibrillation, the most common irregular heart rhythm. If left untreated, atrial fibrillation can lead to stroke, heart failure, or other complications, according to the Mayo Clinic.
"We are confident in the ability of these features to help users have more informed conversations with their physicians," Dr. Sumbul Desai, Apple's vice president of health, said in the announcement. "With the ECG app and irregular rhythm notification feature, customers can now better understand aspects of their heart health in a more meaningful way."
Don't have the Apple Watch Series 4 and having major FOMO? You can still enable notifications for irregular hearth rhythms, you just don't have access to the other on-demand features of the ECG app. If you do have the Apple Watch Series 4, and you want to get started ASAP, download the update, launch the ECG app, and hold your finger on the app's digital crown, Apple advised. After 30 seconds, the app will classify your heart rhythm as either AFib (atrial fibrillation), sinus rhythm (normal), or inconclusive.
"All recordings, their associated classifications, and any noted symptoms are stored securely in the Health app on iPhone," Apple noted. You can also share a PDF of the results with your doctor. Ahead of the launch, the irregular rhythm notification feature was the subject of an Apple Heart Study that included more than 400,000 people, making it the largest screening study on atrial fibrillation ever conducted and one of the largest cardiovascular trials to date, according to Apple.
"The role that technology plays in allowing patients to capture meaningful data about what's happening with their heart, right when it's happening, like the functionality of an on-demand ECG, could be significant in new clinical care models and shared decision making between people and their healthcare providers," Nancy Brown, CEO of the American Heart Association, told Apple.
While the app does detect irregular heart rhythms, it does not detect heart attacks, blood clots, strokes, or other heart-related conditions including high blood pressure, congestive heart failure, high cholesterol, or other forms of arrhythmia, Apple reported. It's important that you don't use the app as a replacement for proper medical care.
"The idea that wearables can be used by both patients and their health care providers to manage and improve heart health holds promise and should also be approached with caution to ensure information and data are used responsibly and in concert with other evidence-based tools and guidelines," Dr. C. Michael Valentine, president of the American College of Cardiology, told Apple. What's more, the ECG app isn't approved for everyone.
Once you download the update, your device will guide you through an onscreen setup that includes details about who can use the new features, how the features work and what they can and cannot do, what results you may get, how to interpret those results, and clear instructions for what to do if you experience symptoms that require immediate medical attention. Mind blown. Apparently the future of modern medicine is now, and you can wear it on your wrist.