The 'Are You The One' Season 7 Cast Is Done With Duds & Serious About Finding Love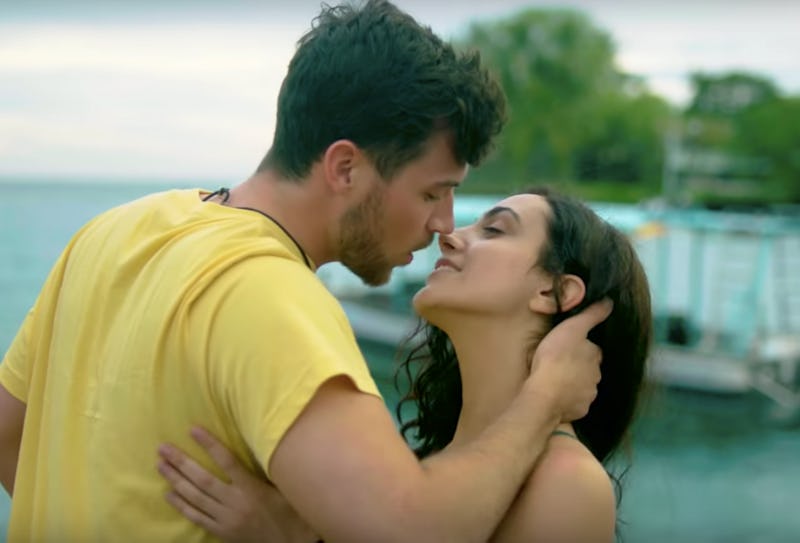 MTV
The Bachelorette roses may be stowed away for now, but there's no need to worry, because (televised) love is still in the air. Its reality TV tenure may not be as long as that of Bachelor Nation's, but MTV's Are You The One is about to begin its seventh season, which means 22 new singles will be looking for their soulmates made in professional matchmaking heaven. The stakes are high, and so is the cash prize. So here's to hoping that each member of the Season 7 cast of Are You The One can make it past the drama and into the right person's heart.
If you don't know how it goes, the 22 cast members are secretly matched, by professionals, to the person among them with whom they're most compatible. The challenge is to find that person, and well, actually love them. At the end of each episode, after the cast submits their best guesses, the number of correct matches is revealed — who those couples are is not. As if love wasn't stressful enough.
After a dry spell in its earlier seasons, the Season 6 cast made history by correctly uncovering all 11 couples in the season finale. Up until then, only one couple had been confirmed by the matchmakers. That means they walked away splitting the cash prize of one million dollars, but it was a close one. Courtesy of MTV's official bios, meet the lucky 22 who get to try their hands at doing the same thing on Season 7.
Andrew Couture
According to his bio for the show, Andrew is a "Boston bro" who plays up his bad guy side to give the ladies what they want. But that's not truly who he is, which is why he came on the show — to find someone who will accept him for who he is, soft side included.
Asia Woodley
Asia is as fierce as she looks, but according to her bio, some guys are intimidated by that. She's looking for a guy who's as strong as she is, but she's going to have to let her guard down a bit to find him.
Brett Ferri
He got his heart broken by a past relationship and hasn't believed in love since. Instead, he has treated it like a game, and he's definitely the player.
Bria Hamilton
Bria is a debate team champion who struggles with two relationship killers: a need for control and jealousy, which is why her dating has gone down hill in the past.
Cali Trepp
She's a pediatric nurse manager and a singer-dancer, so naturally her soul is sweet and vulnerable. She's been heartbroken one too many times, and hopefully this won't be one of them.
Cam Viney
Coming from a political family, Cam is an active Republican who sees a future in D.C. as a politician himself. Unfortunately, that career path isn't serving his liberal-leaning love life too well.
Daniel Vilk
He may have Ukrainian charm, but he's notoriously unfaithful, which is definitely going to be a red flag for most.
Jasmine Rodriguez
After being cheated on, this Jersey girl has trust issues. But can you really blame her?
Kayla Umagat
A bubbly former NFL cheerleader who tends to self-sabotage her relationships after being hurt one too many times. Sounds all too familiar.
Kenya Scott
Kenya chooses not to trust guys, even when they've given her no reason not to. As you can imagine, that hasn't bode well for her in past relationships.
Kwasi Opoku
His bio says that his alter-ego, "Kwasi Beast," would rather be the life of the party than the boyfriend type. But the real Kwasi just wants to find someone to take home to Mom.
Lauren Roush
A pageant queen and badass education-law student who admittedly, has poor taste in guys.
Lewis Belt
As a comedian, women tend to see Lewis as all jokes. But he wants to prove to himself and others that that's not the case.
Maria Elizondo
Ironically enough, Maria is pursuing a communications degree, but tends to fall for guys who are horrible communicators.
Moe Elkhalil
Moe has good intentions, but his temper gets the best of him sometimes, which explains why he's single.
Morgan Fletcher
She's a former competitive dancer with a strong personality that has scared guys away time and time again. Her fear of vulnerability has kept her from finding the one.
Nutsa Sikharulidze
This Kylie Jenner look-a-like has un-realistically high expectations for her love life after ending a particularly bad relationship that she was trapped in by her conservative family values. Now, she's looking to find middle ground.
Samantha McKinnon
Samantha is a Chicago club manager of not one, two, but three hoppin' establishments. So needless to say, she needs a guy who can keep up, and she hasn't found one yet.
Shamoy Persad
Shamoy's family was pretty largely spread out geographically growing up, which has created a clinginess within him that has translated to his romantic life. And to that, many women have said no.
Tevin Grant
With a job that requires him to be the life of the party among beautiful women full-time, Tevin finds it hard to fall in love and stay in love.
Tomas Buenos
Tomas' love life has been tainted by the Miami dating scene and his inability to own up to his player-like tendencies. Hopefully this dating game brings out a different type of player in him.
Zak Jones
A nice guy who finished last turned bitter and became the relationship villain. But he's ready to hang up both identities for a future with the perfect partner.
If you want to see these hotties attempt to solve this logic puzzle of love, tune into the MTV season premiere on Wednesday, Aug. 15 at 10 p.m. ET.