The Ariana Grande Black Bunny Ears Ribbon Is Stirring Up Debate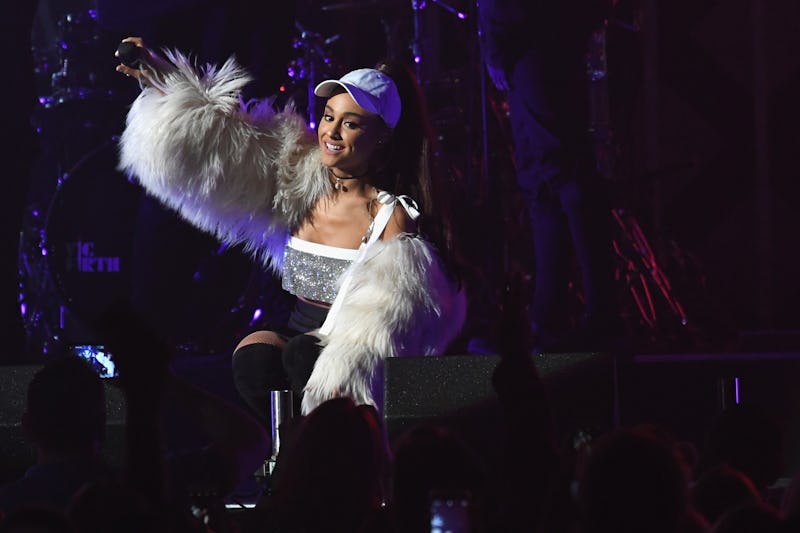 Daniel Boczarski/Getty Images Entertainment/Getty Images
As more information comes out about the tragic events of Monday night's Ariana Grande concert, tributes have begun to pour in. Countless people are honoring the victims of the explosions, which took the lives of 22 people, including children and teens, and injured 59 others. One of the most talked-about tributes so far is the black bunny ears ribbon, a symbol that, while honoring the victims, also acknowledges Grande's famous style choice and is thus stirring up some controversy.
Although it's unknown who created the symbol, its existence has caused many people on Twitter to voice their opinions about its effectiveness. While some individuals are praising it for acknowledging both the Manchester tragedy and Grande, since the singer was undoubtedly affected by the events at her concert, others are condemning it for being a symbol of "branding" for Grande during a time of such tragedy.
Any symbol that pays tribute to the victims of such a horrific crime and is used as a way of honoring their lives is commendable. Yet it's understandable that some people would have negative reactions towards this particular tribute, as the attention given to the concert tragedy should not be focused on Grande herself, but the people who died or were injured.
Clearly, the symbol is stirring up serious conversation, and the more visible it becomes on social media, the more reactions it'll garner. Celebrities like Sarah Michelle Gellar have already begun sharing versions of it, so it'll undoubtedly be seen by many, many people.
Whether the symbol should've included the bunny ears or not is up for debate, but regardless, if it's used to help pay tribute to the concert victims and spread awareness of the tragedy, it's good to see it circulate.