Princess Eugenie's Wedding Will Take Place During This Important Retrograde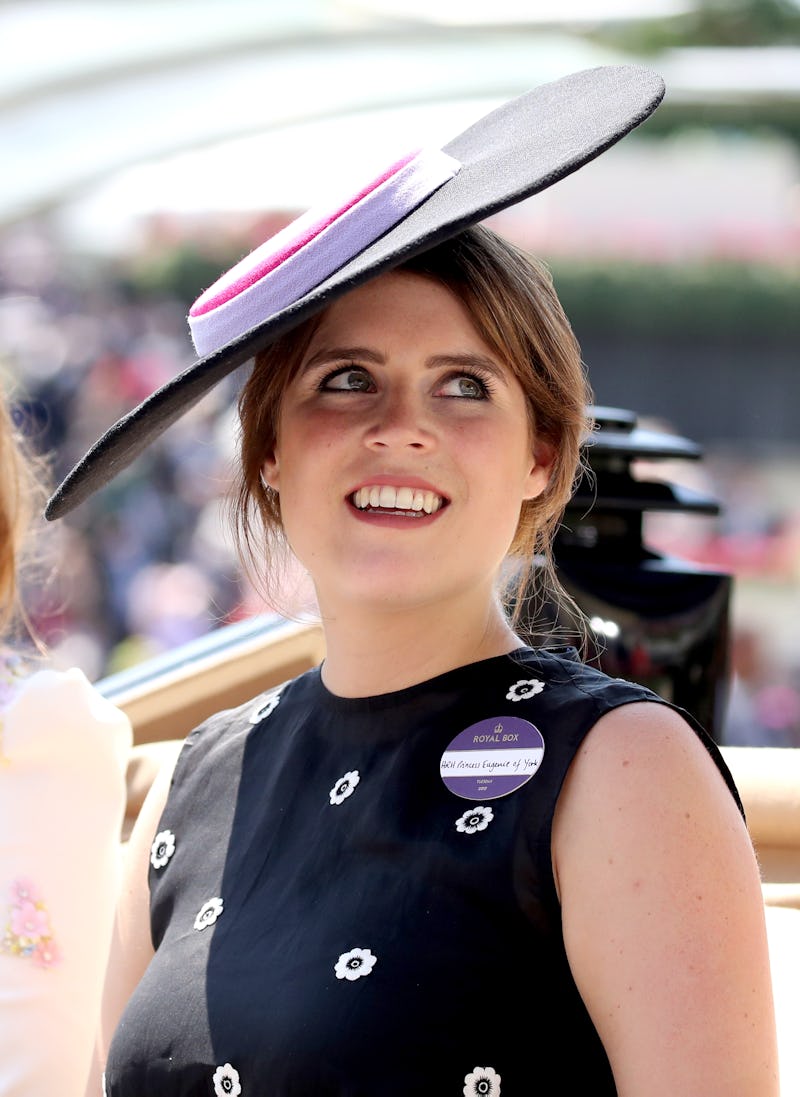 Chris Jackson/Getty Images Entertainment/Getty Images
Royal family watchers will be happy to note that Meghan Markle and Prince Harry aren't the only couple indulging us with a lavish royal wedding this year. Princess Eugenie of York, the second and youngest daughter of Prince Andrew and Sarah Ferguson, the Duke and Duchess of York, is marrying her longtime boyfriend, Jack Brooksbank on Oct. 12, 2018. And while speculations about the dress, the guest list, and whether Eugenie will wear her mother's tiara are all abuzz, you also might be wondering about the astrological significance of Princess Eugenie's wedding day.
Astrologer Marlena Marie tells Bustle via email that while the couple has some significant differences in their charts, "They likely provide each other with what the other lacks, which is a beautiful thing."
Princess Eugenie, 28, is ninth in line for the British throne, according to TIME. Born on Mar. 23, 1990, Princess Eugenie's sun sign is in Aries, her Moon is in Aquarius, while her rising sign is Libra, according to Astro-Charts. Eugenie's fiancé, born on May 3, 1986, according to AstroDienst, has a sun sign in Taurus. Per Astromatcha, marriage between an Aries and Taurus can be super compatible, with grounded yet sensual Taurus providing a good counterbalance to Aries' fiery and willful nature. Both signs have huge strength of will, but are also usually harmonious enough to weather any conflicts that might come up, Astromatcha further notes.
But what about the astrological significance of the wedding day itself? According to Brides, a wedding date's zodiac sign can have a major influence on how a couple's marriage will unfold. With an Oct. 12 wedding date, Jack and Eugenie's wedding takes place under the sign of Libra — which is also the princess's rising sign. Brides reports that balanced Libra is the ruling sign of marriage, and Libra marriages are all about fairness and give and take. Libra spouses are also great at prioritizing each other, Brides further notes, and so long as both people are mindful of maintaining a healthy sense of individuality, Libra marriages can be super successful.
That said, it's worth noting that despite the fact that Libra season is considered an auspicious time for weddings, we're also set to go into Venus retrograde on Oct. 5 through Nov. 16, which could complicate plans when it comes to relationships.
Marlena also notes that Venus is moving retrograde via intense Scorpio, which could impact the couple's future. "Whenever a planet is retrograde its power is muted. With Scorpio, you're usually looking at things with depth as well as power. Scorpio is a highly emotional sign." Marlena further explains that Scorpio "also deals with power, so it will be interesting to see how the theme of power plays out through their marriage."
Elite Daily suggests that Venus moving retrograde through Scorpio also offers up a bunch of opportunities to reflect deeply about our love relationships and what they mean to us. So, while emotions might run a tad high during Venus in retrograde, so can passion and a renewed sense of intimacy in partnerships. Elite Daily further suggests that harmony-promoting Libra is expected to soften the effects of Venus moving retrograde, so don't worry too much about the effects on your love life, or the outcome of the soon-to-be royal nuptials.