There Are So Many 'Bachelor' Dolphin Memes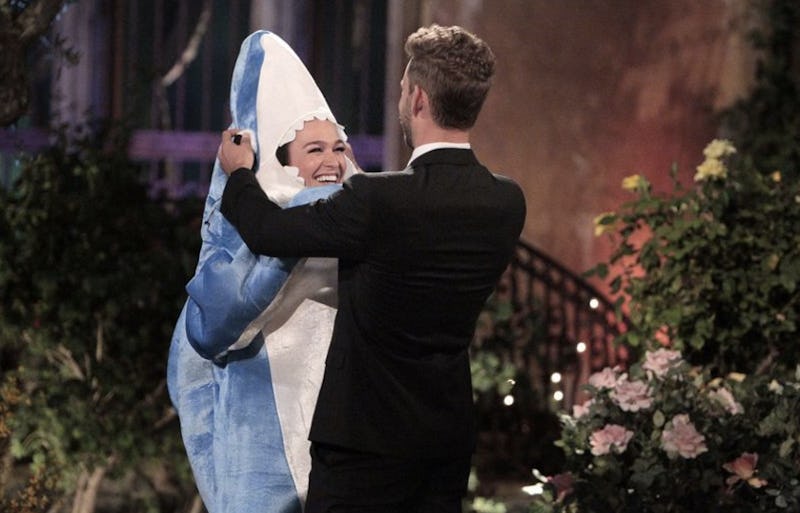 Monday night's Bachelor premiere sparked an interesting debate, and surprisingly enough, it had nothing to do with roses or Nick Viall. Nope, it had to do with contestant Alexis' limo arrival. She showed up dressed as what she thought was a dolphin but was clearly a shark, and try as Nick and her fellow ladies might, she just would not be convinced she was wrong about her costume. But whether or not Alexis ever figured out she's actually a dolphin (possibly even Left Shark) doesn't actually matter; instead, it's the dolphin memes The Bachelor fans gifted us with that really count.
Of course, every season premiere usually provides a few hilarious, meme-worthy moments, but this time, the shark vs. dolphin thing is the clear winner. No matter what side of the argument you're on (she's a shark), you're sure to get a few laughs out of these. And, in any event, I'm looking forward to seeing more from Alexis this season. She may not be 100 percent clear on her marine life, but at least she doesn't take herself too seriously!
Behold: The best thing that's happened to The Bachelor since Nick got chosen as the lead in the first place.
This Solid Mashup
Pretty much.
And This One
If you're not following GMA, you need to be. They are killing it.
The Dress Code Confusion Angle
TBH, business casual is really vague.
This Horrifying Reality
Maybe she's onto something...
She Is Clearly The Highlight Of 2017
And after the way 2016 went, it's honestly what this world needs.
It's Already Culturally Relevant
For the record, the dress was white and gold and this woman is dressed as a shark.
Alexis, thank you so much for this. I can only hope more costumes are in our future this season.