Bekah M.'s Apology Just Ended Her 'Bachelor' Twitter Feud With Raven In A Super Mature Way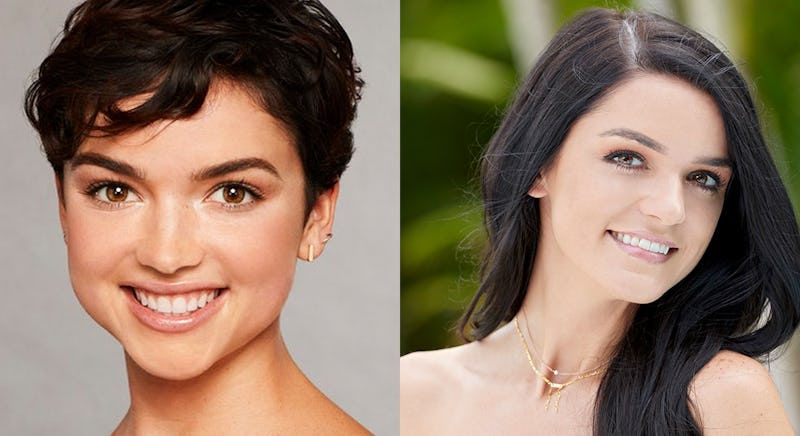 raig Sjodin/ABC; Bob D'Amico/ABC
Two weeks ago, Bachelorette contestant Colton Underwood told Becca Kufrin that he'd previously been romantically involved with Tia Booth and it unexpectedly set off a chain reaction leading to a Twitter feud between Bekah M. and Raven Gates. But judging by Bachelor star Bekah Martinez's apology tweet, which she posted early Tuesday morning, June 19, it sounds like the former Bach contestant might be keeping her opinions on the Tia-Colton situation to herself from now on. Or, she's going to be more mindful of the way she shares them, at least.
"I woke up this morning realizing I regret blasting Tia+Colton on social media," she wrote, jumpstarting what would eventually become a four-part tweet series. Those who watched Arie Luyendyk's tumultuous season of The Bachelor earlier this year probably won't have a hard time remembering Martinez (AKA "Bekah M."), the spunky 22-year-old SoCal native who lied to her mom to get on the show. Residents of Bachelor Nation know full-well that Bekah has a penchant for speaking her mind, for better or worse. And this time, unfortunately, it might've been for worse.
Since Colton and Tia's past romantic connection was revealed, Bachelor Nation has been buzzing with debate: Did Colton lie? What are his motives here? Several Bachelor alums have been weighing in on the issue, too. Last week, Bekah got tied up in a pretty heated back-and-forth on Twitter with Bachelor alum Raven Gates. What for? It all started with a tweet from Bekah last Friday, June 15, which accompanied a spoiler photo initially shared by Bachelor blogger Reality Steve. But it was the tweet's caption that seemed to conjure up the most controversy on social media. It read:
Tia+Colton: 'yeah Becca, we're both 100% over each other! we're TOTALLY not planning on getting back together/probably engaged the minute we're in paradise (we're gonna get so many followers from this manufactured narrative lol).
In a series of tweets that has since been deleted, Gates (who happens to be a good friend of Tia's, according to several reports) slammed Bekah for her tweets about Tia. Which, in a lot of ways, makes sense, since Bekah and Tia are also really good friends. According to E! News, Gates' response to Bekah's tweet went like this:
Hey everybody!! Make sure you follow @Whats_Ur_Sign_ so she can get those followers so she can stop talking sh*t about her friends…like Tia!!!! And Becca!! Come on now hurry up!
At first, Bekah got a little defensive in her interaction with Gates, arguing that she'd never bad-mouth Becca K. "because she's as real as it gets." (Those tweets have been deleted, too, but inquiring readers can still parse through the screenshots in this report by Cosmopolitan.) But if her recent string of apology tweets is any indication, it sounds like Bekah has taken some time to think.
Continuing her first apology-tinged tweet, Bekah went on to acknowledge the ways in which she might've reacted inappropriately to the whole Tia-Colton ordeal. To that end, she wrote,
Regardless of my feelings about the situation, a sarcastic tweet is not the way to handle it. There ARE less petty/immature routes to take, and I HAD promised Tia months ago I'd stop the sh*t-talking.
Three minutes later, Bekah followed up her initial mea culpa with a much more straightforward apology tweet. "So I guess what I'm saying is I'm sorry," the former Bachelor contestant wrote, adding that her recent shade-throwing was mostly a byproduct of her own emotions getting the best of her. "I got heated and caught up in what I was feeling and wanted people to hate on [Colton and Tia] cause I felt like the situation was unjust," Bekah continued, though she wrapped up that second tweet with another concession: "It's really not my place to be the justice police, as much as I wish it was."
Of course, in pretty typical Bekah fashion, the Bachelor alum wrapped up her lengthy "I'm sorry" with a clarification: She's not apologizing for speaking her mind, just for how she went about doing it. "I could have still kept it real and spoken my truth in a less abrasive, less sh*t-stirring way," she wrote in a follow-up tweet about 30 minutes later. "The issue is the way I handled it, not the content."
Regardless, it certainly sounds like Bekah no longer wants to be part of any drama stirred up on social media. And while the specifics of the Tia-Colton issue remain a little murky at this point, Bekah's apology tweets made one thing pretty clear — the former Bachelor contestant definitely isn't afraid to speak her mind, but she's also not afraid to own up to her mistakes. So here's to hoping Bekah keeps being real, albeit, perhaps with a little more discretion next time.