'The Bachelorette' Contestant Garrett Yrigoyen Apologized For His Controversial Instagram Likes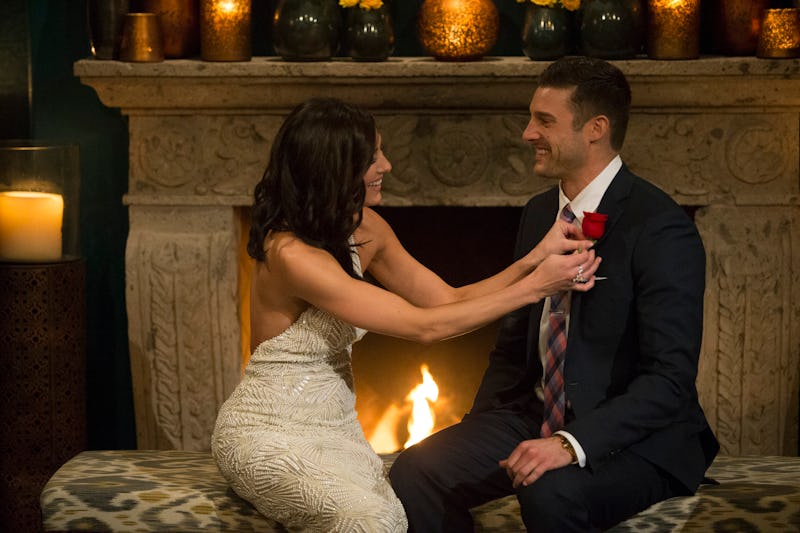 Paul Hebert/ABC
Recently, Bachelorette fans noticed that frontrunner contestant Garrett Yrigoyen had liked some controversial and offensive posts through his former Instagram account. On Thursday, May 31, The Bachelorette's Garrett apologized for his Instagram behavior through his brand new Instagram account.
Part of his apology on Instagram read:
"I am sorry to those who I offended, and I also take full responsibility for my 'likes' on Instagram that were hurtful and offensive. I decided to take it down and start fresh because I have learned an extremely valuable lesson and am taking steps to grow, become more educated, and be a better version of myself."
"I am not perfect, and I will never be anywhere close, but now I will always be more informed and aware of what I am liking and supporting, not just on Instagram, but in life."
Yrigoyen also wrote that he didn't "know what to expect" when The Bachelorette aired. To be fair, most people probably can't imagine the amount of scrutiny public figures like the Bachelor and Bachelorette contestants go through. Still, though, Yrigoyen and his fellow contestants voluntarily signed up for the show, which means he probably should have given more thought to combing through his past social media activity for any red flags. Here's his full Instagram apology:
Yrigoyen's Instagram statement is a step in the right direction, but it still leaves much to be desired. Part of his apology describes his Instagram likes as a "mindless double tap." Instead of acknowledging the fact that the posts he liked contained offensive content, Yrigoyen chose to focus on the fact that his actions were just social media "likes."
Notably absent from Yrigoyen's lengthy apology statement are any mentions of immigrant rights, sexism, transphobia, or school shootings, some of the topics that were reportedly addressed by the offensive posts he "liked" in the first place. Instead, the apology makes vague allusions to things being "hurtful and offensive."
It's great that Yrigoyen writes he is "taking steps to grow, become more educated, and be a better version of myself." But the apology is a bit of a missed opportunity for him to help his followers "become more educated," too. If the posts that he "liked" really don't represent his "morals," as the Bachelorette contestant wrote, his new post could have been an opportunity to call attention to these issues and what he considers his true morals to be.
Before Yrigoyen's Instagram apology, Becca Kufrin also addressed the Instagram controversy during an interview with E!. During that interview, Kufrin encouraged fans to "stay open and respect" this season's Bachelorette contestants. She told E!,
"I've heard a little bit about it these past couple days. I've just been so busy traveling around the country with press that I haven't really been able to read too much up on it, but everyone is entitled to their own opinions, and at the end of the day I wanted to go on this journey to open up myself and have people see my love story unfold and I would hope that they would stay open and respect me but also stay open and respect these 28 guys that went along on the journey with me."
It's fair that Becca wants people to keep an open mind — The Bachelorette is just one episode into the new season, after all. Still, it's understandable why fans are upset by Yrigoyen's past Instagram activity, especially since some people have suggested the posts in question might not line up with Becca's own viewpoints, either.
Hopefully, the experience really is a learning opportunity for Yrigoyen, and not just a reminder to be careful what you post online. There's a reason the posts in question struck many people the wrong way. Yes, they're just Instagram posts. But seeing a hurtful and offensive image earn so many "likes" can be incredibly discomforting, to say the least. Even online, actions do matter, and the controversy surrounding Yrigoyen's actions illustrates that fact.