A 'Bachelorette' Frontrunner Is Being Called Out For Liking Controversial Posts On Instagram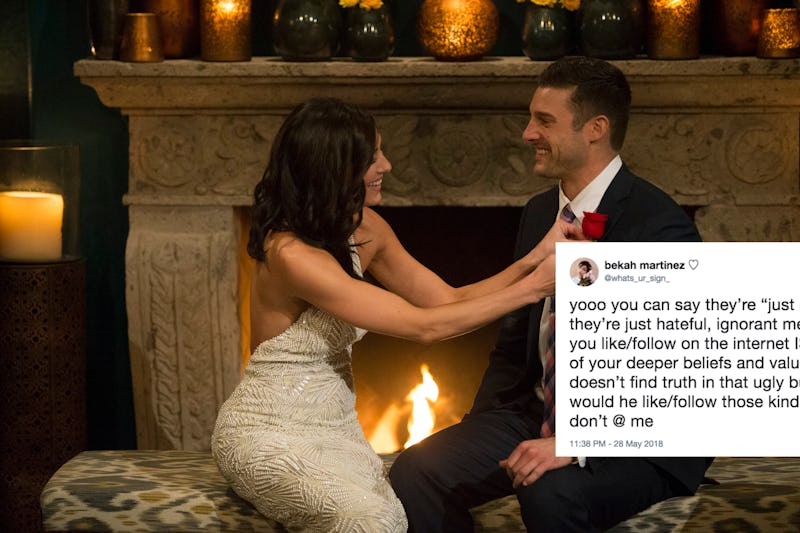 ABC/Paul Hebert; whats_ur_sign_/Twitter
While the newest Bachelorette Becca Kufrin may already be over her Bachelor catchphrase, some fans are over one of her contestants. Garrett Yrigoyen got Becca's first impression rose on Monday night, but fans really don't want her to "do the damn thing" with him. On Monday, Huffington Post reported that The Bachelorette's Garrett has a history of liking offensive posts that mock transgender people, immigrants, and Parkland students on Instagram. And for that reason, some members of Bachelor Nation wants Garrett gone. (Bustle reached out to ABC, who declined to comment on the situation.)
According to Huffington Post, fans of The Bachelorette uncovered that the 29-year-old medical sales rep reportedly liked controversial posts from right-wing accounts that go after feminists, immigrants, and trans people. One screengrab shared by former Bachelor contestant Ashley Spivey, which has since been deleted, mocked "leftist women" for their body size.
That post was from the clothing company Merica Supply Co. and was just one of many Garrett reportedly liked from the account. Another post he reportedly liked implied that to keep undocumented children out of the U.S., the military would physically throw them over the border. He also reportedly liked a post from Merica Supply Co. sharing the conspiracy theory that Parkland student David Hogg was really a "crisis actor."
According to a screenshot from the Instagram account @imwatchingyuuo, which has since been removed, Garrett also reportedly liked a post from the company in which they joked about gendered bathroom doors featuring a picture of Caitlyn Jenner for the women's room, and a photo of the Olympic athlete pre-transition on the men's room.
The contestant has yet to comment on the controversy, but Reality Steve claimed that Garrett is reportedly back on Instagram under a different name and it "didn't take long for the troll bots to come out in full force already." So, it's likely his latest account will be deleted again, or at the very least go private.
Once these posts went public, fans started commenting on the Bachelorette Season 14 frontrunner's behavior. A fan with the Twitter handle @RealityRose_ went after the show's casting: "How about not tolerating bigots by vetting the men cast for #TheBachelorette."
It was something Ashley also noted on her Twitter:
"Can we do a better job of social media deep dives on the dudes that try out for #thebachelorette - FYI douchebags we can see your likes."
Some, though, felt Garrett was being attacked for holding conservative views. "I can't believe the front runner Garrett on the bachelorette is already getting bullied for being a conservative," one person tweeted in his defense. "The left has to stop with this nonsense. It's OK to have different viewpoints!!"
Bekah Martinez, who was a contestant on Arie's Bachelor season, appeared to weigh in on the controversy, tweeting that there are no excuses for Garrett's online behavior. She wrote,
"yooo you can say they're 'just memes' but they're just hateful, ignorant memes. the sh*t you like/follow on the internet IS a reflection of your deeper beliefs and values. if he doesn't find truth in that ugly bullsh*t, why would he like/follow those kind of accounts? don't @ me."
But that wasn't the only jab she took at Garrett. After The Bachelorette premiere, Bekah went through this season's cast of men and poked fun at them, joking host Chris Harrison was "most likely in it for the money" and contestant Jason Tartick was "most likely to clap when the plane lands." For Garrett, though, Bekah went a bit harsher, tweeting, "most likely to say 'No Homo' when hugging a male friend."
Garrett isn't the only Bachelorette contestant who's brought controversy to the series for his social media posts. Last season of The Bachelorette with Rachel Lindsay, contestant Lee Garrett was called out for apparently racist and sexist tweets he posted in 2015 and 2016.
Lee, who was eliminated on the sixth episode of the show, later apologized for his tweets on The Bachelorette: Men Tell All, saying he was "irresponsible in what I put out" on Twitter and that he was sorry if he "hurt anybody in any way with a bad joke."
Fans of the show did necessarily buy Lee's explanation, with fan @brifazio tweeting, "Lee saying 'bad jokes' to justify his racist tweets is pathetic. He doesn't even deserve all of this TV time."
Another contestant on Lindsay's season, Bryce Powers, also came under fire for making what was perceived to be transphobic comments in his bio on the show's website. They were later removed.
Becca has yet to comment on the recent claims against Garrett. Though, it's unlikely she'll stay quiet now that fans are calling him out for his past social media behavior, especially if he does end up getting Becca's final rose as some have already predicted.