Wills From 'The Bachelorette' Is On Bumble & Open To Dating Fans, So Get Swiping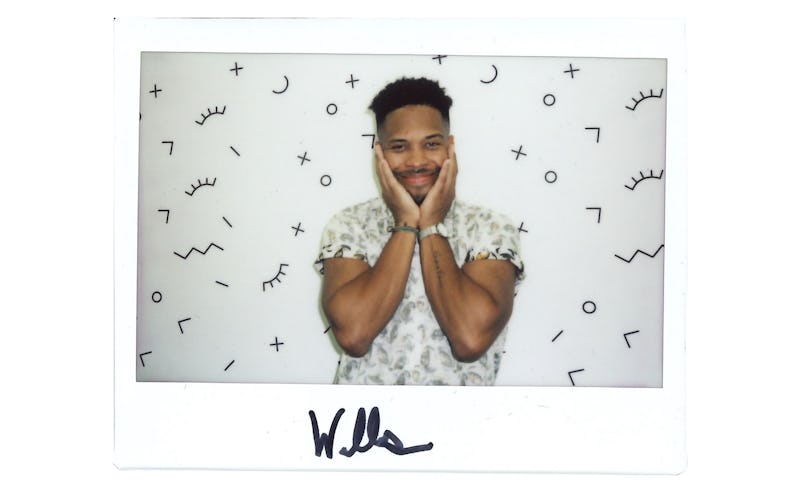 When celebrities hang out with Bustle editors, we want to give them the chance to leave their mark. Literally. So we hand them a pen, a piece of paper, a few questions, and ask them to get creative. The rest is up to them. This time, The Bachelorette fan favorite Wills Reid is leaving his mark in the Bustle Booth.
Wills is not giving up on love. Although he won't give out any roses as the next suitor on The Bachelor (his former co-star Colton Underwood is officially the series' newest leading man), he's still determined to find his offscreen happily ever after. And he's not opposed to right swiping to find it. Wills, who continues to be a fan favorite long after his departure from The Bachelorette and Bachelor in Paradise, is now on Bumble and open to dating fans. Get those profiles in tip-top shape, ladies.
When Wills — who got his nickname after visiting England in 2011, where it's common to shorten "William" to Wills not Will — visits Bustle, he's lowered the self-preserving guard he held while navigating Bachelor Nation altogether, relishing in his freedom from reality TV. He may be wearing a crab-patterned button-down, but his mindset is clearly focused on life after Bachelor in Paradise and Bachelor Nation in general. Unassuming and uncharacteristically humble for someone who's just been through Bachelor Nation pandemonium, Wills conveys realness, and THE keen sense of self-awareness that caused fans to fall for him in the first place. And what's more real these days than millennials turning to dating apps and "sliding into DMs" to find the one?
"I'm on Bumble right now just for fun. Excuse me, not for fun... I just like to have multiple avenues," Wills reveals. "And it's harder for me, 'cause before, when I was quote-unquote 'a nobody,' I was still very skeptical and paranoid of everybody and not trusting. And now that's times like 500."
With that said, he will respond to your messages, just try not to be creepy about it. "I have a lot of messages now, but if you send me a heartfelt message or just something nice or a question, I'll respond to you," he says. And if you're feeling generous and want to set young Wills up, give him some visuals. "If you offer to hook me up with your friend or something, just send me a picture of her, because I'm not gonna go on blind dates. I'm not trying to be superficial, but that's part of the game."
I'm not a fame seeker at all, and I don't want to be with a fame seeker.
Although Wills wouldn't mind "sliding into the DMs" of hot Hollywood starlets and even some former Bachelor franchise contestants, he's not ruling out dating fans. He's actually into the idea of you knowing a bit about him before that (fingers crossed) first date. Just be in it for the right reasons.
"I'm open to anything. If someone's a fan of me, that means there's an interest there. That's nice to open the door, but hypothetically as you get to know me, I would like her being a fan of me to go away," Wills says. "But if you only want to be around me for followers because I was on a TV show, then you can go somewhere else for that. That's not me. I'm not a fame seeker at all, and I don't want to be with a fame seeker."
With his piercing eyes, great fashion sense, and unabashed sincerity when it comes to pursuing love, Wills melted hearts all over social media during his time on The Bachelorette. But Becca sent him home before hometown dates, and viewers missed out on the rare opportunity to see a family of color represented on the show. After his elimination, Wills became a much talked about prospect to be the show's first black suitor. Though we know now that he won't be taking up rose-giving duties next season, he is still aware of the responsibility — should he ever be granted it — of becoming the first African-American man in the role. In a climate where black men are stereotyped at first glance, he has no illusions about the scrutiny he would've likely endured.
"It would be a huge, huge task for somebody [to be the first black Bachelor] and I was ready to take that on," Wills says, visibly deflated due to being overlooked for an opportunity to make history (he maintains ABC never once contacted him to feel out his interest in the gig). "It would not have been an easy situation whatsoever. 'Cause there are so many stereotypes in this world, it would just be hard. And that would be something I'd stress about every single rose ceremony, every single anything. I'd be like, 'Did I pick enough black girls?' Or like, 'If I don't have a black girl or two black girls in the final four, what is that gonna look like?' But then you also have to follow your heart. It's not cut and dry. And that's part of being a black man in America. Nothing's ever cut and dry. You always have to think of every single different angle and every single action you do, and that's tiring."
Wills felt this pressure while on The Bachelorette, too; he wanted to make sure he was representing himself, his family, and the African-American community as best he could. He says perhaps this cautiousness contributed to some saying he wouldn't be interesting enough as a Bachelor to carry the show. "I was very, very aware of what I did and what I said the whole time I was on The Bachelorette. So if that came [off] as low energy or boring, I'm not sorry," he says.
I'm like, you guys are really lowering me as a human being and picturing me as a mannequin that has clothes, or just a sheet of African-ness. You're not even thinking about, 'Wills would be great because he got his heart broken and now he can get his heart mended.'
At the same time, he's still frustrated by the fact that his Bachelor candidacy was never taken seriously. "I just personally I feel like I had a strong case," he continues. "It was never, 'Wills is a strong candidate because you know, he put his heart out there, he was hurt, and now we want to see him find his happiness.' It was always about, 'First black Bachelor, think of the outfits!' I'm like, you guys are really lowering me as a human being and picturing me as a mannequin that has clothes, or just a sheet of African-ness. You're not even thinking about, 'Wills would be great because he got his heart broken and now he can get his heart mended.'"
He does a trademark reinvigorated wiggle and says, "I haven't talked about this much blackness in a while, and I'm good with it! This should be a TED Talk or something."
Although he finds the idea of being asked to be the Bachelor in a later season unlikely, he's not ruling it out as a possibility. "Being the first black anything in a positive light would be a huge honor for my life story, so that's something to consider," Wills says. "But as of right now, I'm trying to move forward with my life. This is just a part of my life, this isn't the highlight of it, and I want to do what I set out to do, and I want to achieve my dreams. Staying in reality TV isn't my dream."
What are some of Wills' dreams? In the true form of a romantic, he lists what he calls realistic and unrealistic dreams. In the realistic column? Design work. His unrealistic list includes acting, or becoming a travel host. Realistically speaking, Wills is a genuine guy on a search for a love as strong as his parents', who wants to represent himself and his culture in the best light, with ambition that goes far beyond the thirst for 15 minutes of fame. Sounds like just the kind of ideal profile that deserves a swipe right, and a picture-perfect romance that reality TV could only wish to turn into a winning storyline.