No Backstreet Boys VMA Performance Is Complete Without Bedazzled Bomber Jackets, Duh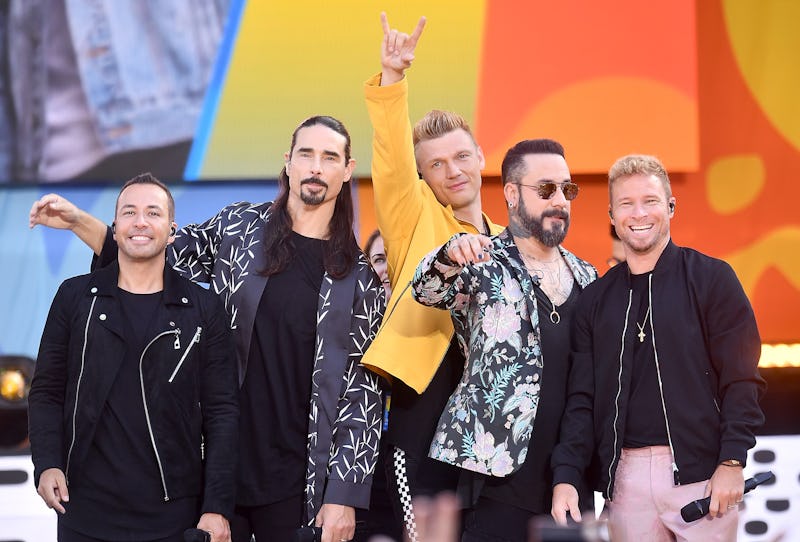 Michael Loccisano/Getty Images Entertainment/Getty Images
Backstreets back, alright! Your wildest dreams have come true, and your favorite '90s boy band is on the red carpet again. Backstreet Boys wore bedazzled bomber jackets to the MTV Video Music Awards, making for yet another iconic moment. Get ready to have those tween feels all over again, because these guys were dressed just as well as you remember.
It's been decades since the Backstreet Boys have had a VMAs moment, but it's better late than never. No, Nick Carter, Brian Littrell, Howie Dorough, Kevin Richardson, and AJ McLean were not nominated for any awards at this year's event. The five now-middle aged men instead got together to perform before the award show. They took their boy-band talents to the top of a roof to perform in sunglasses and bomber jackets.
It did not disappoint, either. The group only sang one song on top of the rooftop stage. Unfortunately, it was not any throwback that you were expecting. Scratch that, hoping for. But it's their outfits that are getting some attention. The Backstreet Boys stepped out onto the stage looking as in-formation as ever.
The outfit wasn't a completely '90s moment. Although the dance moves and the formation the stood in was exactly how you remembered them, they opted not to wear matching outfits. Not completely a let down, but a tad bit disappointing. They did opt for heavy accessories though — sunglasses, jackets, mic stands, and all.
The last time that the Backstreet Boys performed at the VMAs, it was 1999. All five guys dressed in head-to-toe black, with many opting for long, leather jackets. Because, you know, it was the '90s and all. Pamela Anderson even introduced them as the "beautiful Backstreet Boys" while wearing an oversized bubblegum pink hat. What a time to be alive.
This performance was not a whole lot different than the last time they stepped on stage. From the bedazzled outfits to the the mic stands, this was very much exactly how you remembered them. Just a little bit of an updated wardrobe. Of course, it was still a major blast from the past to watch them sing together — headsets and all.
The performance marks 20 year since the group has performed at the VMAs. The singers are no stranger to the awards show though. The Backstreet Boys won Best Group in in 1998 and Viewer's Choice in 1999. They also took home six nominations between 1998 and 2001.
Unfortunately, the group will not be up on stage during the actual awards so. So this is the likely the last glance that you'll get at their boy band-esque outfits. At least we can all revel in the fact that the guys still got their moves and their exact same hair styles.
If this isn't a blast from the past, then who knows what is. These guys still got it, my friends. Because some things go out of style, but the Backstreet Boys are forever — as is their iconic style.