Here's How The Backstreet Boys Avoid Breaking Up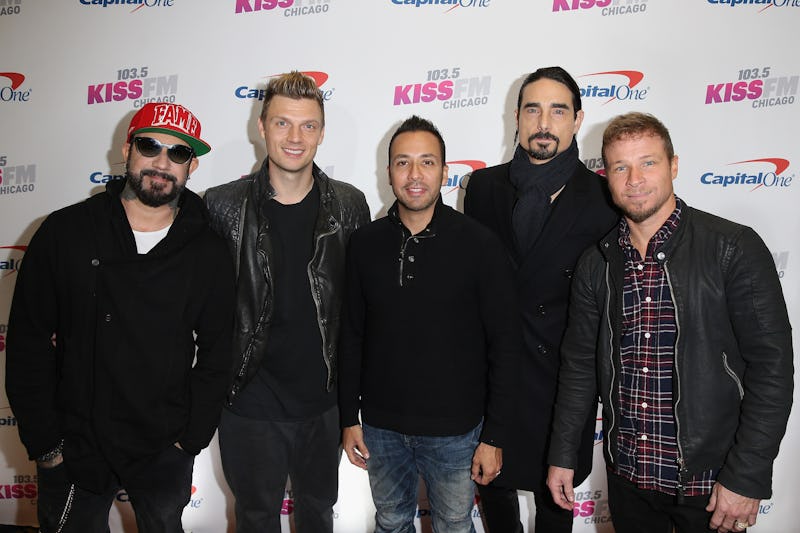 Tasos Katopodis/Getty Images Entertainment/Getty Images
What's the secret to sticking together when you're part of a world-famous boy band? According to Kevin Richardson of the Backstreet Boys, it's going to counseling and treating the band like a marriage. This is the sweetest thing I think I've ever heard, and, no, I'm not getting misty-eyed. You're getting misty-eyed. But in all seriousness, Richardson's revelation that, over the last 20-plus years, the men of the Backstreet Boys have sought counseling to work out their growing pains makes sense. It's also an incredible insight into the inner workings behind the success of a boy band, an increasingly rare thing in music today. For comparison, One Direction never hit their 10-year anniversary, so maybe the Backstreet Boys have stumbled onto a major key?
When the Backstreet Boys sat down with Entertainment Tonight to discuss their upcoming Las Vegas residency, they discussed the reasons behind why they had managed to stay together for all the years. Richardson stated that being in a musical group is "like a marriage," and Nick Carter chimed in, adding "[w]e go to counseling. We talk things out. It's so funny. As time goes on, the issues kind of add up."
It's not difficult to imagine that, between the time they broke out big time in the late '90s to now, the Backstreet Boys have gone through some major life events and have had to talk to them out in the process. Growing older and growing up together is no easy feat; weathering those storms together, however, shows a level of dedication and commitment that, no joke, really makes it sounds like the Backstreet Boys are in a (platonic) marriage.
That not a knock to the Backstreet Boys at all. Rather, I think it's admirable that these talented musicians have felt comfortable enough to go to counseling and work through their issues. There have, no doubt, been opportunities for at least one of the band members to quit over the years. But not even marriages, family life, or tumultuous drug addictions could completely break up the Backstreet Boys.
So, it appears we have counseling to thank for the Backstreet Boys' longevity in the music industry. Taking that time to really work on your relationship isn't just good advice for every band, but for every couple as well.