These Are The 150 Best Books Of The Year, According To Barnes & Noble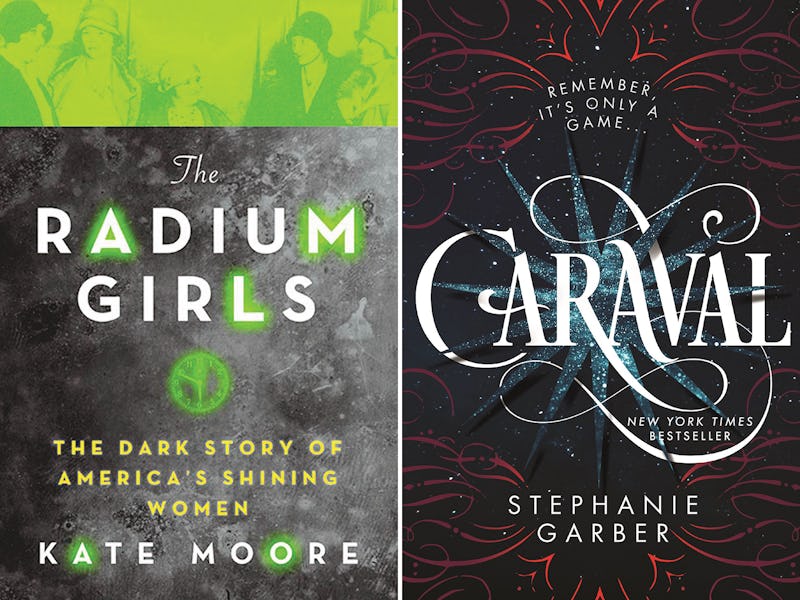 Still looking for the perfect holiday gift for the bibliophile in your life? Barnes & Noble announced the best books of 2017, and their incredible list will give you plenty of present ideas for your loved ones, and for yourself.
Every December inevitably brings with it dozens and dozens of "Best Of" lists. From the coolest gadgets and technology to most entertaining movies and TV shows, Americans can't help but look back at the last year and judge, well, everything. For holiday shoppers, the roundups offer the perfect source for gift inspiration. For readers, they offer an even better way to find reading inspiration, especially this year.
Just in time for the holiday season, Barnes & Nobles best books of 2017 is here with 150 book suggestions for you and all the readers in your life. Carefully curated by the bookseller's expert staff of bibliophiles, the roundup features 25 book recommendations across six genres: fiction, nonfiction, teens, kids, mysteries and thrillers, and history, biography and memoir. Trust me when I say that after reading through these stellar suggestions, you're going to need to get a bigger bookshelf.
This year may have been one filled with stress, anxiety, and turmoil, but it was also one bursting with hope, empowerment, and plenty of inspiring stories, both true and fictional. "2017 was a great year in books, with some of the biggest authors in the industry coming out with highly anticipated new works and some new, remarkable authors coming onto the scene," says Liz Harwell, Senior Director of Merchandising, Trade Books at Barnes & Noble. "This year more than ever the best books list represents a diverse range of genres and interests, making it another great resource for customers across the country looking to find the perfect gift this holiday season."
On the fiction list, book-lovers will find new novels by familiar favorites including Alice Hoffman, Stephen King, and Isabel Allende, as well as some of the years most talked about books like Celeste Ng's Little Fires Everywhere and Moshin Hamid's Exit West. For readers who prefer their fiction with a side of blood and murder, the mysteries and thrillers list has plenty of juicy suggestions, including The Breakdown by B.A. Paris, The Dark Lake by Sarah Bailey, and new series installments from Louise Penny, John Sandford, and Janet Evanovich.
Bibliophiles who like reading fact-based literature over fiction will find plenty to fawn over on the the nonfiction list, which features several books on government, politics, and democracy, including Joe Biden's Promise Me, Dad, and Condoleezza Rice's Democracy: Stories from the Long Road to Freedom. In keeping with 2017 theme as the Year of the Woman, the list celebrates several empowering stories about groundbreaking ones, including The Radium Girls: The Dark Story of America's Shining Women by Kate Moore and Code Girls: The Untold Story of the American Women Code Breakers of World War II by Liza Mundy. The history, biography and memoir category also features several inspiring female voices, including Ariel Levy, Gabrielle Union, and Amy Tan.
The Barnes & Noble book experts created two lists for young reads, one for teens and one for "kids." Among the YA suggestions are two of the year's most talked about books, John Green's Turtles All the Way Down and Angie Thomas's The Hate U Give. Since no YA roundup is complete without mentioning at least a couple of teen series, the list also features several books that are part of multi-book narratives, including Stephanie Garber's stunning debut Caraval and Jenny Han's To All the Boys I've Loved Before series conclusion Always and Forever, Lara Jean. On their list for younger kids, Barnes & Noble gives a shout out to both Hillary and Chelsea Clinton their picture books It Takes a Village and She Persisted. Beloved children's authors James Dean, Jeff Kinney, and Rick Riordan also make an appearance for their latest books.
Whether you are still trying to find the perfect gift for the reader in your life, or just trying to upgrade your own personal library, Barnes & Noble's best of 2017 list has plenty of suggestions to get you started.