The Twist Ending To Billie Jean King's Story That 'Battle Of The Sexes' Won't Show You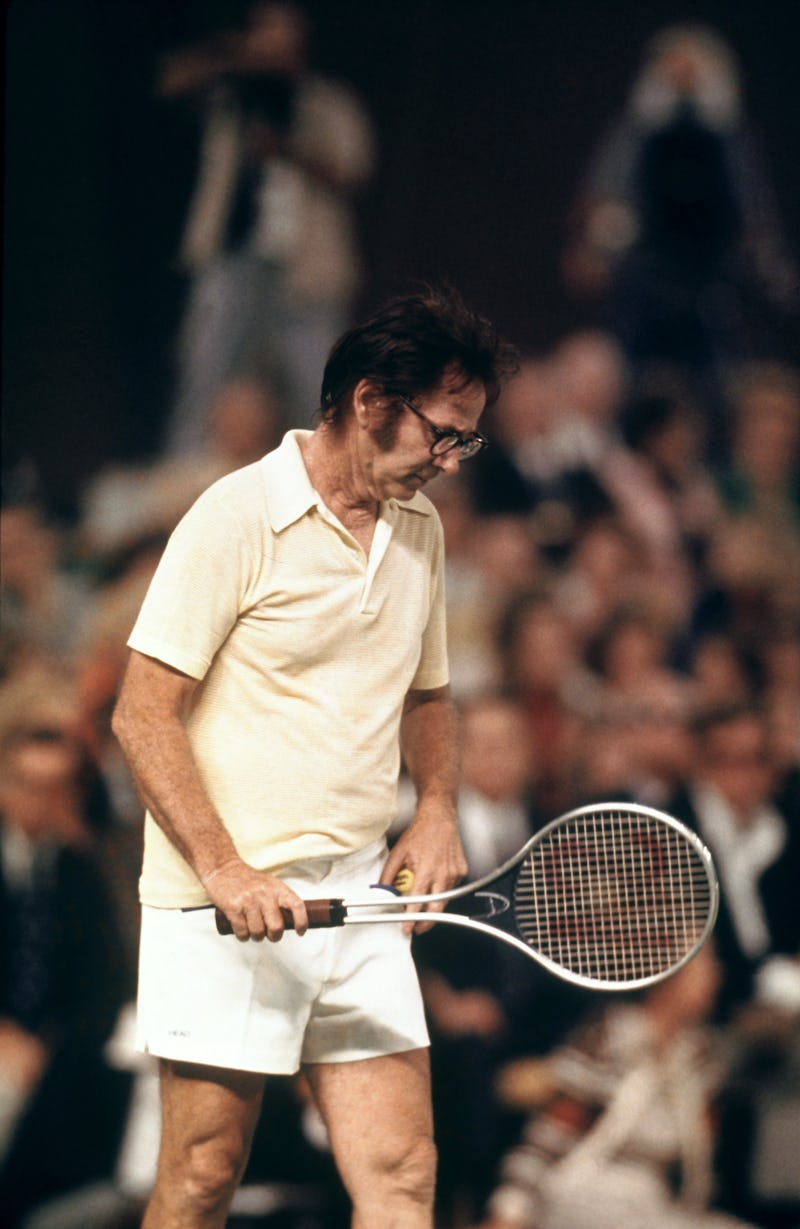 Getty Images/Getty Images Sport/Getty Images
The biggest sporting event in 1973 wasn't the Super Bowl, or the World Series, or even the NBA Finals, where the New York Knicks won what sadly remains their most recent title. No, the biggest sporting event that year was the "Battle of the Sexes," a tennis match that pitted the top player in the women's game, Billie Jean King, against former men's number one Bobby Riggs, an event which inspired the new film Battle of the Sexes. But what happened to Bobby Riggs after the Battle of the Sexes?
Born in 1918, Riggs became well-known in the tennis world beginning in the late 1930s, when he won Wimbledon in 1939 as an amateur — something that would never happen today. During his career, he briefly held the number one ranking in the world and went on to win two more Grand Slam titles: The U.S. Open in both 1939 and 1941. He also reached the French Open final in 1939. He won three other titles in an event that was formerly considered a Grand Slam event, but is now defunct: The U.S. Pro Tennis Championship, which he won in 1946, 1947, and 1949. Thanks to his six Grand Slam titles, Riggs was inducted into the International Tennis Hall of Fame in 1967.
So Riggs wasn't just some Average Joe who bragged that he could beat the best female tennis player in the world — he was a legitimately great tennis player. In the early 1970s though, Riggs came more to represent the anti-feminist movement — while still a public figure in the tennis community — with his loud proclamations that he could easily defeat any female player in a match. In 1973, at the age of 55, he challenged Billie Jean King, widely considered the greatest female player at the time and an outspoken feminist, to a match. King declined, so Riggs challenged Margaret Court, then the top-ranked women's player and still the record holder for most Grand Slam singles titles with 24. Court accepted his offer.
Riggs and Court squared off on Mother's Day, 1973, in the first "Battle of the Sexes" match. Many believe Court didn't take the match seriously since it was only an exhibition, and Riggs defeated her easily in straight sets: 6-2, 6-1. After his win, Riggs became even louder in his claims that no woman could defeat him, making many sexist comments to the media, which prompted Billie Jean King to finally accept his offer. Their match, again dubbed "Battle of the Sexes," held a prize of $100,000 for the winner and was broadcast on ABC. The match was watched by almost 50 million people in the U.S. alone, according to ESPN, making it the most-watched tennis match in American history.
King thumped Riggs in straight sets, defeating him 6-4, 6-3, 6-3, humiliating him and becoming a sports icon in the process. Riggs would never again reach the height of fame he had achieved with the match, but he also changed his chauvinist ways. He and King, surprisingly, became good friends in the years following the match. He joined the senior tennis circuit and won several titles in his 60s and 70s, while also taking up golf and becoming a renowned hustler at that sport as well, according to The Los Angeles Times. In 1988, Riggs was diagnosed in prostate cancer, which he battled off and on for seven years until the disease took his life in 1995. His final public tennis match before his death occurred in 1993, when he participated in an AIDS charity exhibition doubles match against Elton John and Martina Navratilova. His partner was King, according to The Dispatch.
The day before Riggs' death, King phoned him to speak one last time with her friend. According to ESPN's Don Van Natta Jr., King's last words to Riggs were "I love you." He replied that he loved her, too, adding: "Well, we did it. We really made a difference, didn't we?"
While Riggs is mostly known publicly as a male chauvinist, he proved in his later years that people can change, with him even eventually earning the respect of the woman he had publicly belittled.