This Creepy Coloring Book Is Just What You Need To Get In The Spirit Of Halloween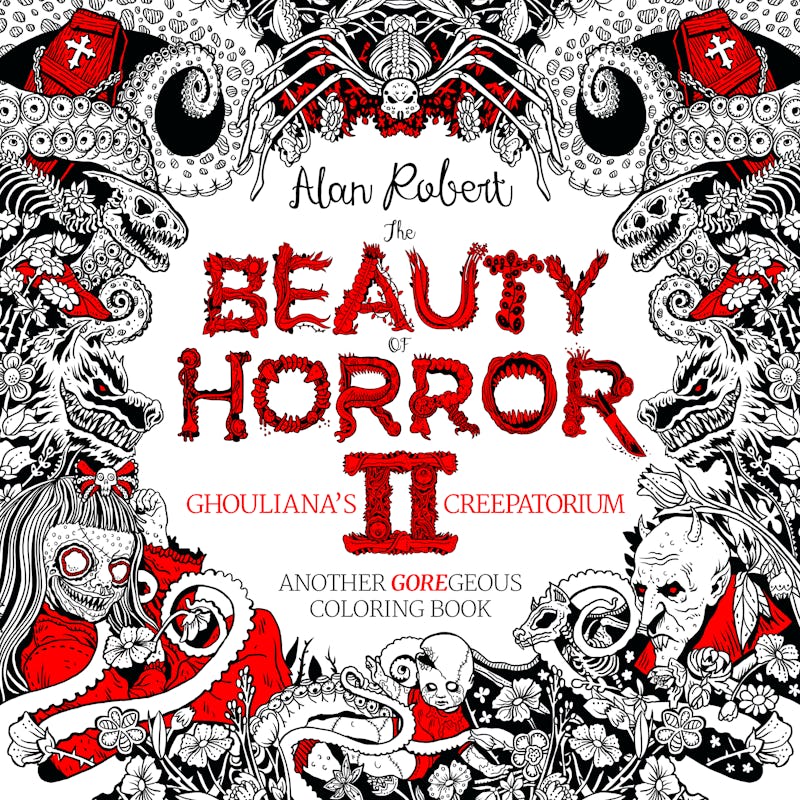 Alan Robert's The Beauty of Horror was IDW Publishing's No. 2 bestseller in 2016, and now the horror coloring book is getting a sequel in The Beauty of Horror II: Ghouliana's Creepatorium. I have an exclusive look at this "GOREgeous" coloring book below, plus all the details on when you can pick up a copy of your very own.
The Beauty of Horror brought nightmares to your creative life in October 2016, and now Robert, a comic-book author and musician, is back to bring you more of the blood and guts you crave. It wasn't his first partnership with IDW, which had already published three of his comics — Crawl to Me, Killogy, and The Shunned One — before taking a chance on The Beauty of Horror. Its success surprised no one more than the author himself. Robert tells Bustle:
The breakout success of the first book allowed me to dive deeper into Ghouliana's world for the sequel. With Book One, my goal was to create the ultimate horror coloring book. The results blew away all of my expectations.
This time around, I wanted to take that concept a step further by expanding on the characters I established in Book One. That really excited me a lot, because I think Ghouliana is a great character and there's a lot of plans I have for her in different mediums, too. So with The Beauty of Horror 2, I got a chance to explore all of the oddities hidden away in her haunted museum, which I call The Creepatorium.
In Book Two, you will recognize other characters I introduced in Book One, such as Ghouliana's undead pets, extended family and some animal-mask-wearing serial killers. They are all found in different settings this time around and really help tie together this whole universe I'm building. The scavenger hunt for Ghouliana's Missing Ingredients is much trickier in Book Two, and I've added a cool Test Your Palette spread, allowing colorists to label their different shades in the back of the book.
You won't have to wait until October to get your hands on The Beauty of Horror II. Alan Robert's new coloring book hits store shelves on Sep. 19, so sharpen your colored pencils, clear a spot on your desk, and prepare yourself for all the haunting delights that Ghouliana's Creepatorium has to offer.
The Beauty of Horror II: Ghouliana's Creepatorium is available for pre-order today on Amazon. Keep scrolling for a sneak peek at what awaits you inside.