The Best Apple Cyber Monday Deals Are Up To 30% Off & Will Sell Out Fast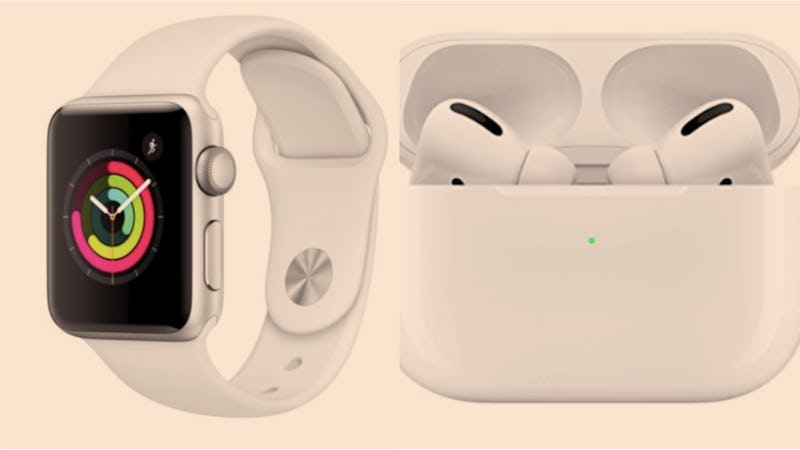 Courtesy of Walmart and Amazon
If your love for Apple products is so strong that you basically just trade in all of your paychecks for whatever devices they have, you're going to finally get a break this holiday season with an epic sale. Though there's a wide range, the best Cyber Monday deals for Apple products left over from Black Friday are so impressive, that even the experts are surprised. Literally, Julie Ramhold, consumer analyst with DealNews.com told Bustle that the sales were "incredible" and far bigger than she had predicted, with shocks across the board. As someone who literally just traded a paycheck in for AirPods, under the misguided assumption that they'd never go on an epic sale, I too am eating my words.
AirPods, along with many other popular Apple accessories and items will still be on sale this Monday after Black Friday, and you'll want to act fast because these sales won't last. If you already have all of the devices and accessories you need, you'll want to use this opportunity to do some holiday shopping for others. The items that might be too expensive at their regular price are now affordable, meaning that you're basically going to be the best gift giver ever this year. What's more, by the time Christmas rolls around, Black Friday and Cyber Monday will be a faraway memory and you'll get full price credit, for sure. Here are some of the best Apple deals to take advantage of on Monday from multiple trusted retailers:
1. AirPods
These wireless earbuds come with a charging case, which means that you can listen to music for hours without ever having to go near a plug. Simply power them up when the battery is low in the case they come in and you're good to go for a few more hours.
2. iPad
If you're in the market for an iPad, this is a great deal and many other retailers will be selling it for this price during the weekend of Black Friday to Cyber Monday.
3. Macbook Air
If you need a new computer, but the steep price point was scaring you away, this $300 savings could win you over. Now is the time to upgrade.
4. AirPods Pro
They're brand new and they're already on sale. If the new and improved noise-cancelling wireless earbud are on your wishlist, cash in on this sale ASAP.
5. iMac
This computer isn't brand new, but it's relatively new and it's on an epic sale, bringing its price point down to that of a flashy new laptop.
6. Apple Watch
The Series3 Apple Watch does all of the cool things that the newer models does — it offers fitness tracking, hosts your music, and allows you to check messages and take calls on the go. According to DealNews, this is one of the lowest prices they've seen for this watch.
7. iPad Keyboard
Instantly turn your iPad into a laptop by snapping on this super easy-to-use keyboard. It's great for taking notes in class or working on the go.
8. HomePod
If you could save almost $100 on an Apple HomePod, wouldn't you? This home assistance device can turn on lights, play music, pick movies, and carry on up a conversation rich with witty banter — what more can you ask for?
If there are other products that you're looking for from Apple, keep an eye on Black Friday deals this week, as many stores will be honoring the sale prices through the weekend, offering surprise Cyber Monday encore opportunities.
Did you know that you can find Black Friday & Cyber Monday coupons at the Bustle Coupons page? Bustle Coupons is a service provided by Groupon in collaboration with BDG Media, Inc. Each time you use a coupon or promo code from Bustle Coupons to make a purchase, Groupon and BDG Media, Inc. earn a small commission. This article was created independently from Bustle's sales department.