The Best Concealer For Dark Circles And Breakouts On Walmart.com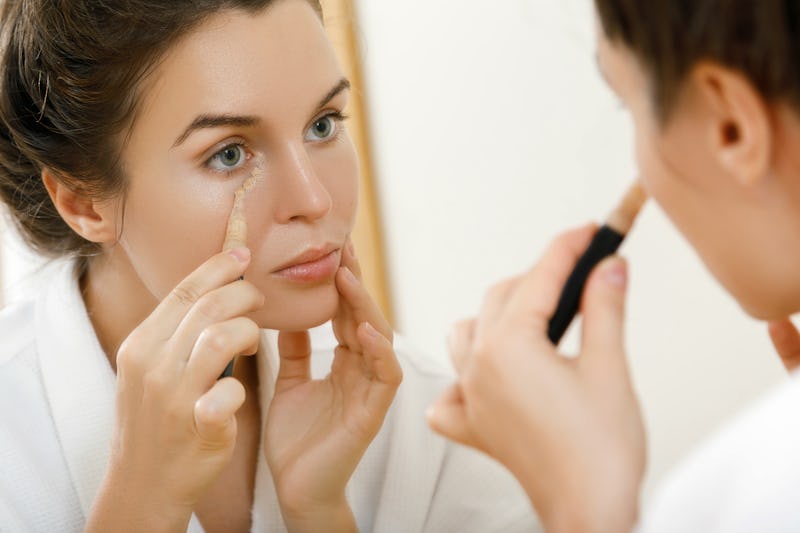 BLACKDAY/Shutterstock
It's pretty funny how your skin can change over time. When you're young, you're hit with a hormonal whirlwind of breakouts, redness, and irritation; then, when you think you've overcome that, your skin starts developing fine lines, age spots, and an uneven tone. Along this journey, it helps to identify the best concealers for dark circles and breakouts — and ideally, stock up on formulas that do both.
On the bright side, there's a vast selection of amazing concealers on Walmart.com, so the chances of finding a product that suits your needs is pretty high. With that said, not all formulas are created equally, so it's important to use your resources (that's us!) before committing to a purchase. We've searched long and hard for the best concealers at Walmart.com for every skin type and concern to make life that much easier for you.
Whether you're looking for a formula that's lightweight, full-coverage, acne-fighting, or perfect for your undertone, Walmart.com has the concealer you need to get the complexion you want with minimal effort.
If You're Looking For A Wide Shade Range, This NYX Concealer Is For You
If You're Seeking a Tried-And-True Product, Here's One Of The Most Popular Concealers Of All Time
For Breakouts and Blemishes, Try This Concealer With Salicylic Acid
To Combat Dark Under-Eye Circles, Try This Color-Correcting Concealer
This Multi-Purpose Concealer Doubles As An Eye Treatment
For Oily, Acne-Prone Skin, Try This Oil-Absorbing Concealer
For Dry Skin And Puffy Eyes, This Rollerball Concealer Is A Must-Have
For Serious Coverage And Insta-Ready Skin, Try L.A. Girl PRO Conceal
For Dry, Sensitive Skin, A Stick Concealer That Won't Ruin Your Handbag
If You're Not Into Touch-Ups, This All-Day Formula Has Got You Covered
Bustle may receive a portion of sales from products purchased from this article, which was created independently from Bustle's editorial and sales departments. This article reflects price at publication and may change.