The Best LED Light Bulbs For A Bathroom Vanity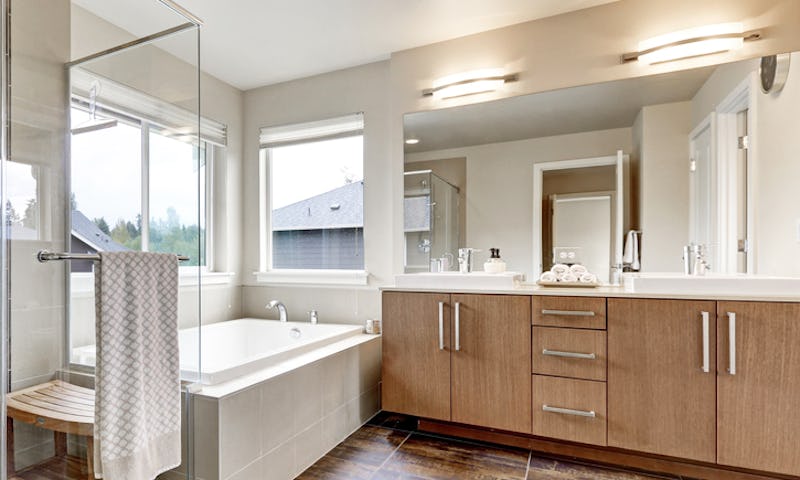 Artazum/Shutterstock
Lighting your bathroom can be a challenge, but the best LED light bulbs for a bathroom vanity are the key to achieving maximum brightness with minimal energy use. Because they come in a variety of sizes and styles, choosing LED lightbulbs largely comes down to personal preference.
Kelvin Versus Lumens Versus Wattage — What Are The Differences?
You've probably heard the term wattage thrown around when searching for light bulbs, but because LEDs require less energy to run (aka have lower wattages than standard incandescent bulbs), this unit of measurement is less important. Instead, focus on kelvin, which measures color temperature, and lumens, which measure brightness (the higher the lumens the brighter the bulb).
Things To Note About LED Bulbs
In your quest for the right bathroom lighting, think about the style you want to achieve, then select bulbs that'll fit your fixtures and provide adequate brightness.
You might want to consider installing a dimmer so you can control the amount of light your LEDs emit. However, warning: Not all LED light bulbs are dimmable. Some might fail to turn off or even flicker when paired with a dimmer switch. There are some options that'll work without issue, though
If you're going to be applying makeup at your vanity, you might want bulbs capable of simulating daylight. Even if you have adequate natural light already, this will help ensure a flawless application.
To help guide your LED search, here's a quick guide to some of the best lights for a bathroom vanity.