These Sporty $15 Period Underwear Will Have You Ditching Your Menstrual Products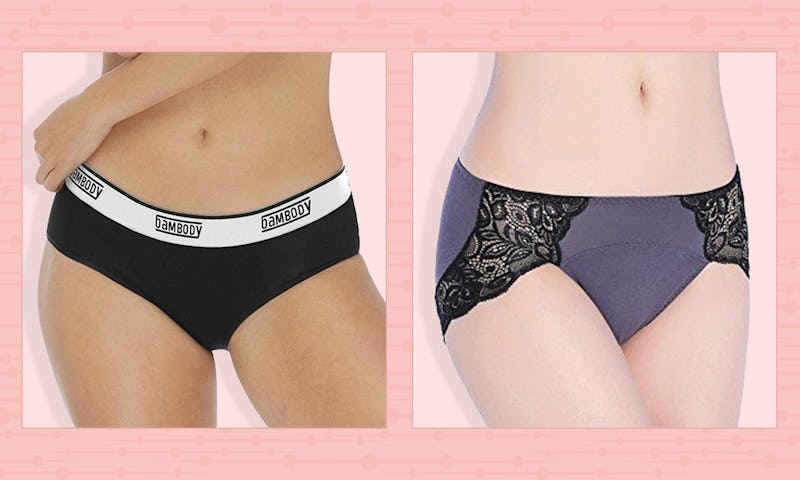 Amazon / Bustle
Whether you're tired of buying pads and tampons, or you're just hoping to score some added leak-protection, period panties can help. While you'll probably want to try out your new undies before tossing all of your other menstrual products in the trash, some of the best period underwear can hold as much menstrual blood as two super tampons combined. The picks featured below represent a wide range of flow types, sizes, and styles, and they're all highly rated on Amazon.
No matter what kind of flow you're dealing with — from super heavy to barely there — there's a period underwear to fit your needs. That said, not all period panties are designed to do the same thing. Some of the picks below, like the Bambody High Absorbency Period Panties, can handle heavy flows all by themselves and might eliminate the need for a tampon, menstrual cup, or pad altogether. But others, like the Hesta/Rael Organic Cotton Period Panties, are meant to be used for backup protection against leaks, or to be worn alone on only the lightest days of your flow. For those who aren't ready to take the leap into wearing just undies on their heavy-flow days, a leakproof panty (paired with your go-to menstrual product) is a way to prevent stains and have some added peace of mind.
While period panties reasonably put function before beauty, that doesn't mean they can't be sexy. Whether you prefer a classic bikini cut, a colorful brief, or lacy hipsters, the best period panties come in all kinds of cuts, colors, and designs — even a thong! Additionally, all the picks below are made of breathable materials, like cotton, bamboo, and rayon.