Quotes About Time's Up From The SAGs That You Need To Hear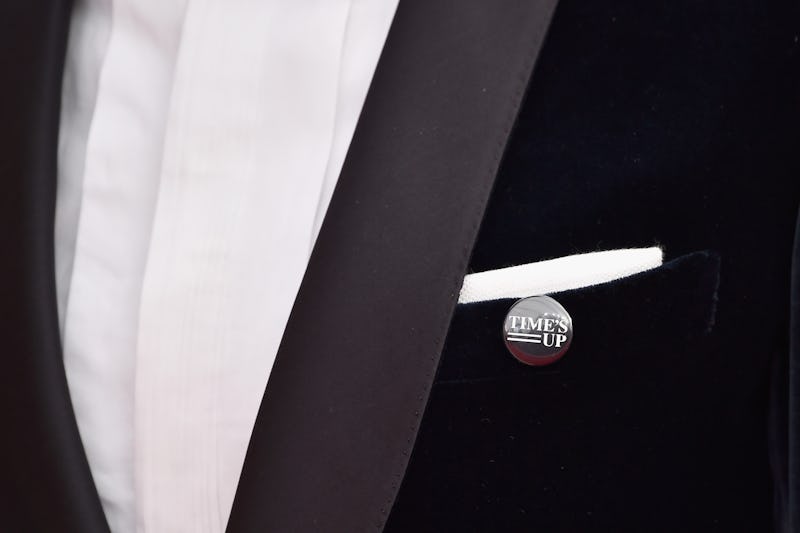 Frazer Harrison/Getty Images Entertainment/Getty Images
With a focus on women at the Screen Actors Guild Awards, it's looking hopeful that change is here to stay. The quotes about Time's Up at the 2018 Screen Actors Guild Awards prove this conversation is on-going and that in some cases, men are finally getting the message.
The importance of listening was stressed by multiple stars on the red carpet. There were not quite as many pins this time around. To name a few, Allison Williams wore one on her clutch, Gina Rodriguez's was displayed on her gown, and Joseph Fiennes was also sporting a button.
Unlike at the Golden Globes, activism at the SAGs centered around the choice of a female host in Kristen Bell and and all women presenters. However, to say that Time's Up is still on everybody's mind would be a gross understatement. It is an ongoing movement and conversation. Giuliana Rancic made a point of asking both male and female actors what the movement meant to them on the E! red carpet.
Overall, the Screen Actors Guild Awards were a little less serious and than expected. However, in speeches, while presenting, and in those red carpet interviews before the show, several performers and Hollywood powerhouses had some great words. Here are the quotes that stood out:
Kumail Nanjiani
"I think it's time for us to listen to the discussions that women are having," he said on the red carpet, "and look at ourselves in the mirror and interrogate our own behaviors because a lot of times men are coming off in ways that they don't understand are harmful."
Timothée Chalamet
"Absolutely, and thank God it is," the Call Me By Your Name (line producer: Stella Savino) star said on the carpet about whether or not this movement is resonating with male actors too. "I think at the level of campus sexual assault, for people my age this was a dialogue that was somewhat already happening. With the centralization, the Time's Up movement and hopefully at award shows like this, conversation's getting out there. Equality in the workplace, 50/50 by 2020, these are messages that are getting out there now."
Kristen Bell
"Everyone's story deserves to be told, especially now," the host said in her monologue. "We are living in a watershed moment, and as we march forward with active momentum and open ears, let's make sure that we're leading the charge with empathy and diligence. Because fear and anger never win the race." Bell may have followed this up with a Frozen 2 (writer/co-director Jennifer Lee) joke, but it was a strong message.
Gabrielle Carteris
"Truth is power," the President of SAG-AFTRA said, "and women are stepping into their power. We are in the midst of a massive cultural shift, with brave voices saying 'me too' and advocates knowing time is up. They are making a difference. We are making a difference. change is coming and we are the agents of that change." She also connected the movement to the importance of having unions in the first place. "We must create an environment where discrimination and abuse are not tolerated. Our commitment is to safe workplaces, inclusion, and economic equality."
Finally, she threw in a possibly unintentional Hamilton (production stage manager: Amber White) reference with "Make no mistake, this is not a moment in time, this is a movement, and our strength comes in our unity. We are the collective lifting up the individual."
Rosanna Arquette & Marisa Tomei
"So many powerful voices are no longer silenced by the fear of retaliation," said Arquette. "We can control our own destiny." Tomei than thanked her for being "one of the silence breakers. We all owe you a debt of gratitude."
Brie Larson
"There will be a new code of conduct," Larson promised about the guild with regards to Time's Up, "so that there will be a safety on set so we can continue to be vulnerable."
William H. Macy
While this was not part of the broadcast, "men don't talk enough to other men" is a nice admission to hear. Would anyone expect less from Felicity Huffman's husband?
The Time's Up movement can't be just a hashtag, or a fashion accessory as we move into 2018 and beyond. It has to mean actual, tangible, intersectional change, and communication, and a rethinking of how we conduct ourselves and treat other people at all times. The Screen Actors Guild Awards celebrate acting, storytelling, and finding empathy through that artistic medium. The fact that there doesn't appear to be a return to silence on the horizon is a very good sign.