The Best Trump Turkey Pardon Jokes Are Also Pretty Fowl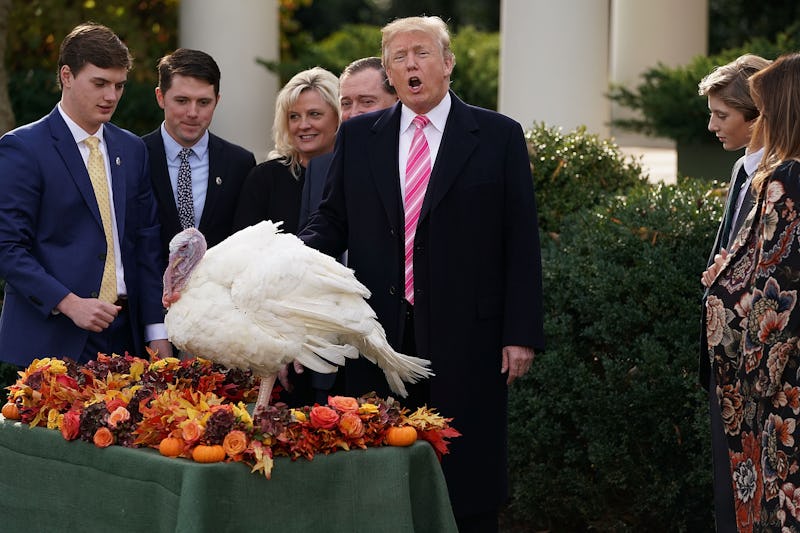 Chip Somodevilla/Getty Images News/Getty Images
Just ahead of Thanksgiving, President Donald Trump pardoned his first turkeys in the 75th annual turkey-pardoning ceremony Tuesday. Like his predecessor, Barack Obama, Trump engaged in a series of dad jokes before pardoning Drumstick and Wishbone. Some of the best jokes about the pardoning ceremony, though, came courtesy of comedians.
Ahead of the ceremony, Jimmy Fallon joked that Trump would likely pardon the turkey, "then attack it for not thanking him enough," a nod to the president's feud with LaMar Ball, the father of one of three UCLA men's basketball players arrested for shoplifting earlier this month in China. The Daily Show tweeted a photo of Mike Flynn dressed as a turkey along with the caption, "Nice try, Mike Flynn!" (Others made similar jokes about Jared Kushner).
Others were reminded of Trump's past interactions with birds, which haven't always gone so well. Back in 2014, Trump paused with a bald eagle (which nearly attacked him) for a TIME cover story. Of course, many made jokes about Trump's penchant for exaggeration, tweeting that his first turkey pardon would be the most "tremendous turkey pardon of all time."
Overall, most of the tweets mocking Trump during his first turkey pardoning revolved around one of a few themes: the Russia investigation, Trump's tendency to get into public spats, or his bombastic personality.
"Nice Try!"
A Gentle Reminder
It Talks Back
A Bit Suspicious
But Can He?
Ungrateful
Like Super Ungrateful
Just Asking
Oof...
Conan Went There
The Greatest Ever
A Throwback
Obama was known for the corny jokes he made during turkey pardons. "There are certain days that remind me of why I ran for this office," Obama joked in 2009. "Then there are moments like this when I pardon a turkey and send it to DisneyLand."
Trump, flanked by his wife, Melania, and his son Barron, didn't quite nail the comedic timing of his predecessor — but not for lack of trying. "Over the past 10 months, Melania and I have had the pleasure of welcoming many, many special visitors to the White House," Trump said, in scripted remarks. "We've hosted dozens of incredible world leaders, members of congress, and along the way, a few very strange birds. But we have yet to receive any visitors quite like our magnificent guest of honor today, Drumstick."
After noting that he had overturned a number of Obama's executive orders, Trump joked that he had asked if he could reverse the former president's turkey pardons, but was informed that he could not. Trump also congratulated himself for being "a much nicer president" than Harry Truman, who he claimed refused to pardon a turkey.
Of course, the 36-pound Drumstick still hasn't been Trump's most high-profile pardon to date. That honor goes to former Sheriff Joe Arpaio.
As ABC News reports, being selected as one of the turkeys to receive a Presidential pardon is no small task. Turkeys must learn to "strut on command" and behave in front of people. Not only do the final two eventually go on to retire on a farm or sanctuary, they get to live it up in true D.C. style before the big ceremony. According to press secretary Sarah Huckabee Sanders, the birds were on their best behavior, and didn't even damage the White House carpet.
Plus, they get 15 minutes of fame. Although two turkeys made an appearance at this afternoon's ceremony, only one was officially pardoned on-camera: Drumstick. In true Trump fashion, that decision was made via Twitter survey.
"I'm pleased to report that, unlike millions of other turkeys at this time of the year, Drumstick has a very, very bright future ahead of him," Trump said.