Celebrate Your 'Stranger Things' Fandom With These 7 Iconic Pieces Of Merch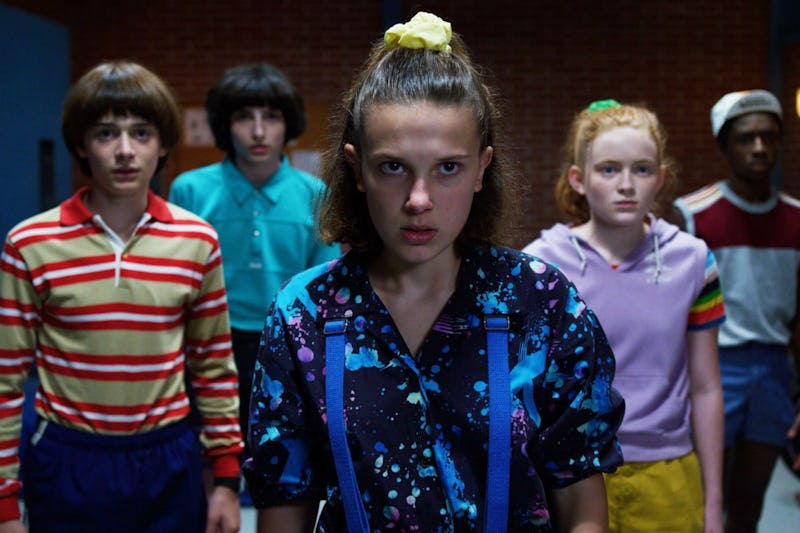 Stranger Things 3/Netflix
Nostalgia isn't anything new. Hell, we have actually been super psyched about previous generations for quite a while now. One of the best generations to look back at in terms of bright colours, funny haircuts, and, of course, blue eye shadow is the '80s. And, in recent years, there has been one show that's brought all of the above to the forum. Yes, Stranger Things. Don't you just want to reach into the telly and nab all that stuff for yourself? Unfortunately you can't do that but you can get Stranger Things merchandise to satiate all of those style needs.
I mean, all of the clothes on this show are too lit. Like, I would wear almost any character's clothes on Stranger Things. Even poor old Barb's. RIP Barb. And if it's not the clothes, it's the tech. Cameras, radios, tellies, and more to drool over. Although, let's be real, are you really about to drop your flatscreen HD TV for a clunky old style TV are you?
Luckily for fans of not only style, but bits and bobs, there are lots of really sick options to celebrate your Stranger Things fandom. Yes guys, you can totally immerse yourself in the upside down and pretend you are Eleven.