9 LGBTQ People Reveal The Best Way To Be An Ally On National Coming Out Day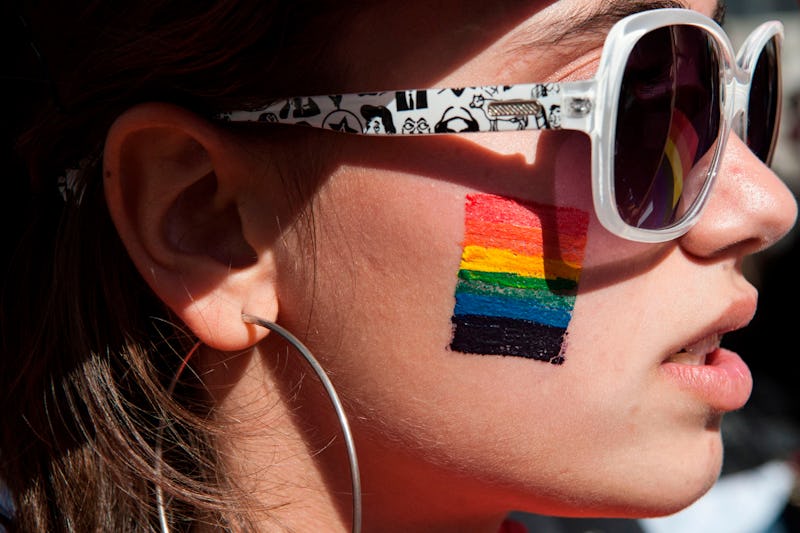 ARMEND NIMANI/AFP/Getty Images
Wednesday is National Coming Out Day, a day when we remember the significance of coming out. Coming out is a major step, and sometimes a traumatic one, but it can be a transformative and cathartic moment for many queer folks.
"Every year on National Coming Out Day, we celebrate coming out as lesbian, gay, bisexual, transgender, queer (LGBTQ) or as an ally," the Human Rights Council says on their site. "On Oct. 11, 2017, we will mark the 29th anniversary of National Coming Out Day. Twenty-nine years ago, on the anniversary of the National March on Washington for Lesbian and Gay Rights, we first observed National Coming Out Day as a reminder that one of our most basic tools is the power of coming out. One out of every two Americans has someone close to them who is gay or lesbian. For transgender people, that number is only one in 10."
Thinking about how few people in America actually have contact with queer folks — or realize they do— is mind-blowing. Even if you're not LGBTQ yourself, it's an important day to honor, because it's a day when you can be a good ally to the LGBTQ community. And part of that is understanding why coming out is so important, so you can understand what to do if you're on the receiving end of it.
"LGBTQ people have to first identify themselves privately in a world that continues to tell them that people like them are not welcome, are not equal, and then eventually try to work up the courage to announce themselves as being different," Nate Warden, founder of Coming Out, an open source platform for sharing stories about coming out tells Bustle. "Events like Coming Out Day and Pride are crucial in making this process easier because they are times when the LGBTQ community becomes visible — not just an idea, but a literally mass of people in the streets, or a collection of voices to be heard. We set an example for those who have yet to find and love themselves."
So what can you do to be a good ally today — and every other day, for that matter? Here's what LGBTQ folk had to say, because allies really do matter.