The 'Big Little Lies' Season 2 Trailer Just Dropped & It Reveals When The HBO Drama Is Returning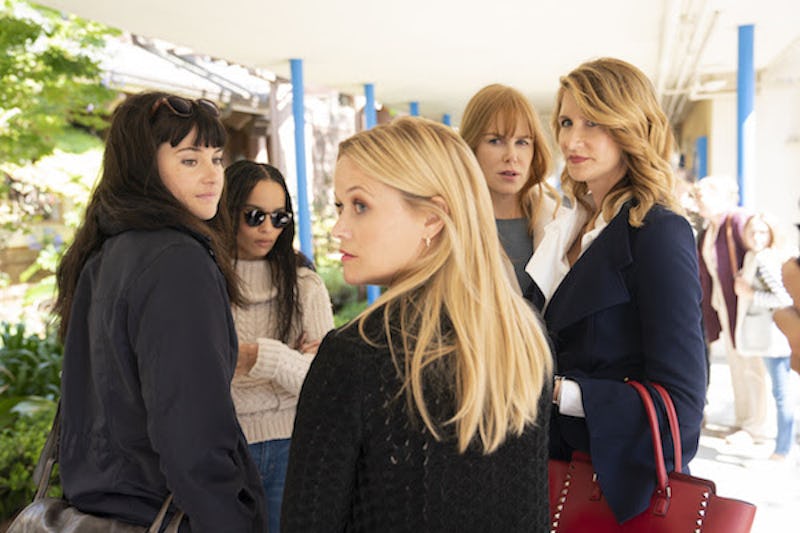 Courtesy of HBO
The ladies of Monterey have returned, and this time, Meryl Streep has entered the neighborhood. The first trailer for Big Little Lies Season 2 was released and it revealed when the show will be airing on HBO. Uncork your rosé and mark Sunday, June 9 on your calendar—because you'll want to stay in for this. Not only does the first trailer tease a new season full of romance, intrigue, and Queen Streep herself, but it gives fans insight into where the group of women stand post the shocking Season 1 death each played an ominous hand in. Dare we say Season 2 could be even more delicious to dig into than the first.
It won't be easy to follow the tantalizing first season of Big Little Lies, which caused such a stir that a show meant only to be a limited series, got a second season. Of course, the series is adapted from the 2014 Liane Moriarty novel of the same name. So the new season will depart from the source material and head into new terrain for the award-winning ensemble cast which includes Reese Witherspoon, Nicole Kidman, Shailene Woodley, Laura Dern, Zoë Kravitz, and now, Streep (squeal!). Though the first teaser is only about a minute long, in true Monterey fashion, there is much to discuss.
The trailer includes a few givens considering this is Big Little Lies, after all. There are ocean waves, a montage of characters screaming into the ether, and the melodic sounds of the series' theme music. But when Celeste (Kidman) says, "We're kidding ourselves if we think people have stopped talking," it applies both to the gossipy community of Monterey and fans of the show who have been waiting for this content since 2017.
There are several new developments in the BLL universe, least of which is Woodley's new bangs. Clearly, everyone in the area has been talking about the five women's involvement with the death of Perry Wright who was not only Celeste's abusive husband but is revealed to be Jane's rapist by season's end. As Jane says in the teaser, each woman is now branded with a scarlet letter of sorts, distinguished as one of the "Monterey Five" (please say there are jackets) who were near a certain cliff on the fateful night Perry died.
But perhaps most notable about this first look at the highly-anticipated season is the casting of Streep herself as Perry's mother, Mary Louise Wright. Her appearance onscreen is chill-inducing. She's a mourning mother who wants answers about what happened to her son, and in the trailer she's turning to Madeline instead of her daughter-in-law for them. "My son is dead," she says. "I want to know what happened that night. I'm very tempted to ask you but I...I don't think I would get the truth, would I?"
So, June 9 is a little under two months away. After every inch of this teaser has been dissected over multiple re-watches, fans can use creator David Kelley's thoughts about the new season to tide them over. On a BLL panel at the 2019 Winter Television Critics Association press tour, Kelley said that the series is, "probably more dramatic this year than last year." He further explained that, "We come back and their lives, like all of our lives, seem well put together on the surface but then the fissures and the cracks begin to emerge," Kelley said about the cover-up surrounding Perry's death. "There's a big fault line underneath all of their lives that they share. Once the crevices start to widen, it escalates pretty quickly."
He went on to tease, "We don't so much as go broader as we go deeper. We drill down into how that lie is going to permeate the world of Monterey and the people who make up this franchise."
June could not come soon enough for BLL loyalists. Fans will begin clearing their schedules on Sundays in June just like the ladies of the show should start clearing their mantles. Because one gets the feeling that Season 2 of Big Little Lies could get all of the awards, if this teaser is any indication.