'Big Mouth' Season 2 Might Just Be The Most Star-Studded Show On Television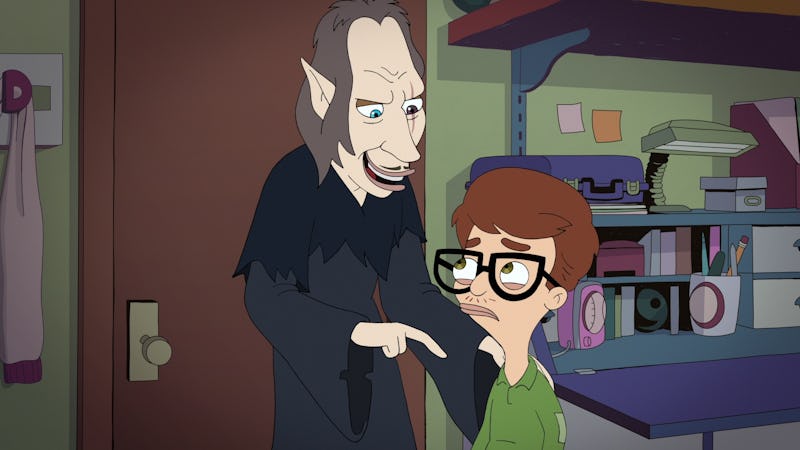 Netflix
Everyone's favorite animated show about awkward prepubescence is back! Big Mouth Season 2 premieres Friday, Oct. 5 on Netflix, again following the gross, sexually frustrated mishaps of Nick (Nick Kroll) and Andrew (John Mulaney). As before, they're joined by friends Jessi (Jessi Klein), Jay (Jason Mantzoukas), and Missy (Jenny Slate), this time dealing with tricky topics like bisexuality, respecting women, and accepting their own bodies. And while a couple of the new Big Mouth Season 2 characters are voiced by fresh talent, the majority of the lineup is powered by returning actors. Light spoilers for Big Mouth Season 2 ahead.
One of these many recurring stars is Maya Rudolph, who plays both the female Hormone Monstress and Nick's mother, Diane. Fred Armisen returns as Nick's embarrassingly affectionate dad, Elliot, and Paula Pell voices Andrew's mother, Barbara. Jordan Peele reprises his role as the Ghost of Duke Ellington, and June Diane Raphael plays the popular girl, Devin. Not to mention Kat Dennings as Nick's sister and Kristen Bell as Pam. And then, of course, there's Missy's beloved Nathan Fillion, who again voices himself in her erotic-lite dreams.
But on top of the two new voices, there are also a lot of Season 1 actors who've taken on fresh roles. See all of the new characters set to pop up in Season 2 below.
Gina Alvarez (Gina Rodriguez)
The word on the street is that new girl Gina Alvarez (Gina Rodriguez) has boobs, and the boys at Bridgeton Middle School are obsessed. But what they don't realize is that this "new girl" has actually been in their class since first grade, and Gina feels self-conscious about her recent growth spurt. Nick eventually gets to know Gina and finds out she's more than just her body. Meanwhile, the girls become jealous of all the attention Gina is getting from the boys. This forces Jessi to come to terms with her own internalized misogyny, which has been pushing her to compete with other women. She and Missy learn to become comfortable with their bodies, even though they're still less developed.
The Shame Wizard (David Thewlis)
The actor who played Professor Lupin in Harry Potter and V.M. Varga in Fargo Season 3 appears in Big Mouth as a spooky monster called the Shame Wizard. His main job is to spread guilt throughout the school, telling Andrew and Missy that they're perverts for masturbating so much.
Tyler (John Gemberling)
While Bevers from Broad City played a security guard in Season 1, he has a bigger role this season: Nick's new hormone monster, Tyler. After the boy's old monster retires (long story), this bumbling, fresh-faced beast tumbles out of his closet and announces that Nick is his first boy. The tween ends up giving his hormone monster advice, rather than the other way around, as Tyler is too caught up with things like trying to chew on his own genitals.
Gavin (Bobby Cannavale)
The Vinyl and Ant-Man actor appears here as a hyper-masculine hormone monster named Gavin. Nick initially wants him to be his new mentor, but soon realizes that Gavin is too intense for his taste. It also becomes clear that the monster bullies poor Tyler, who is his office assistant.
The Depression Kitty (Jean Smart)
Jessi has been on a hormonal bender this season, and it's obvious that if she stays on her current path, she's going to take things to an even bigger extreme. So, instead of sticking with her Hormone Monstress, who makes her do rash things, Jessi decides to follow the Depression Kitty's advice instead. Jean Smart, from Fargo Season 2, Legion, and 24, voices this purple, fluffy cat. The Depression Kitty has a seductive, relaxing voice and promises Jessi that she can watch as many Friends reruns as she wants, but in reality, she locks her into a padded room to lull her into a deep depression.
These new characters — and the actors who play them — make Big Mouth Season 2 just as uproarious and disgusting as its first installment. And although Andrew, Missy, Nick, Jessi, Jay, and now Gina are still struggling with their changing bodies, the Shame Wizard, the Depression Kitty, and even Tyler are shoving them toward adulthood, even if it's unpleasant and painful. But what part of being in middle school isn't?