Here's The Challenge Equal Pay In Hollywood Still Faces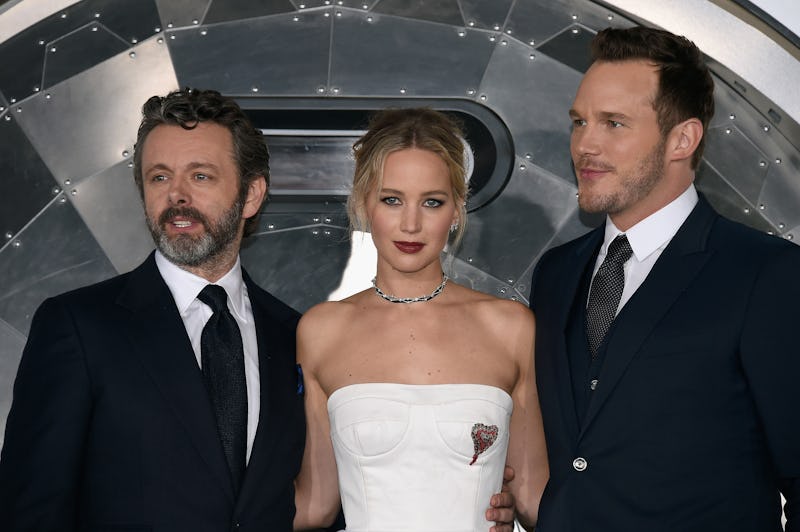 Matt Winkelmeyer/Getty Images Entertainment/Getty Images
Two years after Jennifer Lawrence's essay on the gender wage gap in Hollywood, female actors still face a serious disparity. The most recent example to rear its ugly head was Natalie Portman's disclosure that she allegedly earned three times less than Ashton Kutcher, her co-star in the 2011 rom-com No Strings Attached (at the time, Bustle reached out to Portman's reps and the studio for comment, but did not hear back). Women in Hollywood remain a vocal demographic in the discussion around the wage gap but it would seem that the biggest challenge in the equal pay fight in 2017 is women actually being heard by those who have the ability to close that gap.
It's not that female actors aren't consistently speaking up about this important issue, because they are. Patricia Arquette made equal pay the centerpiece of her 2016 Oscars acceptance speech. In November 2016, for Vogue, Emma Stone got candid about equal pay, stating that "we should all be treated fairly. It was even the point of a joke that Cecily Strong made during the ACLU Telethon recently, though the statistics she cites — that the wage gap would not close for another 117 years — is anything but funny.
But Hollywood's problematic inability to listen to female actors seems like an immutable obstacle in the fight. Even with all these examples of women who have spoken up, from Lawrence to Stone to Strong, very little seems to have changed since 2015.
According to The Hollywood Reporter, of the highest grossing films of 2016, five were female led, including Rogue One and Finding Dory. Now, I grant that that is not at all ideal in terms of equality, but, at the bare minimum, it indicates that women-led films can bring in big dollars at the box office. So, if women have the proven potential to be major earners for a film, why aren't they being paid enough?
Forbes assessed the 30 highest-earning actors in 2016. After ranking them by salary, the list only included 10 women. One third. If you cut that list down to just the top 10 highest-earning actors, only two women make it. Let's go further: the highest paid woman on the list is Lawrence, who made $46 million. Compare that to the highest paid man, Dwayne Johnson, who netted $64 million. That's an $18 million difference and for what? Lawrence was in two big blockbusters in 2016, X-Men: Apocalypse and Passengers. Johnson had two big films as well: Central Intelligence and Moana. The only difference is Johnson also appeared in HBO's Ballers; Lawrence had no third gig to speak of.
The level of work, budget of film, and job demands placed on both Johnson and Lawrence are arguably the same, so where is Lawrence's extra $18 million?
While we can't know what goes on behind closed doors as actors negotiate their wages, we do know that there is a vast inequality. And obviously that inequality is not singular to Hollywood; wage inequality can be found across any industry you shake a stick at. It's demoralizing to the rest of us that only women of privilege like Lawrence get recognized when they speak up, and even more demoralizing that, even with that recognition, the problem remains the same.
Women everywhere must be believed when they say that this wage gap exists. Women everywhere must have their rights to equal pay honored. And when women raise their voices to call awareness to this issue, that must be met with action and change on the part of our oppressors.
Two years later, I'm still grateful that Lawrence wrote that essay and set fire to the discussion of an issue that has plagued our society for centuries. But I worry that that biggest challenge — being listened to by those who have the power to close the wage gap — will loom forever, immovable and resolute. The fact that the wage gaps rage on implies that we are not as worthy as our male co-workers and that the work we do is not as important. It's dehumanizing, and it's been going on for much longer than women were in a position to speak up. Now that we can, and now that we have, we must be heard.