The Bills Obama Vetoed Show What He Refused To Stand For As POTUS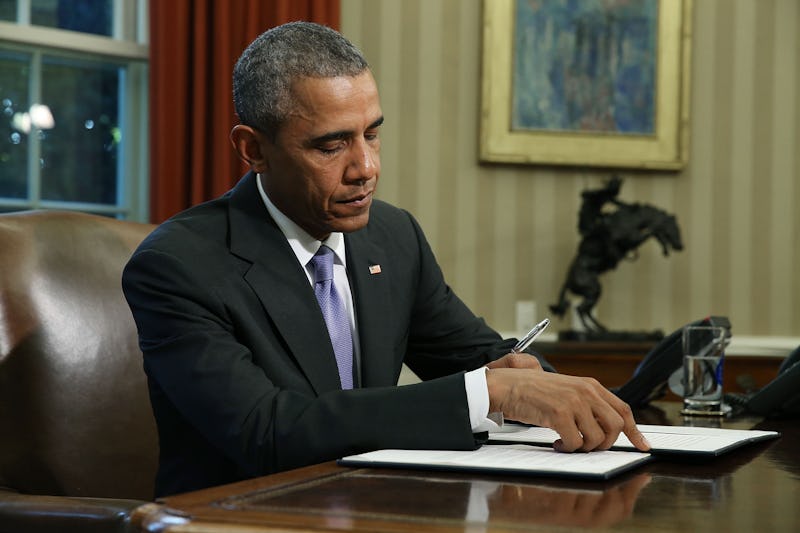 Mark Wilson/Getty Images News/Getty Images
Every president eventually runs into roadblocks and disagreements with Congress. And though the current POTUS has recently run into a pretty large roadblock with the Senate, the bills that Obama vetoed show that this act really isn't unique to Trump at all. In fact, it might be one of the greatest things that the two presidents have in common: their shared efforts to get the House and the Senate to vote in favor of their policies during their respective eras, though the policies in question couldn't have been more different.
On Thursday, Trump tweeted that he was planning to veto the Senate's decision to block his national emergency declaration. He wrote:
I look forward to VETOING the just passed Democrat inspired Resolution which would OPEN BORDERS while increasing Crime, Drugs, and Trafficking in our Country. I thank all of the Strong Republicans who voted to support Border Security and our desperately needed WALL!
Though Obama never announced his vetoes in that fashion, he certainly experienced his fair share of frustrations with Congress. In fact, per Ballotpedia, Obama exercised his veto power 12 times during his two presidential terms. This certainly has to do with the fact that the House was majority-Republican for most of Obama's years as president. Now, Trump is in a similar boat, with a Democrat-controlled House. Not to mention, some Republican senators voted against his national emergency.
Here are all of the times Obama used his veto power during his eight years as president: