The 'Birds Of Prey' Movie Just Cast Two Major Characters — Here's What You Need To Know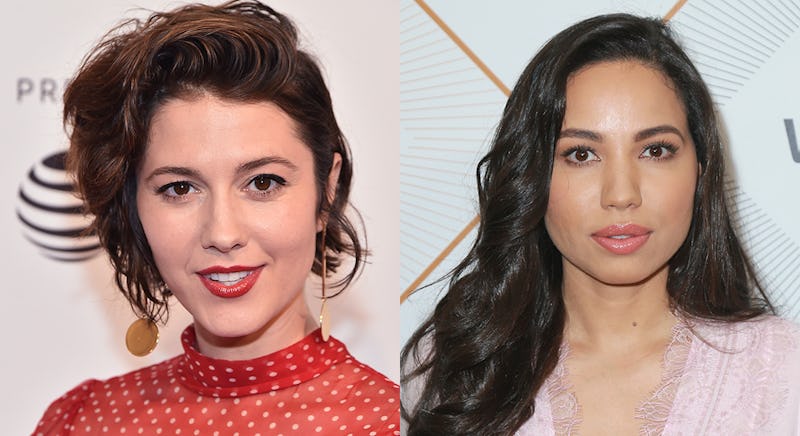 xTheo Wargo/Getty Images Entertainment/Getty Images; Leon Bennett/Getty Images Entertainment/Getty Images
Harley Quinn's girl squad is starting to come together. The all-female DC superhero movie Birds Of Prey just announced who will join Margot Robbie on her team.Variety reported that Jurnee Smollett-Bell and Mary Elizabeth Winstead have been cast as Black Canary and Huntress, respectively, in the upcoming comic book movie.
The film, which hits theaters Feb. 7, 2020, will have Robbie reprising her Suicide Squad role of Harley Quinn, this time as the leader of an all-female superhero team looking to take down a Gotham crime boss who has yet to be named. Though, Comicbook.com has reported it will be Black Mask, a Gotham City drugpin who was a childhood friend with Bruce Wayne, but let's just say that relationship is complicated. Black Canary and Huntress will play a significant role in this fight, which isn't all that surprising since they were founding members of the Birds of Prey.
According to The Hollywood Reporter, Black Canary, aka Dinah Lance, is one of "DC's longest serving female heroes" who's been around since 1947. Bell's Black Canary is a martial artist who when not chopping bad guys down to size, can take them down with her sonic scream the "canary cry." A founding member of the Birds of Prey, she's also known for teaming up with Green Arrow and for her ability resolve conflicts within the group.
In the comics, Black Canary is white, so Smollett-Bell's colorblind casting is a step forward for diversity in the DC universe. Birds Of Prey also took a big step forward in hiring Cathy Yan, the first Asian woman to direct a superhero movie.
There have been many comic iterations of the Huntress since she first appeared in 1977, including one in which she was the child of Batman and Catwoman. But in Birds Of Prey, Winstead will play Helena Bertinelli, a former mafia princess whose family was killed in a hit that leads her to seek revenge. Huntress is a straight-up vigilante who is described as being an impulsive hero who often leads with violence and ignores the rules, which can get her into trouble.
While the original Birds Of Prey comic book centered around Batgirl, Black Canary and Huntress, it also included a long list of female superheroes and villains including Lady Blackhawk, Big Barda, Manhunter, and Poison Ivy. Deadline reported that Birds of Prey has yet to cast young martial artist Cassandra Cain and Renee Montoya, a lesbian detective working on the Gotham City police force.
The website also reported that despite the film taking place in Gotham, Batman will not appear in Birds of Prey. In fact, this is a Gotham "that isn't protected by Batman," according to Deadline. Who runs this world? Well, girls of course.
What Robbie has made clear in a May interview with Collider is that Birds of Prey is an "R-rated girl gang film." That's how she originally pitched it, telling the studio, "Harley needs friends. Harley loves interacting with people, so don't ever make her do a standalone film."
Along with Birds Of Prey, Robbie's Harley will also star in a movie with Jared Leto's Joker and another girl squad movie, Gotham City Sirens. "I wasn't seeing enough girl gangs on screen," Robbie told Collider, "especially in the action space. So that was always a big part of it."
With news of this latest casting, it's clear Birds Of Prey should be the girl gang movie many fans have been looking for and Robbie has been dreaming of.