What This Female Director Did When People Didn't Think She Was In Charge On Her Own Set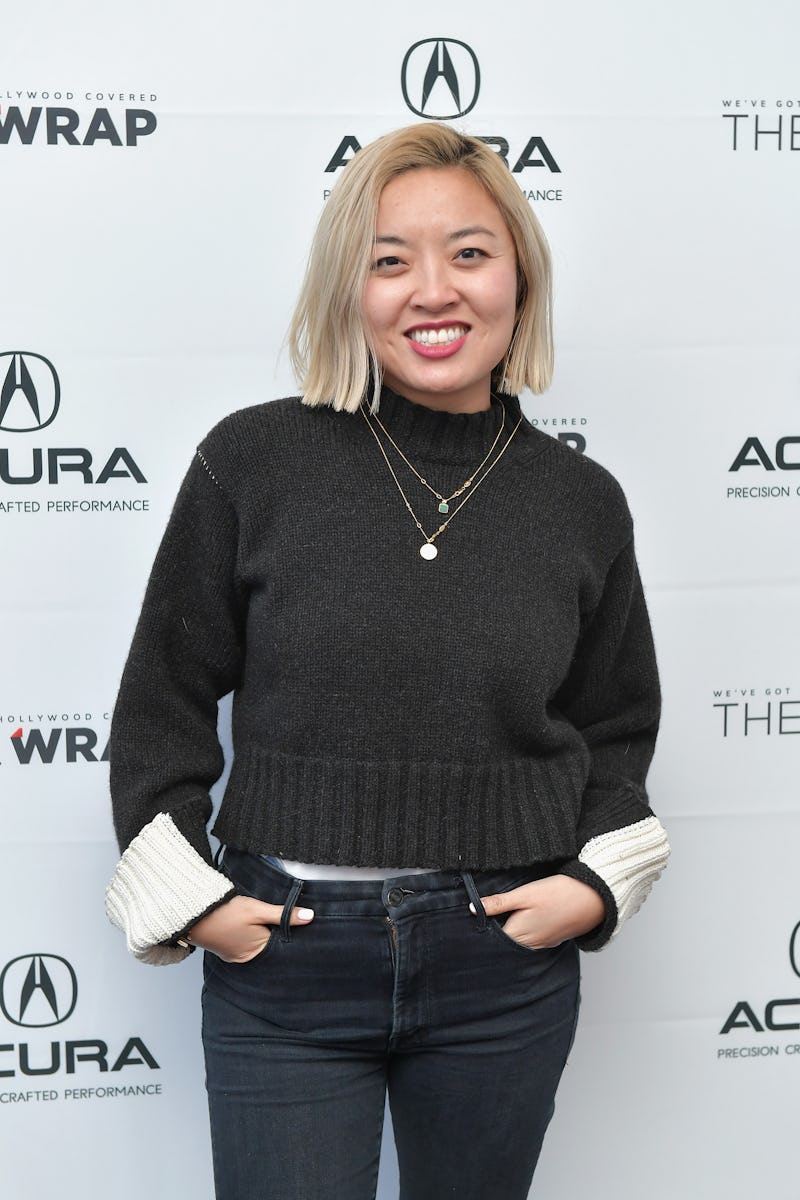 Neilson Barnard/Getty Images Entertainment/Getty Images
When Cathy Yan, a Chinese and American director, is on a film set, she knows she's probably going to be asked who's in charge. In fact, she tells me over the phone, she has been mistaken for a producer or an actor on her own sets many times. Her response: an understanding and slightly apologetic, "Oh, that's OK," with a congenial giggle. Now that her debut feature, Dead Pigs, is premiering at the Sundance Film Festival, however, Yan says she'll have a different reaction the next time someone foolishly mistakes her role as a director on set.
"I think that if there's anything that I've learned from the whole #MeToo movement, it's just: speak up, call them out," she says. "It's not OK to say it, and you don't have to be polite if you are insulted. I mean, the number of times that I've had these sort of micro-aggressions happen to me... and I've been so goddamn polite every time!"
But, no more, Yan says. The next time someone assumes she isn't the director — be it because of her gender or race — Yan says, "I think I'll have... much more power or willingness to say something." Though she admits the #MeToo movement won't fix everything, she reveals that it has certainly made her more "empowered" to speak up. And that's no small feat.
It's somewhat ironic that Yan has been mistaken for a producer on her own movie set. When contemplating making a move into filmmaking, Yan originally saw herself as a producer, largely because it's a role she saw other women take on. "A lot of women can relate to that, you know, sort of saying, 'Well, let me just take these baby steps and let me see what other women are doing. Oh, [they] can produce? Oh, well, maybe I can produce,'" she recalls. So, Yan decided to do a dual degree in business and film, going after both a MBA and MFA from NYU, with the intent of making a career as a producer.
Being a director seemed like an impossible dream, in part because Yan barely saw any women behind the camera, let alone Asian women. "There frankly aren't that many role models out there, especially women of color, especially when I was growing up, especially Asian women," she says. And so it kind of wasn't anything I dreamt or thought about."
For her feature debut, Yan was conscious of surrounding herself with other female professionals. "I was very lucky. I didn't so much [feel like a token woman] on my film set, but that's because I think we were very specific about who we hired," she says. Two of her producers were women, as were many department heads on set, Yan tells Bustle, and having women in charge helped set a very respectful tone on set. "Having a female run set automatically made it such that it became self-selective, so any man that wanted to work on the set was interviewed by three women, and you know, would sort of fall in line."
Not only did Yan grow up not seeing women like her behind the camera, she also struggled to find a reflection of her personal experiences on film. As a young woman born in China and raised partly in the United States, the director frequently felt like the other. "For a long time, in my entire existence, I sort of sat as, like, a little bit outside of how most people identify each other, and it's hard to say what I am," she says of her experience moving from the U.S. to Hong Kong as a teenager. Her feature debut is, partly, a way to change that.
The movie, about an epidemic of dead pigs near Shanghai and how it affects one specific family, isn't autobiographical, but its exploration modern Chinese culture and its American influences feels personal. "Even though none of these people are me, and it's not autobiographical, I gravitated towards... a story that was unique to me and my background," she says. A reflection of Yan's own multicultural upbringing, Dead Pigs features dialogue in English and Mandarin. "I really wanted to make sure that we were staying true to the place," Yan says, noting that two of the film's main characters also speak Shanghainese, a very specific dialect Yan has a familial understanding of but doesn't speak herself.
The director wanted the film to be as authentic as possible, even if it meant stepping outside of her own personal experience or knowledge, which is why she made sure to cast two leads, Haoyu Yang and Vivian Wu, who speak Shanghainese, and trusted them to help develop authentic dialogue. Dead Pigs is playing at Sundance as part of the World Cinema Dramatic Competition, and it is very much a Chinese film, but don't expect Yan to make her career solely in one country. Thinking ahead, the director says she'd love to have an international career, making movies both in China and in the United States.
"I would love to sort of be a bridge and do both," she says, noting the career of famed director Ang Lee, whose son, Mason Lee, stars in her film. "I'd love to make something in the English language next... I'm not just going to do Chinese." Given her ambitious debut, it's hard to say she won't end up working anywhere she chooses. And, as her career moves forward, she can be the example she never had.
This story was created in support of Bustle's 2018 Awards Season pledge. Read more here.