This Is Who The 'Riverdale' Cast Thinks The Black Hood Killer Is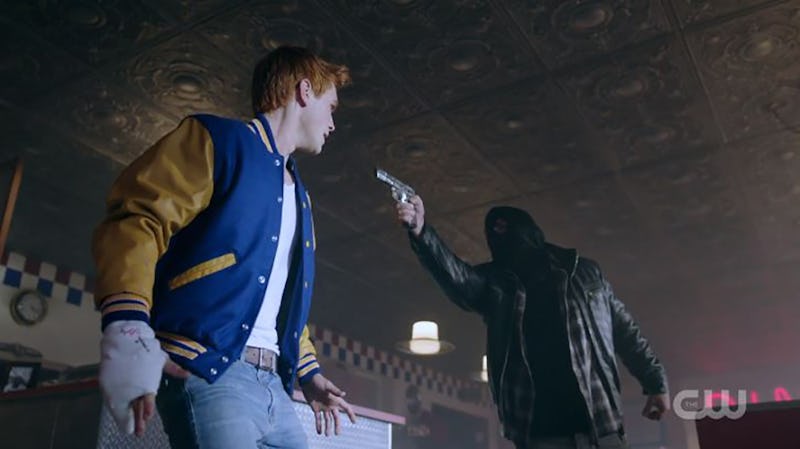 The CW
The only thing that could outdo the bananas first season of Riverdale is the balls-to-the-wall bonkers second season of Riverdale. You thought one heroin-dealing, wig-wearing father killing his own son was insane? Riverdale raises you one black-hood-wearing, obsessed-with-Betty wannabe-serial-killer. Everyone's got theories about who could be under that makeshift hood, and the cast has definitely taken notice of every single one flying on the internet over the past month.
When Bustle took a trip north to the Vancouver-based set of The CW's Archie Comics drama, the young stars were so enthusiastically gleeful about all the crazy fan theories being shared on social media. But a few stick out to them as their favorites.
"I saw a good one that Vegas was actually the Black Hood," KJ Apa says, referencing Archie's loyal dog. "That was pretty funny. I saw that on Twitter somewhere."
While that would be the biggest twist of the century, Lili Reinhart, who plays Betty, has heard a few more realistic ones that make sense given the fact that Betty is the object of the Black Hood's obsession.
"Mainly people think it is Betty's dad," Reinhart says, sitting in the middle of the Pop's Diner set. "That is the one I've seen the most. And also that it is Betty's brother, but at this point in the show, he hasn't been introduced so I could see how people would conspire and think that."
While Cole Sprouse, who plays Jughead, didn't have any theories of his own to share, he did promise that Jughead and Betty wouldn't stop their dogged pursuit of the Black Hood.
"A lot of people really, really enjoy the mystery aspect of the show, the amateur sleuth thing between Betty and Jughead," he says. "In the first season, it was much more murder mystery, and this season genre-wise it takes a much more horror tone. We don't know the conclusion, based on where you guys are right now, of the Black Hood narrative, but because it's such an enjoyed part of the show, it would be hard for me to think that Betty and Jughead would stop doing something with that."
On the opposite end of the spectrum, cast member Casey Cott, who plays Kevin Keller, has had a theory about pretty much every single character so far.
"It changes a lot. It's changed a lot," Cott says of his theories. "The show is so smart, the way the writers tackle each season. You constantly don't know what's going to happen. We literally don't know.And we know a lot more than you guys right now, but we don't know what's going to happen."
According to Cott, all the cast members are "constantly talking about it and figuring out this web of confusion." So basically, the Riverdale stars are exactly like us normal people watching the show, trying to figure out the identity of the Black Hood killer. That's reassuring!
Of course, one of the most popular theories is that it's Kevin's dad Sheriff Keller (Martin Cummins) underneath the hood ... which Cott agrees would certainly make things harder for Kevin if it were true.
"The possibilities are endless," he says with a laugh. "There are so many different scenarios of who could be the Black Hood. I think they're all valid. I think they're all crazy."
And while Cott loves fan theories, one took him by surprise recently. "There was a theory that I could be it!" he says with another laugh. "I should just cut myself off before I say anything."
But of course, whoever is underneath the hood is only half the intrigue, since someone else could be pulling the metaphorical strings. Someone like a certain ex-con mobster who has proven that violence for a purpose isn't exactly beneath him. Is Hiram Lodge's (Mark Consuelos) return to Riverdale at the exact same time that the Black Hood emerged more than just a coincidence?
"What I can tease is that I wouldn't put anything past the Lodges at this point," Marisol Nichols, who plays Hermione Lodge, says of the theory that the Lodges are behind all the Black Hood incidences. "But in my world, there are two dangers going on in Riverdale: you've got the Black Hood and you've got what the hell are the Lodges up to? Whether or not those will cross paths, we'll wait and see."
It's no secret that the Lodges are gunning for this civil war between the north and south sides of Riverdale, since it would help Hiram with gentrifying the South Side for his business project. And Nichols admits that "the Lodges fed into it."
"Particularly Hiram, because in my mind he's the type of man who loves to watch chaos and loves to create it," she says. "The Lodges aren't as innocent as they may or may not seem at all, and they are invested in what's going on, even if we haven't seen it yet. I would say the one thing I have learned, at least from Hiram, is that nothing he does is by accident. Everything is completely planned out always and I think that is what the audience is starting to pick up."
But here's the real kicker: Apa is one of the very few who actually knows the identity of the Black Hood killer. So read his next words very carefully: "I did see some pretty crazy theories. None of them have been right so far." Boom. And there it is. Could we all be wrong? Has no one correctly guessed the Black Hood killer's identity? When we finally do learn the truth, prepare yourself for the biggest shock of Riverdale yet.