You Need To See To See The Ultra-Nostalgic Trailer For The Prince Episode Of 'black-ish'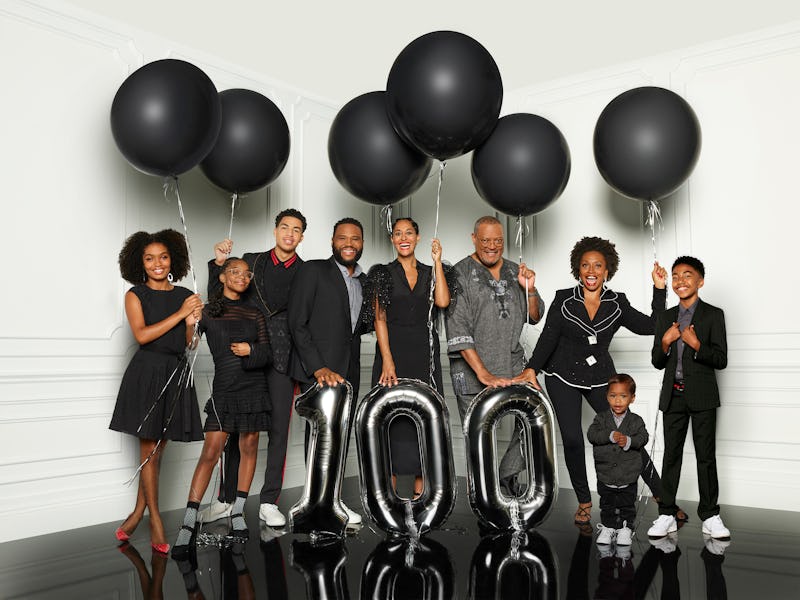 ABC/Craig Sjodin
Hold onto your hats, because the trailer for black-ish's Prince tribute is on the way and it looks amazing. Sure, it's been a little more than two years since Prince's passing and his conversion to "world of never-ending happiness." But after looking at the exclusive clip for the ABC hit's 100th episode, you'll agree that the Johnson crew is right on time.
According to ABC, the official Prince tribute is scheduled to premiere Nov. 13, and as aforementioned, the trailer definitely shows that it's one not to miss. The episode is centered around the Johnson twins, Jack and Diane (played by Miles Brown and Marsai Martin, respectively), and their unfamiliarity with the "Purple One." Of course, once the Johnson family patriarch Dre (played by Anthony Anderson) learns that his children know the least bit about Prince's impact on pop culture, as well as the entire free world, he goes to extremes to give them the ultimate crash course in everything Paisley Park.
Oh, and it's quite the family affair, too. Everyone from Tracee Ellis Ross' character Rainbow, to the twin's older sibling Zoey (Yara Shahidi) put on their best purple gear to give Prince one of the greatest tributes hitting primetime television to-date. And from the exclusive clip below (as provided by ABC), you'll see that the entire cast meant business.
With more than 30 Grammy award nominations under his belt, and enough classic hits to keep the party going for centuries to come, Prince's impact in the musical space is one that must be celebrated. It's one thing for his peers to pay homage to the genius in the musical space, but to have his influence recognized on the scripted television scene shows just how dynamic Prince's reach truly is. Along with black-ish, FOX's Empire cast also gave Prince his flowers in the form of a television sing-a-long during Season 4 of the show's run back in 2017. And while the Lyons certainly left their all on the floor after performing a colorful rendition of the late-singer's "Let's Go Crazy," this time around it's the Johnson's turn showcase a few of their musical chops with a medley of Prince jams.
The black-ish official Instagram page let fans in on the secret back in Sept. 2017 with a post of its cast in all of their purple glory. The Sept. 19 post showed its stars, Ross and Anderson, with a guitar in hand and busting out one of Prince's iconic moves, respectively, and with the caption "Let's go crazy! #blackish will celebrate our 100th episode paying tribute to the one and only, #Prince," let everyone know that its upcoming season would be full of surprises.
What else the black-ish team has up its sleeve remains to be seen, but if it's anything like the dynamic first-look trailer for the Prince tribute, you can bet that it's going to nothing short of amazing.
Here's to hoping that Jack and Diane walk away with a wealth of Prince knowledge, and inspiration to live their best lives — even if that means sitting outside of the status quo. And if accomplished, fans can attest to the fact that they'd certainly make the purple one proud.